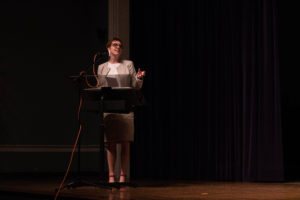 Dr. Amanda Allen
Assistant Professor of History
My reputation around campus: I am strict and difficult.  Does it bother me? Not one bit.  What students may call "strict" or "difficult" is what I simply consider as having college-level expectations.  Why? Because with high expectations comes high excellence.  This is never more evident to me than each fall semester in which I teach my senior seminar course.  As part of the History degree curriculum each major must take this capstone course and write a twenty-five page research paper.  Students get to choose any historical topic and prove they are no longer just history students but are, in fact, historians.  They also have to present this research with a professional-level Power Point presentation.  In public.  Sometimes it seems they consider this the most daunting part of the entire degree! But, each time I watch majors stand up and share their interests with the audience, I am impressed and proud.  For years it is I who stands before them and teaches but on this evening each fall the roles reverse.  They teach me.  It is one of the greatest moments of being a BPC professor.  By the time our students are looking towards graduation, all us BPC professors have truly spent countless hours getting to know these students not only as our students but as future colleagues.  This is not something found at larger colleges; it is part of what makes BPC such a wonderful learning environment.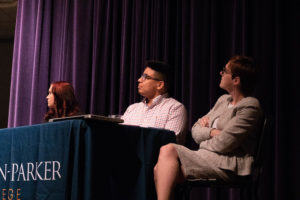 Tuesday November 27, my three current senior seminar students presented their research to a packed Gilder Auditorium.  Emily Jones has loved Egypt since her first fall on campus.  Her research focuses on why female Pharaoh Hatshepsut was almost fully expunged from the historical record.  Emily's conclusion: because Hatshepsut was a successful and powerful woman when she should have surrendered all authority to her son and the rightful Pharaoh.  Wyatt Morris chose to analyze how Julius Caesar's adopted son, Octavian, used war as a method of manipulation to gain power after Caesar's death.  With strategic battles Octavian rid all who stood in his way so he could be the first Roman Emperor.  Marshall Lopez provided a cultural history on Julia Child as the first televised chef.  In an era marked by male leadership, it was Julia Child who stood in front of a camera and revolutionized cooking in America.  Always behind the camera stood her husband as equal partner.  Together they challenged the traditional marriage model without trying to do so.  Rather, it was because they simply saw themselves as equals that they were able to balance each other as needed and have a long and successful career teaching America how to cook French food.
Having Emily, Marshall, and Wyatt teach me about Hatshepsut, Octavian, and Julia Child marks the culmination of all I strive to do as a professor.  I am beyond proud of my students and thankful I have the opportunity to know and shape my majors.  And yes, I even teared up a bit at this proud moment. I cannot wait to do so again next fall.