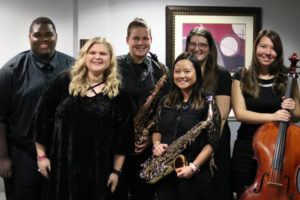 By Jerusha Yoder
Director of Marketing
MOUNT VERNON—With a history of over 50 years in music, Brewton-Parker's community eagerly anticipated the annual Fall Concert this year. On Thursday, November 28, the concert exceeded all expectations. The night proved to be one filled with beautiful compositions performed by talented musicians, both young and old.
The night opened with a featured performance by the BPC Homeschool Band, which showcased over 14 students from the local area. Directed by Dr. Matt Haley, Assistant Professor of Music, these students impressed the audience with a beautiful rendition of "Sousa's Cadets" by John Philip Sousa and "Hallelujah Chorus" by George Frederick Handel, both arranged by Timothy Loest. Founded in the Fall of 2017 by Dr. Haley, the homeschool band has offered homeschoolers an opportunity not only to experience the dedication it takes to become a musician, but also the accomplishment that comes with a musical number well performed.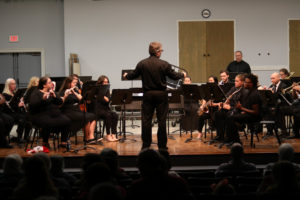 Immediately following the Homeschool Band, Brewton-Parker's very own students took the stage with local community members for a five-piece performance from the BPC Community Wind Ensemble. Arrangements varied from "Amazing Grace" to "Suite Françoise." The night even featured a few holiday performances, including "Christmas Rejoicing" and "A Fantasy on the Twelve Days of Christmas." At the end of their performance, the band members were met with a warm round of applause from the packed audience.
It was hard to believe that the concert could get any better, but Dr. David Wilson soon led the BPC Concert Choir onto stage and into the hearts of all that attended. Featuring solo performances from BPC Senior, Allie French, and Dr. Wilson himself, the choir left many in attendance with chills. The dedication and the hard work of each student was immediately evident as they breezed their way through complex arrangements, from "Jubilate Deo" by Peter Angela to "Here I Am, Lord," arranged by Oivd Young. In classic BPC tradition, the concert ended with a tribute to the college's historic music program by inviting the audience to sing along with "May the Road Rise to Meet You."
"Our students have grown so much this semester and their performances continue to show improvement from previous semesters. I love how students recognize the growth in their own performance," stated Dr. Wilson. "I want to thank the Mount Vernon community for supporting the music department at Brewton-Parker."
As part of a long-standing tradition, this concert is an opportunity for music students to showcase their cultivated skills in both vocal and instrumental performances. In recent years, this opportunity has even expanded to local homeschool and high school students. Earlier this semester, the music department partnered with Three Revers Symphony Winds from Baxley, Ga., to produce a special concert in honor of Veterans Day. The music department has historically welcomed the community to participate in a variety of music performances and anticipates the continuation of this partnership. Plans are already being made for the first annual "Night of Hope: Celebrating the Resurrection" in April 2019.
For more information about Brewton-Parker's Music Program, visit www.bpc.edu/MusicProgram.