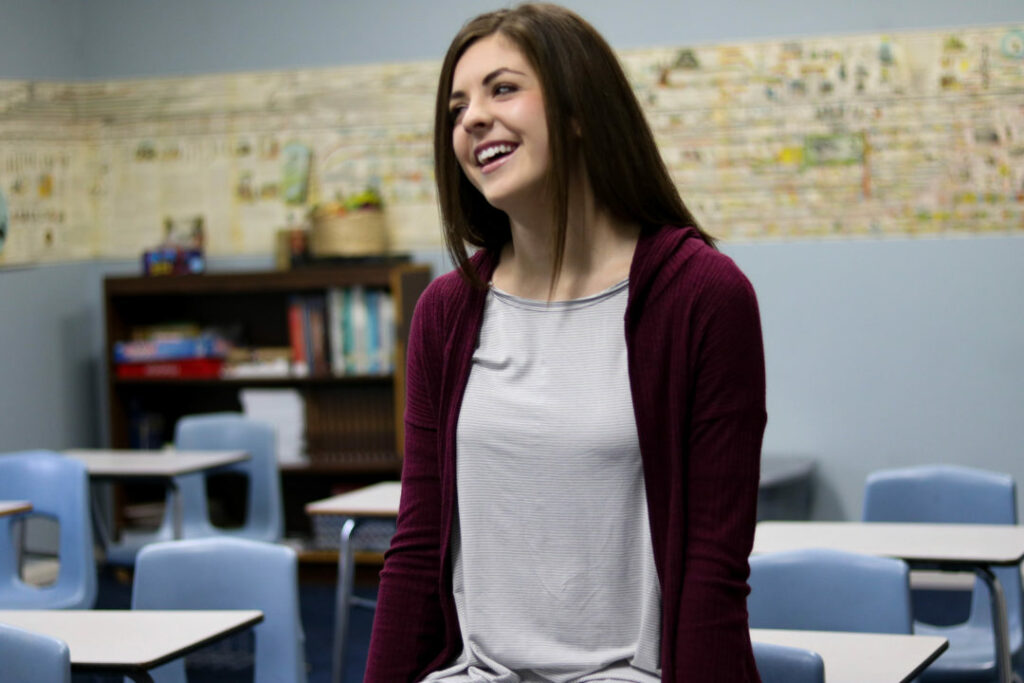 By Briley Braddy
Georgia Dual Enrollment Student
I walk into Mrs. Dixon's classroom like I had done my entire third grade school year. My friends and I are talking amongst ourselves and bursting with energy as we anticipate what fun activities Mrs. Dixon has in store for us this school day. I am anxiously waiting for her to announce one of my favorite activities like playing four square or making a craft. My hopes continue to rise as she explains today's agenda. All of a sudden, those hopes abruptly plummet. Mrs. Dixon says the most horrific thing I can imagine: "We are going to write our first essay today." The beginning of my writing journey commences as shock and terror overcome me. I still struggle with the concept of writing a complete sentence, and I must now compile several sentences to write an informational essay. I dread the moment we begin the writing process.
This first memory of writing haunted me for years. Each time my teachers would say something concerning writing, I would experience a slight rush of fear throughout my body. My foot would begin to tap the floor frequently, my palms would become sweaty, and my eyes would open as wide as the size of quarters. I despised writing. I saw it as another dreaded assignment teachers required; therefore, I did not harbor an ounce of motivation within me to write.
Writing is an Outlet for My Voice
The third grade was not the end of my strong displeasure in writing. In the eighth grade, I took Georgia History with Mr. George. He was a formidable teacher at times and required much work in order to do well in his class. In the midst of listening to lectures during the semester, the time for the local Patriot's Pen Essay Contest arrived. Mr. George required all of his students to participate. My fondness for writing had not grown since the third grade; therefore, I was not anticipating writing this essay. Because I was forced to compete in the contest or receive a failing grade, I unwillingly composed the essay.
One week later, Mr. George asked to speak to me. Fearing I had done something wrong during class, I timidly approached him. He informed me that I had won the contest. I was filled with disbelief. Writing had not been a gift of mine, so I was beyond excited to hear this news.
At that moment, I considered something that I had never considered before: writing is an outlet for my voice. I have abided by this principle ever since I won my first essay contest. Unlike a face-to-face conversation, no person can interrupt me or disagree with me as I express my beliefs in writing. I can thoroughly voice my thoughts and carefully craft my desired argument in order to achieve success while my audience considers my stance as they did with my Patriot's Pen essay. The essay contest compelled me to realize that my voice is significant. While I previously wrote because I was forced, I now see writing as a vessel for my voice to be heard after experiencing this first milestone in my writing journey.
True Purpose Lies Behind Writing.
One year after my triumph in the Patriot's Pen Essay Contest, Mr. George presented me with the information for an optional essay contest. Since my outlook on writing had changed after my first writing success, I decided to compete. This new contest was held by my local state senator: Blake Tillery. The designated topic for the contest allowed students to write about which Georgia state law was impractical or in need of amending.
As I harbored a great interest in politics, I was thrilled to have the opportunity to write about this subject. I began to write passionately about how people should not be permitted to run for a governmental office if they owe taxes to local governments. Two weeks after I submitted my entry, I received a call from an unknown number. Skeptically, I answered my phone. The caller was Senator Tillery telling me that the bill I authored was "pretty darn good" and I won his contest.
Three months later, I went to the capitol the day Senator Tillery presented my bill to the Georgia Senate, where it passed by a significant majority. The bill was then presented to the Georgia House of Representatives where it again passed by a large margin. The final step to make my bill law required the governor of Georgia to sign it. The big day arrived when my whole family and I went to the capitol and witnessed Governor Nathan Deal sign my bill. The five minutes we spent watching this monumental event provoked a thought in mind: true purpose lies behind writing.
Formerly, I believed the purpose of writing was to receive passing grades from my teachers. After seeing my bill being signed into law, I now know a greater purpose lies behind writing. While I had already learned that writing is an outlet for my voice, I finally recognize that the purpose of writing is to change lives, just as my bill affects each resident of Georgia. This new understanding has greatly improved my writing journey as I now write genuinely rather than superficially. If I had never discovered the purpose behind writing in this second milestone in my writing journey, my writing would not be strong, assertive, and compassionate in order to positively and profoundly affect my audience and, ultimately, the world.
Writing is a Continuous Process of Improvement
One year after my bill became law, I enrolled in English 101 at Brewton-Parker College during the fall semester of my junior year of high school. While I experienced much success in my previous writing endeavors, the thought of taking an important college class during my high school career made me nervous. When I walked into English 101 on the first day of the semester, I did not know what to expect. I was afraid of several difficult challenges the class could possibly present: an overwhelming syllabus, countless essays, strenuous assignments, and a stern professor. Furthermore, I feared my writing would not meet the standards of the class.
All of these concerns were resolved when my professor began class. Her syllabus was long but appeared organized and not impossible. I was comforted to see that I was required to write only four papers and each assignment was spaced out and contributed to writing each paper. I was ultimately relieved when I realized my professor was not only kind but ready to further my writing journey beyond where I thought it could go. As I reflect on the semester, I recognize that my professor showed me that the reason I write is more than just for contests.
As I already knew writing changes the world, English 101 taught me that writing is a process that never ends. I will never reach a point in my writing journey where I have mastered each aspect of writing and am totally satisfied. Writing is beautiful because I can always improve it. Currently, I am in the process of honing this skill. If I had remained consumed by my worries about the class, I would have never opened up to learning how I can continuously improve my writing in the effort to make my voice heard and change the world.
Writing is a Journey
Since the third grade, my outlook on writing has positively changed due to the milestones in my writing journey that have revealed to me that writing is an outlet for my voice, true purpose lies behind writing, and writing is a continuous process of improvement. While I formerly considered writing as a dreadful obligation, I now face it with confidence. It is a valuable skill that not only benefits my life but the lives of others. As I write, I simultaneously gain insight into my own voice and skills and impact my audience with my words. In this way, writing is a journey.