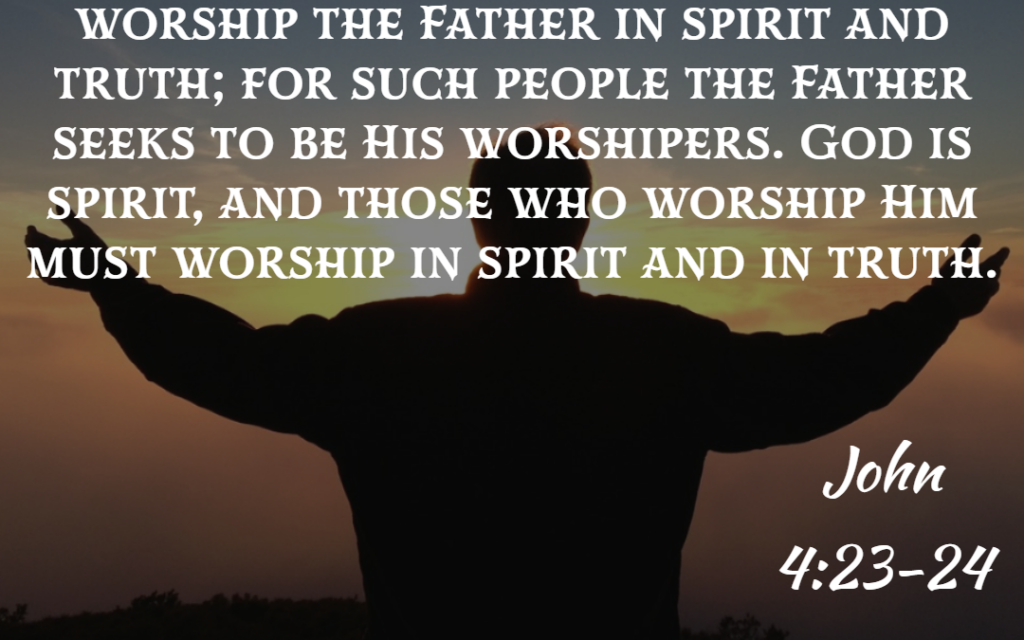 John 4:23-24,"But an hour is coming, and now is, when the true worshipers will worship the Father in spirit and truth; for such people the Father seeks to be His worshipers. God is spirit, and those who worship Him must worship in spirit and truth." 
| Written by: Thomas Rhodes
How easy it is to become lost in the routines of the day.  How easy it is for us to keep our eyes on our schedules, on our assignments, on our work, and on our personal lives.  As a result of our minds being fully devoted to the tasks that are upon our agendas we all eventually come to a point in which we feel a sense of being burdened, a sense of overwhelm, and a desire for more.  
Why?  Why is it that we strive for more? Why don't we feel satisfied by what we have or what it is that we are doing?  It is because we forget about GOD Barons. We put our relationship with GOD, our worship of the Holy One, at the end of our list of priorities. 
Our worship towards GOD is not meant to be confined to a Sunday morning church service, or a chapel service, or a small group Bible Study, but rather it is meant to encompass the entirety of our lives.   
Does this mean that we neglect our other responsibilities so that we may put our full attention upon GOD?  Absolutely not. But rather it means that we use our work, our assignments, and our personal lives to worship GOD. It means that we are making a conscience effort to be aware of GOD's presence throughout each day.  It means that the reason that we are doing our assignments, the reason that we are going to our jobs, going to our practices, and living our personal lives are all ultimately to give all praise, honor, and glory to the name of Jesus Christ. 
When we make GOD the priority in our lives, when our lives begin to become reflections of who GOD is, then we shall come into an understanding of what it means to worship HIM in spirit.  It means that we are worshiping GOD with the deep emotions that are found within our hearts. Emotions that are so powerful, so moving, and so overwhelming that we are unable to describe them.  Emotions that can bring us to tears, cause us to cry out to GOD with loud voices, and make music of praise for HIS name.   
And then in the midst of those deep emotions we are reminded of the truths about who GOD is.  We are reminded that GOD is holy, that he is just, righteous, merciful, abundant in grace, filled with love, and forever faithful to us.  And ultimately we are reminded of the Cross at Calvary.  
Today is the beginning of a new week, one which is filled with assignments and obligations.  May it also be filled with worship for the King.