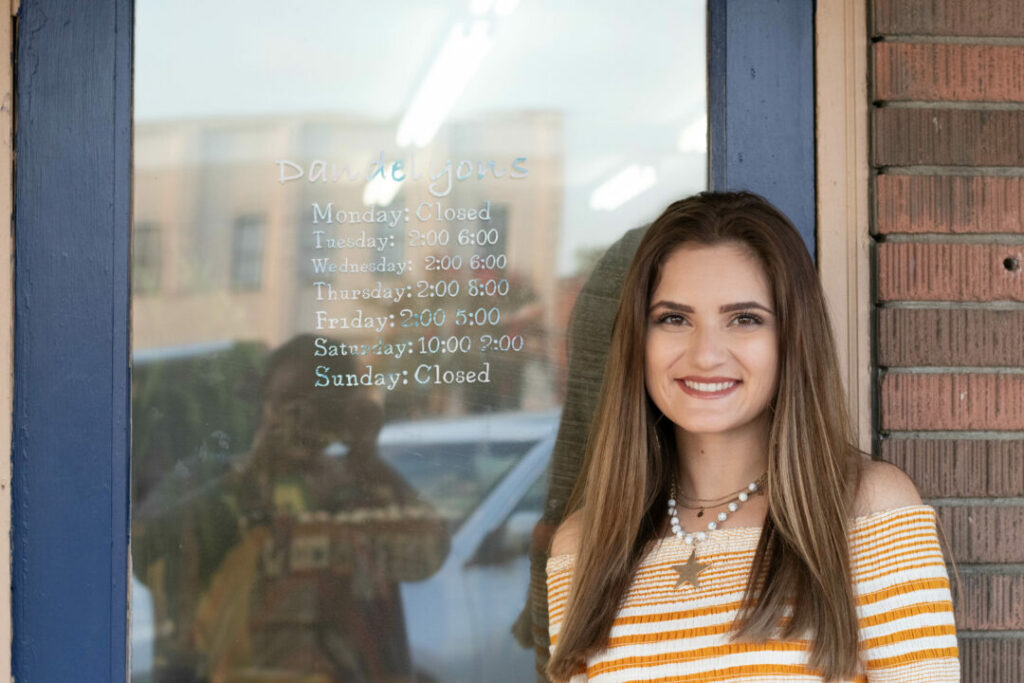 | Written By: Marlee Ruark
A girl who does it all- Kennedy Russell is 21 years old and a senior at Brewton-Parker College (BPC). She is also an entrepreneur who owns her own business, all while taking classes and participating on the cheer team. In July this year, she celebrated the grand opening of her first store in Lyons, Georgia: Dandelyons.
Dandelyons is Russell's dream come true. When she was born, she was diagnosed with a disease called bladder exstrophy, which is a rare condition where your bladder is on the outside of your body at birth. Her childhood was filled with steady hospital visits and expensive medical bills. Through it all, one thing brought her joy: clothing that made her feel beautiful. 
To help out with medical bills that Rusell's family was collecting, a generous woman donated dresses to Russell and her mother. This act inspired Russell's mother to start selling dresses that people would donate as consignment to raise money for all the medical bills. Her mother eventually opened up her own formal wear store because she too found a similar passion for helping girls find dresses that made them feel special. 
Even at a young age, Russell was able to help her mom sell the dresses, and from these memories, her passion for business and serving other people began. After working at her mom's formal wear store, Russell knew she wanted a business of her own. After a few ideas were tossed around, Dandelyons was born.
Dandelyons is an all accessories boutique that has anything from earrings and necklaces to belts and purses. Russell has the inside scoop of what teenage and college girls want because she is in one of them. She focuses on having high fashion boutique items for a fraction of the price because she understands how frustrating it is to want an accessory from a big boutique but not have the money to pay $45 for a cute necklace. In addition to the already low prices, Russell offers a range of discounts to college students, those who serve in the military, and even more.
Dandelyons offers a little something for everyone. With scrunchies, key rings, shoes, bracelets, earrings, necklaces, and quality purses, Russell strives to offer every item at the most reasonable price possible. Russell has every occasion in mind when selecting her inventory; she thinks of accessories for game days, nights out on the town, church, and even everyday attire.
Russell's major at BPC is Communications, and she believes that it has been very useful in owning and running her own business. In her classes, she has learned how to talk to customers, deal with vendors for her inventory, and speak and communicate effectively in a professional business setting. She believes that BPC also helped nurture her self-confidence and has pushed her to believe that she can do anything she sets her mind to. 
"All of my professors have been amazing role models for how I should treat and communicate with others," she explained. "They have been very supportive of my career."
As she juggles going to class, keeping up with a social life, participating on the BPC cheer team, and running Dandelyons, Russel says she wouldn't trade it for the world. In the future, she hopes to still have Dandelyons as she grows into a strong business woman with many interests. One thing she knows for sure: if she can provide accessories and clothes to make other girls feel happy and beautiful, she would be fulfilling her purpose in life. 
Dandelyons is located on 107 NE Broad Street Lyons, GA 30436 and they are open 2:00-6:00 Tues-Wed, 2:00-8:00 Thurs, 2:00-5:00 Fri, 10:00-2:00 on Saturdays; they are closed Sun-Mon. Dandelyons can be found on Facebook and Instagram. If you are looking for a cute accessory for any occasion, or just want to meet a great person, drop by and support Russell's amazing business. 
What the full interview on YouTube Click Here