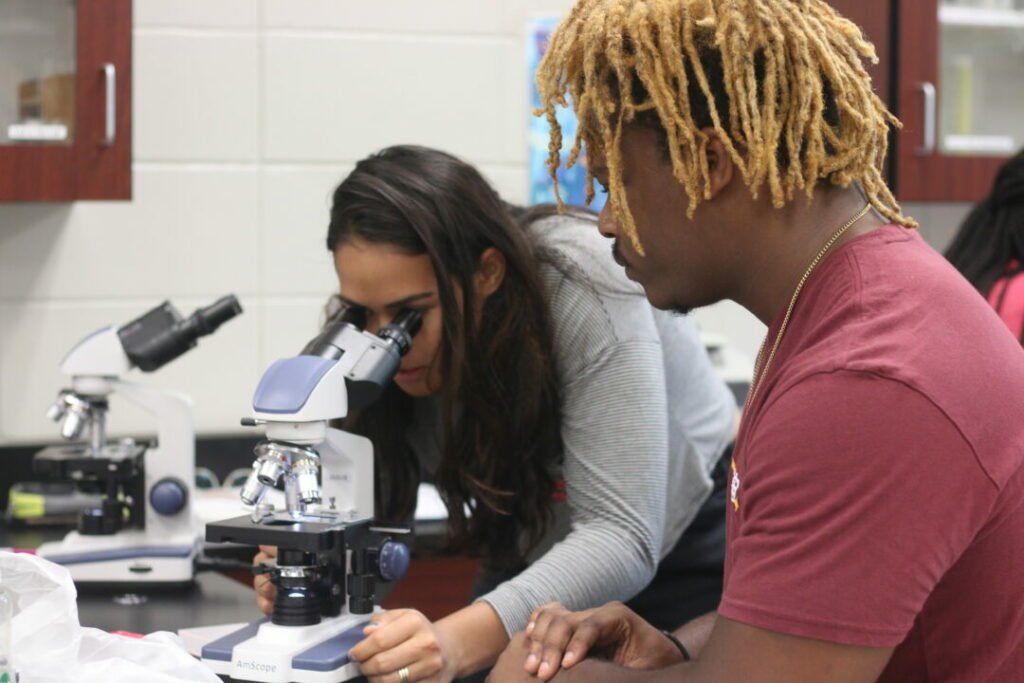 Students, Daniela Hechavarria and Shamar Cofield using new microscopes in Biology Lab
| Written by: Victoria Calderon, Student Writer
This fall, the Division of Mathematics and Natural Sciences at Brewton-Parker College received 24 new microscopes for its biology labs. These microscopes are just one example of the many ways that the division has grown in the past year under the careful direction of the Division Chair, Dr. Helene Peters. 
Dr. Peters began her role as the Division Chair at BPC in 2015. Soon after she arrived at the college, she noticed that a large number of the equipment in the Biology department needed special attention, including the department's microscopes, UV transilluminator, and PCR thermal cycler. With these needs in mind, Dr. Peters began a special mission to provide her students with the tools and resources they needed to flourish in their chosen field of study. Without the right equipment, students struggling in this division can struggle to complete lab projects, making it harder for these students to excel in their education. 
These struggles, however, have not kept past students from excelling in this field. BPC's biology department already boasts of many students earning high marks in their field. Several alumni from the Biology department have presented posters at the Georgia Academy of Science's annual meetings over the last three years. In this way, undergraduate students are given the opportunity to conduct research and publish their findings  in the Georgia Journal of Science. 
In addition these accomplishments, many students who graduate with a Bachelor of Science in Biology from BPC have exhibited above-average scores on the national ACAT exit exams. During the past few years, the graduating senior class has tested into the 90% percentile on these exams. These test results are not only comparable to other students nation-wide, but they also surpass students who have graduated from other major colleges and universities.
With the new equipment that BPC received this year, current and future students can continue to excel in their chosen fields, building on the strong foundation that other students have left behind. This growth is not limited to only current programs, however.
Dr. Peters explained, "Our goal at BPC isn't aimed solely towards further current programs in our Division. We also want to add new programs. By the Fall of 2021, we hope to launch a new nursing program. This program wouldn't be possible without the new equipment we've received."
Along with replacing the old microscopes with new and improved ones, Dr. Peters has also been in charge of BPC's Summer Science Camp. This camp not only teaches young students science, but also offers fun and affordable activities. These students are able to dissect frogs, cow hearts, and sheep brains, and more. In addition, they enjoy specialized days such as CSI Day and activities featuring escape rooms to test their critical thinking. Dr. Peters believes that it is necessary to continuously offer affordable prices and to hold fun exercises that these students would want to attend. Not only does it enrich the local community, but it also provides and opportunity for the Division of Mathematics and Natural Sciences to raise funds for even more resources. Almost all of the money that has been raised during the past four years went towards the purchase of the new microscopes.