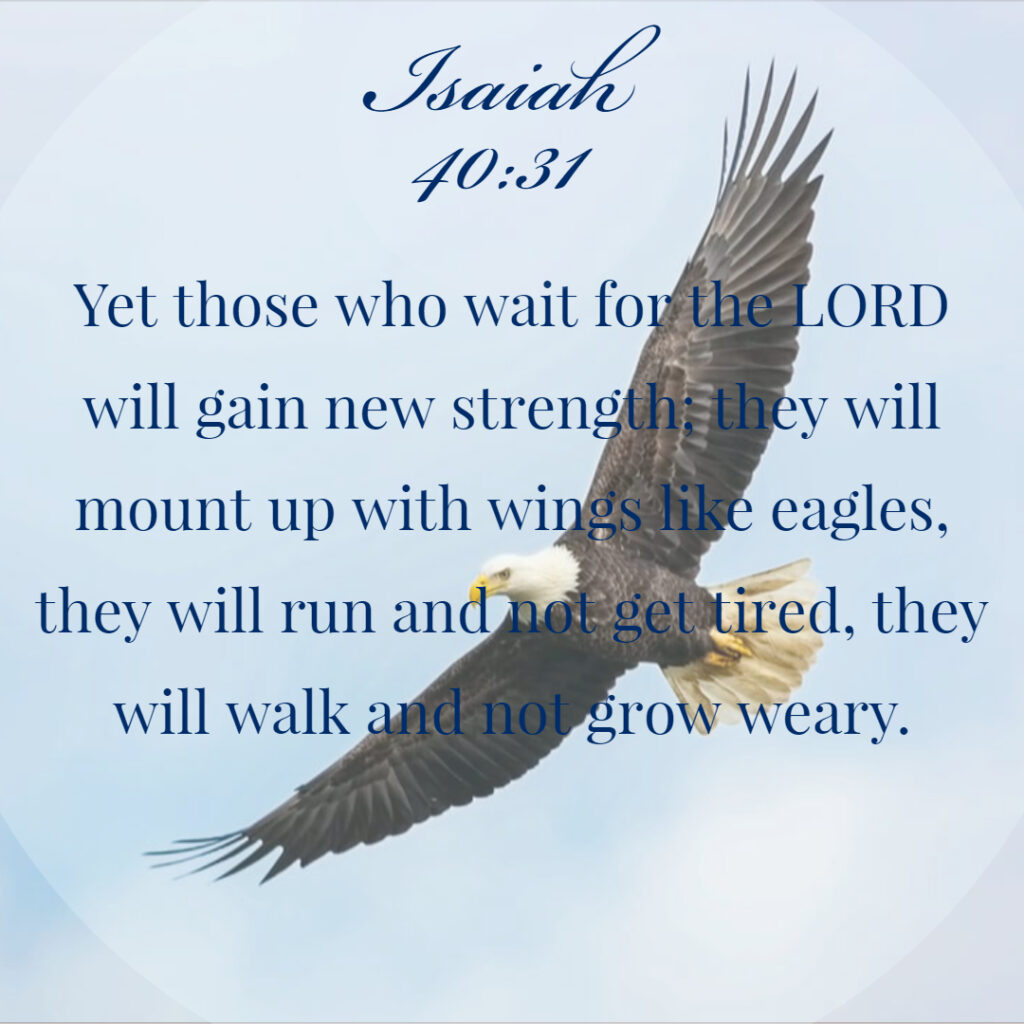 Isaiah 40:31, "Yet those who wait for the LORD will gain new strength; they will mount up with wings like eagles, they will run and not get tired, they will walk and not become weary."  
|Written by: Thomas Rhodes
We are nearing Finals Week.  Our moments of truth are approaching us with great haste.  During this time of year a great deal of our time is spent sitting in front of computer screens, our noses in books, and our hands writing every note that we can for all of the assignments that we are currently working on.  It should go without saying that this time of year is particularly hectic.   
That is not even listing the personal problems that we are going through as well.  Have you ever come to a point in which you were so overwhelmed with the situation that you are currently in that you desired nothing more than to disappear?  Have you ever felt as though you were completely alone in your plight of life, that there is not a friend anywhere who cares for you?   
Chances are you are familiar with the scenarios that I have described.  Perhaps so familiar that it almost seems to be a natural state of being for you.  And then you read passages such as the one of our focus. Isaiah 40:31, "Yet those who wait for the LORD will gain new strength; they will mount up on wings like eagles, they will run and not get tired, they will walk and not become weary." 
What is your response to that passage?  I would venture to say that you do not always feel strong, you do not always feel as though you could run, and you most certainly do not always feel as though you could sore the heights of the sky with the wings of eagles.   
But rather you often feel as though you are without the strength to even get dressed in the morning. That is a horrible, nauseating, draining feeling that can take root in you if you allow it.   
So what are we to do? 
My question for you is this:  "Where is your attention?" 
Where is your attention?  When everything falls apart, where is your attention?  When you are forced to change your plans, where is your attention?  When you are all broken and alone, where is your attention? 
Chances are that your attention is upon the immediacy of your dire situation, but Barons there is another way.  
Direct your attention upon the LORD, upon Jesus Christ.  He is grander, stronger, and greater than any force that is found within this world.  Does this mean that everything becomes easier instantaneously? No it does not. What it does mean is that in the midst of our great affliction and hopelessness we are not alone. 
It means that our LORD will provide for us a means by which to rise in the morning. To face the day and its challenges.  It will be as though you are flying with the eagles.  
Barons know that you are not alone.  Know that GOD loves you and has sent HIS Son, Jesus Christ, to pay the penalty of your sins upon the cross at Calvary so that you may be called the children of GOD.  Is your attention upon HIM, or is it upon the world?   
Have a wonderful week.