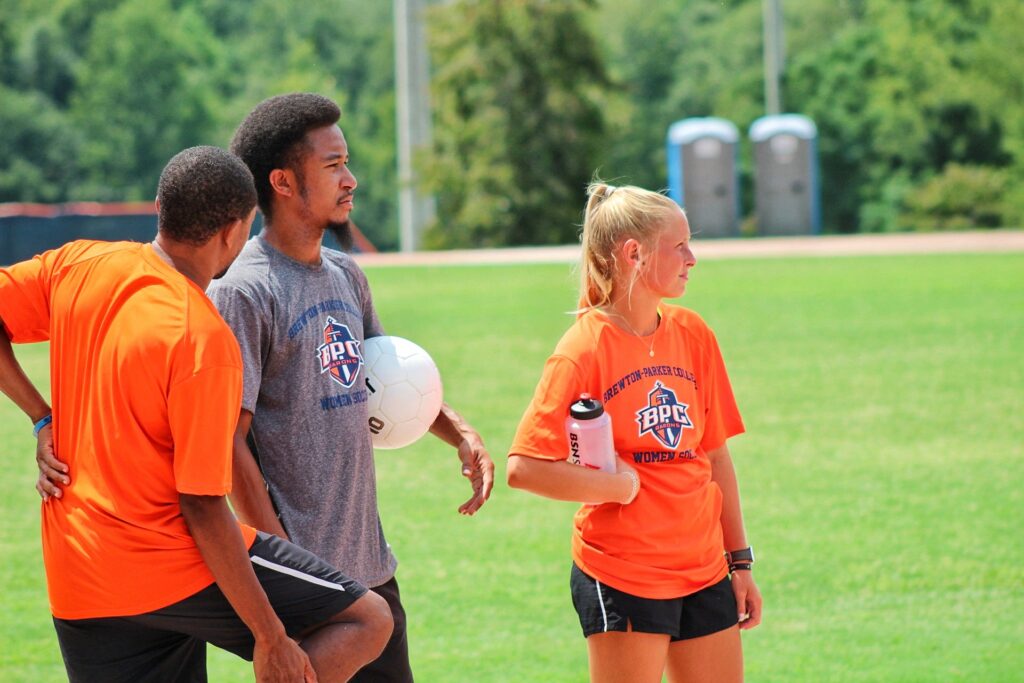 By Marlee Ruark

Student Writer
I interviewed Caitlyn Bassett this past soccer season. Caitlyn, also known as Lulu by her family and friends, was a part of the women's soccer team here at Brewton- Parker College (BPC). In her last semester of college, she had the opportunity to coach as a student on the BPC Women's Soccer Team after playing all four years. Working under the guidance of her coaches, she was able to see both sides of the sport – from a student athlete to a student coach. 
I had the chance to be her teammate my freshman year, and I was able to have her as one of my coaches last season. My freshman year, my coach told me about the potential he saw in me. He believed I could become as good as Lulu. He noticed the same potential in me to reach her skill level. His comment was a compliment to me because I look up to Lulu as a player and teammate. We play the same position, so it was always helpful for me to watch and learn from the way she played. Then, when she became a coach, she was able to influence me in a different way; she could give me pointers as I played because she had a new perspective. 
When I asked Lulu about doing an interview, she was very eager to share her story. She had played soccer since she was in the seventh grade, bringing nearly ten years of experience to the field. While at BPC, she played a variety of positions, but mainly wing. She played all four years and coached for one season at BPC.  
Q: What was your favorite part of being a student athlete at BPC? What was the hardest part of being a student athlete?
A: My favorite part of being a student athlete was the relationships I formed with my teammates. We've always been a family and I've met lifelong friends through those bonds.
The hardest part of being a student athlete is definitely time management. With all of the time we spend practicing, playing, and traveling to away games, it can be very difficult to be able to get all of your schoolwork and even other basic life responsibilities handled. 
Q: What do you miss most about playing?
A: There isn't one specific thing that I miss about playing soccer; it's really just I miss everything about the game- from the competitiveness to just releasing stress.
Q: How have you liked being a student coach this past season?
A: I have absolutely loved being a student coach. It has given me a completely different outlook on the game and has made me want to pursue a career in coaching.
Q: What is your favorite part of being a student coach? What is the hardest part?
A: My favorite part of being a student coach here at BPC is being able to learn from a coaching staff who are not only highly educated in the game, but also in life. They've taught me more than I could've ever imagined in a short amount of time.
Q: After having this experience this season, do you think you will coach in the future?
A: Yes, I will no doubt be coaching in the future.
Q: What do you like more: playing or coaching? Has coaching opened your eyes to anything that you might not have expected as just a student athlete?
A: It is very hard to choose one that I like more. Playing soccer was my safe haven, it's what I turned to after a long day or if life wasn't going great. Coaching has given me the opportunity to still be connected to the game I love. You see the game completely different as a coach rather than an athlete. There's so many concepts about the game that I grasp now as a coach that I didn't as a player. I also never understood the amount of work coaches put in behind the scenes that the athletes don't see. As a coach, you rarely ever get a break. 
---
Lulu graduated from BPC in December 2019 with a bachelor's degree in Health and Wellness Management. Even though she has graduated, she continues to inspire me. She has recently interviewed for a job as a special education paraprofessional, and she is already pursuing a coaching career. She is currently coaching a U-12 team at a soccer academy in Dublin, Georgia.