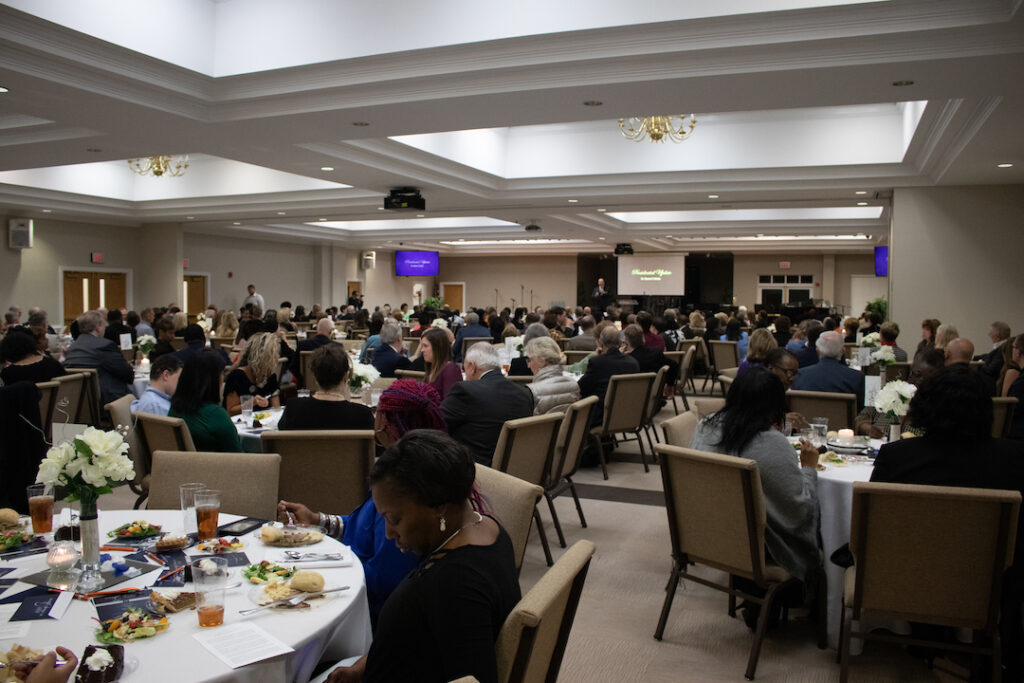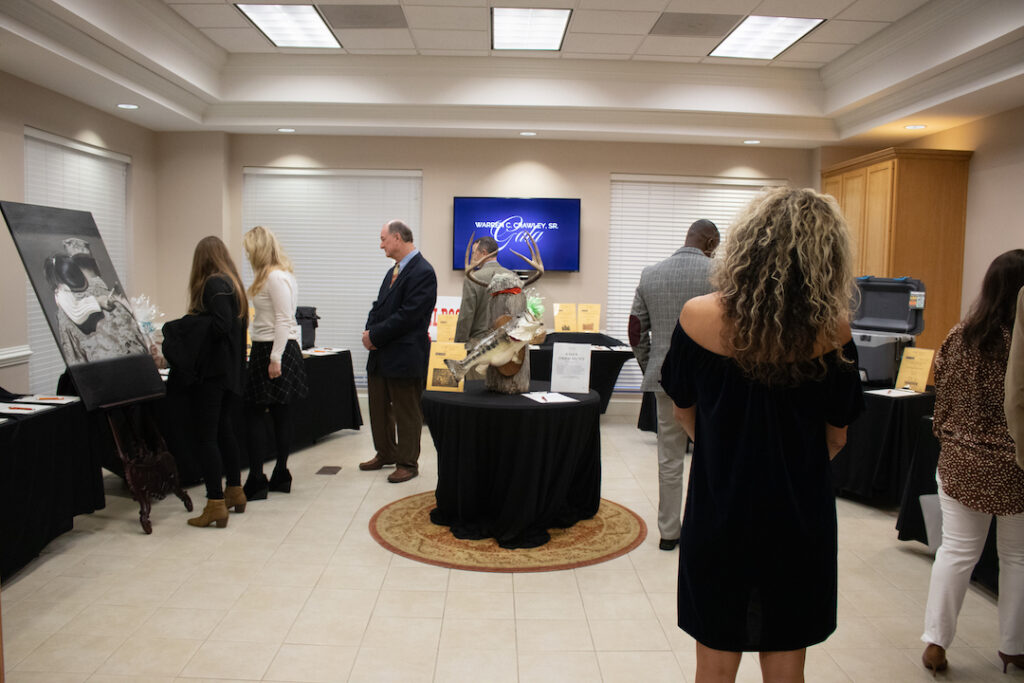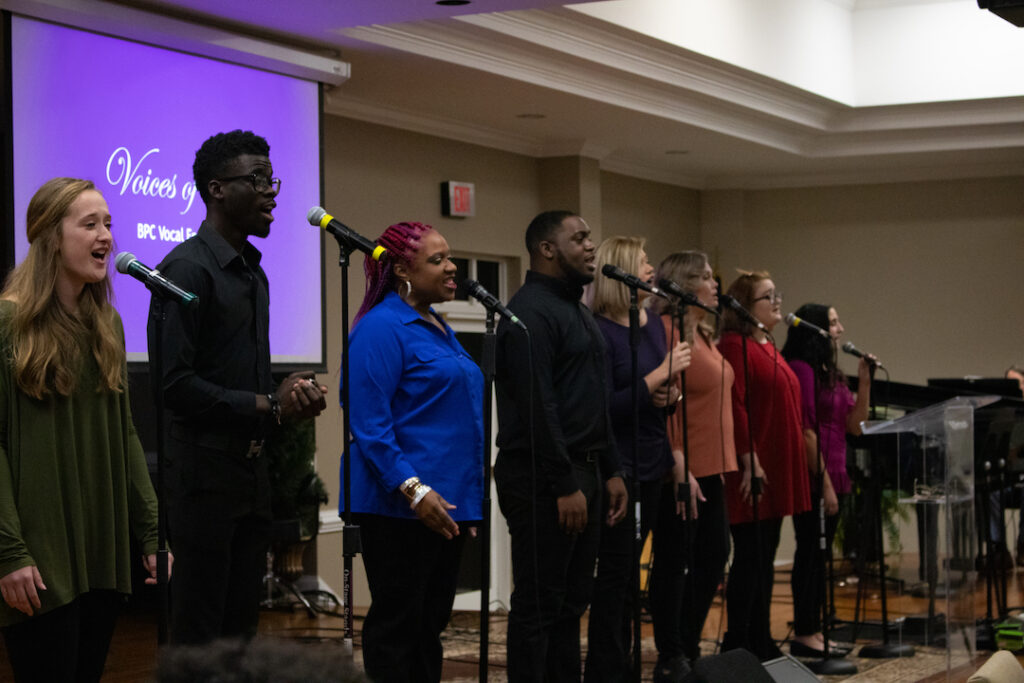 By Marlee Ruark

Student Writer 
MOUNT VERNON – On February 4, 2020, over 280 members from the local community gathered at First Baptist Church in Lyons, Georgia, to celebrate the fourth annual Warren C. Crawley Gala. Brewton-Parker College (BPC) hosts this event every year to raise money for student scholarships. This year's gala in particular focused on the sacrifice Crawley made for the college over 115 years ago and the generosity that the community continues to show as they honor his legacy.
As people entered the event, they were invited to participate in a silent auction where a variety of items were open for bidding. The items ranged from artwork to a two day hunting trip. At the close of the silent auction, attendees were welcomed into the main fellowship hall where they enjoyed a dinner catered by Chartwells Higher Education and served by BPC student volunteers.
Voices of Truth, BPC's vocal ensemble, opened the evening with an outstanding performance featuring songs such as the "Lion and the Lamb" and "Living Hope." Afterward, the Wardlaw Brothers stepped on stage to perform their own beautiful rendition of the classic "Amazing Grace." In addition, attendees enjoyed a special instrumental performance on the clarinet by BPC Student Kenan Strutchen, one of the 2020 Crawley Scholarship recipients.
Following the musical performances, Dr. Steven F. Echols, President of BPC, shared a brief update regarding the college's recent growth. In addition, he shared the story of Mr. Crawley and how BPC was established because of his gracious donation of land. [Full Story]
Echols stated, "In 1904, he [Crawley] knew his children couldn't go to the school, but he gave the land anyway." His gift has continued to inspire the community's generosity and support for the college. As a result, BPC has been able to expand its campus facilities and increase its overall enrollment. This semester, BPC will even be dedicating a set of new dorms on campus to Crawley in honor of his sacrifice.
After the presidential update, Dr. Beverly Robinson introduced the evening's honorees. These honorees stem from the local community and were nominated because they exemplify the life of Crawley. These individuals showcase a true servant's heart and have sacrificed their time, money, and talents to help others. 
This year's honorees included:
Maudie Mae White (awarded posthumously)

Robert Miller McTureous, Jr. (awarded posthumously)

Kathy Palmer

Tracy McClelland

Corina Florez

The Wardlaw Brothers

Tommy Sasser

Pastor Dannie Williams

James Jermon
The biggest highlight of the evening was an inspiring message delivered by Pastor Tony Lowden. He emphasized the sacrifice Crawley made for BPC and also the sacrifice his grandmother made for him long ago as she influenced him to accept Christ and attend church. He gave his testimony and spoke about how important it is that individuals honor God with their lives and never forget those who paved the way.
His words that evening inspired many people to donate to the Warren C. Crawley Scholarship Fund, which will be awarded to deserving students in the upcoming year. These gifts build upon the generosity exhibited at last year's Gala, which raised enough funds to provide the scholarship to multiple students in need.
Jake Cleghorn, a BPC Trustee in attendance that night, stated, "Tonight's event was a beautiful representation of the legacy created by Warren C. Crawley. It represents the unselfishness of our diverse community who give and serve each other with the resources God has blessed them with for the betterment of Brewton Parker and above all God's Kingdom. God blessed some with voices, some with the gift of serving food, some with the gift of testimony, and some with financial blessings. All were used tonight to glorify God and to lift our neighbors up all to support scholarships for well deserving people who want to continue to develop and grow in the Lord."
He then went on to say, "I laughed and I cried and most of all I praised the Lord for allowing me to experience a room that represents BPC, our community, and most importantly our eternal home. This event leaves an imprint in your heart and mind, and I am so thankful for having the opportunity to attend."
Brewton-Parker College is the only accredited four-year Christian college south of Macon and north of Jacksonville, FL. The mission of Brewton-Parker College, a Georgia Baptist college, is to develop the whole student through the application of Biblically-centered truth to a liberal arts curriculum in a community of shared Christian values. 
Visit Brewton-Parker College online at www.bpc.edu.
-BPC-