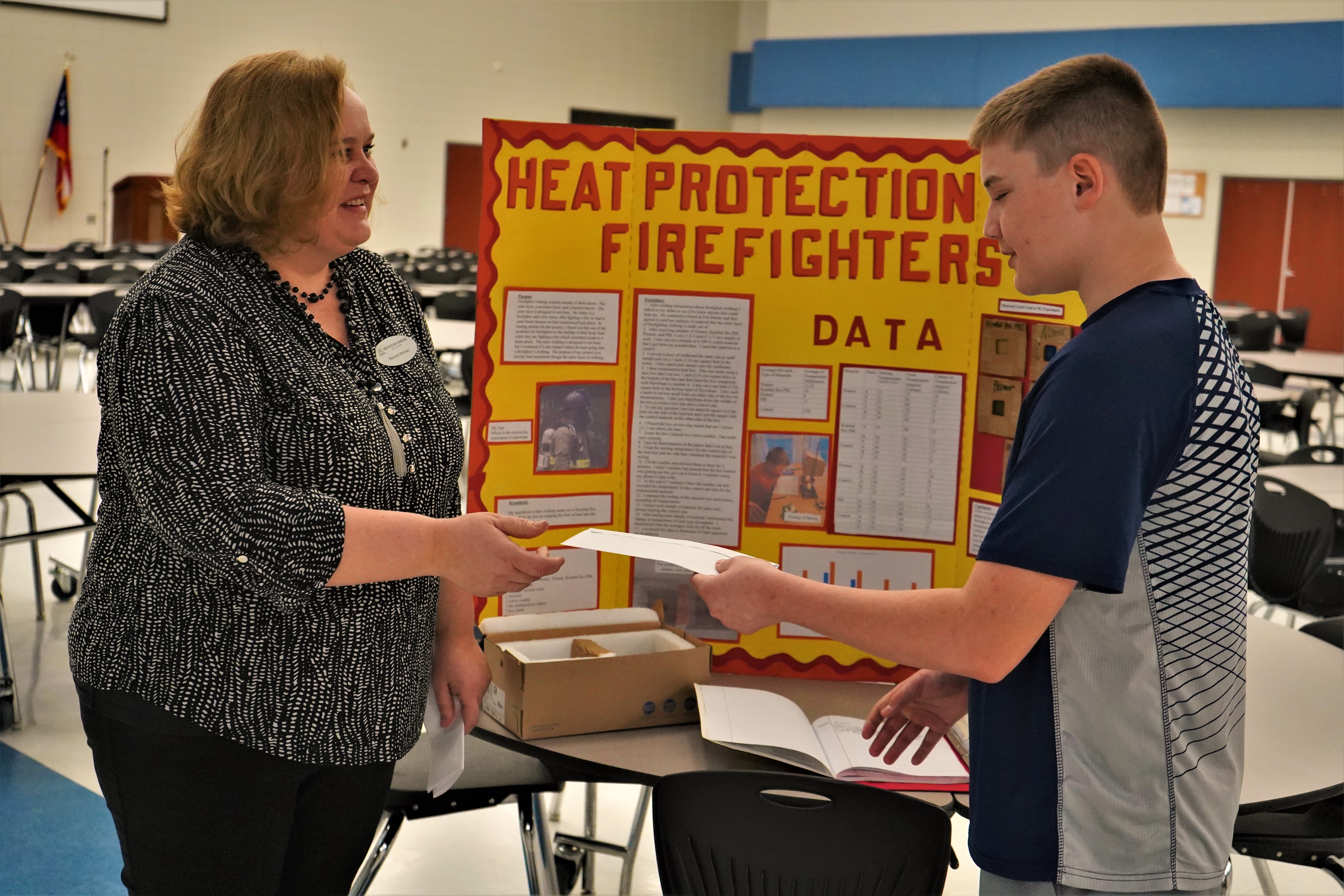 By Evan Riekhof

BPC Marketing Coordinator
MOUNT VERNON – On Thursday, February 6, 2020, Brewton-Parker College (BPC) professor Dr. Helene Peters awarded Montgomery County Middle School's (MCMS) seventh grade student, Bray Williamson, a scholarship to BPC's annual science camp. Three years ago, Dr. Peters was contacted by science teachers from the local schools to help with the judging of their science fair projects. She was also asked to be a mentor for young scientists.
Dr. Peters stated, "I love to help with this because I believe I can come alongside teachers and strengthen the sciences in their school. I also believe we have exceptional students, and those students need extra encouragement to go into the science field because many of them lack confidence or may live in an under-resourced county."
Dr. Peters is the Chair of Math & Natural Sciences Division and Professor of Biology at BPC. She loves inspiring young minds and is an advocate for critical thinking. For the past few years, Dr. Peters has hosted the Summer Science Camps at BPC as a way to enrich young minds in the art of science. According to Dr. Peters, students at the camps have done various activities from an egg-drop challenge to dissecting frogs, and even a college-level experiment such as extracting DNA from strawberries.
Williamson won this valuable scholarship to participate in the science camp because of his Science Fair project titled, "Heat Protection for Firefighters." Williamson tested heat transfer through the outer layer of clothing worn by firefighters. Williamson was joined by MCMS assistant principal Mr. Joel Watson and Academic Coach Mrs. Gloria O'Neal during the presentation of the award at MCMS.
Williamson's father was the inspiration for the science fair project. His father is a firefighter for Laurens County. According to Williamson's research, the outer layer is what keeps the heat out.
"I also figured out the outer layer, it really burns through and daddy let me see his turnout gear and he's got holes," described Williamson. In the future, Williamson plans to test the middle and the inner layers the same way he tested the outer layer.
During the presentation of the award, Dr. Peters expressed her passion for science and said she was "particularly excited about [Williamson's] because [he] showed a lot of preplanning. There were a lot of steps [he] had to go through and then create them thinking how [was he] going to test this. I like that because that is what the Scientific Method is all about."
Dr. Peterson even provided some ideas for research Williamson can perform for his next experiments, such as testing flame-retardant material used in pajamas.
Assistant Principal Watson is pleased to have the connection between MCMS and BPC: "We appreciate anything that Brewton-Parker does for Montgomery County Middle School, the board of education, and all the schools have a great working relationship."
The Summer Science Camps at Brewton-Parker College are open to the community. Registration for the camps will begin in April. For more information please contact Dr. Helene Peters: hpeters@bpc.edu
Brewton-Parker College is the only accredited four-year Christian college south of Macon and north of Jacksonville, FL. As a comprehensive Georgia Baptist institution, Brewton-Parker College provides liberal arts and professional programs in a learning community of shared Christian values. Through the application of biblical truth in scholarship and a co-curricular focus on character, servant leadership, and cultural engagement, the college strives to provide a transformational experience that equips the whole student for lifelong learning and service in Christ..
Visit Brewton-Parker College online at www.bpc.edu.
-BPC-