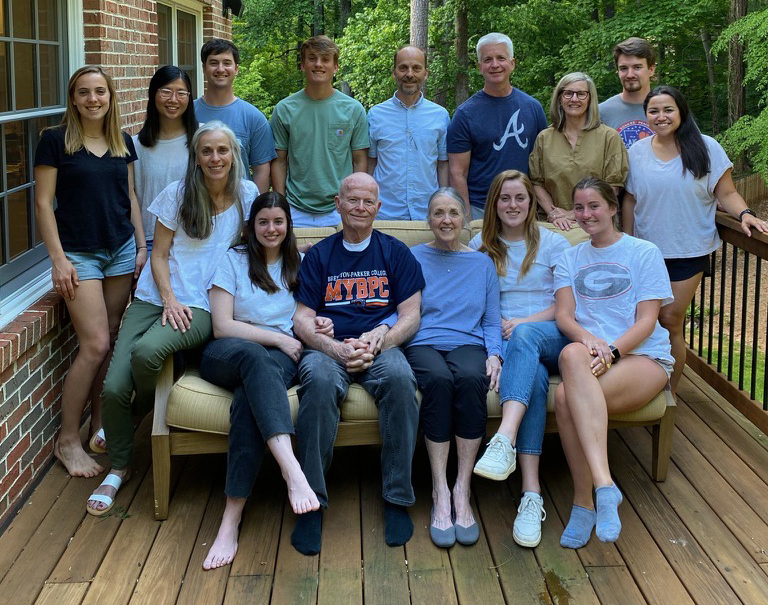 MOUNT VERNON — In early 2021, Dr. Stephen Simoneaux and Susan Snyder, children of Mike and Bonnie Simoneaux, decided to establish a scholarship in honor of their parents. Dr. Mike Simoneaux served as President of Brewton-Parker College from 2011-2013.
Stephen Simoneaux describes the origin of the scholarship by stating, "Our family decided we wanted to honor my parents by establishing a scholarship to enhance Christian music education in Georgia. As a lasting tribute to their many decades of service, helping students at Brewton-Parker, where my father served as president, seemed a fitting dedication. We all hope that this scholarship will enable those interested in music education to continue their studies at BPC."
Mike and Bonnie Simoneaux were childhood friends from New Orleans and married on July 5, 1959, while Mike was in the US Air Force. Upon discharge in 1961, Mike began music studies at Mississippi College while Bonnie worked and took classes as time allowed. He graduated from MC in 1965 with a Bachelor of Music Education degree, and they moved to Southwestern Baptist Seminary. During the first chapel service of the semester, both felt the call to be career missionaries and transferred to New Orleans Baptist Seminary in their hometown, to complete the Master of Church Music degree and to be near family before mission service. After graduation in 1967, Mike entered the seminary doctoral program in music, while Bonnie continued to take courses to complete educational requirements for missionary appointment. They were appointed as career missionaries to Japan under the Foreign Mission Board (now International Mission Board) of the Southern Baptist Convention in 1969. Mike also graduated that year as the first doctoral student in music at NOBTS.
The Simoneaux family left for Japan in December of 1969. During their years in Japan, Bonnie served as director of weekday ministries for the mission, and Mike worked with Japanese Baptist churches developing music programs for individual churches, as well as training church music leaders. In 1981, Mike accepted the position as Minister of Music at First Baptist Church of Pensacola where he stayed until 1986 when the Lord led them into a new direction of ministry in Baptist higher education.
Prior to coming to BPC, Dr. Simoneaux has worked in many capacities in higher education, including as Chair of the Music Department, Dean of the Faculty, Vice President of Academic Affairs, Vice President of Institutional Advancement, Vice President for Academic Services, and Interim President. In March 2011, at the request of the Georgia Baptist Convention, Dr. Simoneaux served as Interim President for Brewton-Parker College and was appointed President in August 2011. During this time, BPC did not have a music degree. Dr. Hildegard Stanley, former Music Division Chair, commented, "During his time here, he was a huge advocate for the revitalization of the music program."
Current BPC President Dr. Steven Echols said, "We are deeply grateful for the generosity of the Simoneaux family in establishing this scholarship in honor of Dr. and Mrs. Mike Simoneaux! Dr. Simoneaux and Ms. Bonnie have led exemplary lives of service as missionaries, in local church ministry, and in Christian higher education that stands as a model of selfless dedication and devotion to our Lord Jesus Christ. Their work at Brewton-Parker College came at a time the school was facing a grave crisis. God used their tenure at BPC to not only help the college to survive but also to lay the foundation for the blessings that have followed. In view of their commitment to music ministry, it is fitting that music education be the area for the scholarship that will benefit our music students for years to come."
If you would like to contribute to the 'Mike & Bonnie Simoneaux Music Education Scholarship,' visit: www.bpc.edu/give.