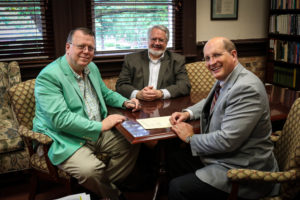 MOUNT-VERNON—On Tuesday, May 23, 2017, Brewton-Parker College and the Church of God School of Ministry entered into an articulation agreement. This agreement allows the transfer of credits to BPC from the Certificate of Ministerial Studies program administered by the COGCre School of Ministry. Daniel Tomberlin, Chairman for the Ministerial Development Board in South Georgia, visited President Steve Echols in his office in order to sign the agreement, witnessed by Dr. Robert Brian, BPC Provost.
"We are very grateful for this agreement, which will allow Church of God students to complete their training at Brewton-Parker College," said President Echols.  He further noted, "Though we are a Georgia Baptist institution and unequivocally committed to the doctrine of the Baptist Faith and Message 2000, we are also South Georgia's only accredited four-year Christian college. BPC is grateful for the opportunity to serve and educate students from other denominations. We are united in purpose with those who proclaim the Lord Jesus Christ and who desire to provide this generation of students with a liberal arts education that is centered in a biblical worldview. A special thanks is due to Dr. Tomberlin, who envisioned this partnership. He and the leadership of the Church of God have been so very gracious throughout this process. We have great respect for their ministry, and it has been a joy to work with them. We are looking forward to having several new COG students at BPC this fall."
Students who wish to transfer credit to BPC must complete an application for admission. Once they are accepted and enrolled, they are eligible for a maximum of 32 semester hours of transferable credit, as outlined in the articulation agreement. Transferable credit includes courses such as Introduction to the Old Testament, Ministry of Care and Counseling, and Christian Ethics, to name a few.
BPC desires to establish partnerships with others in the South Georgia region who will support a college that is biblically centered with a mission to see the lives of students transformed academically and spiritually for the glory of God.
Brewton-Parker College is the only accredited four-year Christian college south of Macon and north of Jacksonville, FL. The mission of Brewton-Parker College, a Georgia Baptist college, is to develop the whole student through the application of Biblically-centered truth to a liberal arts curriculum in a community of shared Christian values.