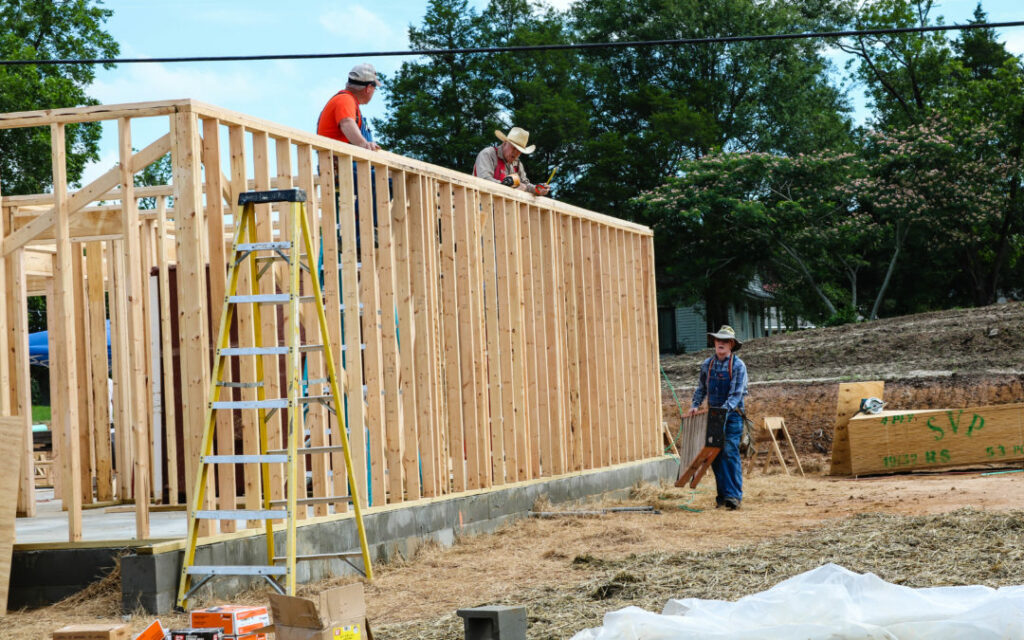 MOUNT VERNON– Construction continues at Brewton-Parker College. With the recent launch of its Rise & Shine Capital Campaign, Brewton-Parker has wasted no time with the building of its new dormitories at Baron Ridge. This summer begins the first of two years of construction. After a span of ten years, it's exciting to see new ground breaking and fresh walls rising on campus.
Volunteers have already lined up to help South Georgia's Christian College. This week, the Mission Worktrip Team from East Cullman Baptist Association has traveled from Cullman, Ala. to help with construction. The team has worked tirelessly to construct the framework of the new dormitory. In less than a week, the slab of cement has turned into a recognizable structure, with distinguishable windows, doors, and rooms.
The team arrived on campus Sunday, June 4. During their time at Brewton-Parker, the team will be living in the other dorms at Baron Ridge, along with the RV's that can be seen just off site. Some volunteers have even brought their families, and children ride their bikes across campus as their parents work with such generosity.
It's an exciting time for Brewton-Parker as renovations are taking place across campus. Just recently, the floor in Gillis Gymnasium received a face-lift, courtesy of Paul Thigpen Chevrolet, the college's first corporate sponsor. In addition, the maintenance team at Brewton-Parker has been working continuously to make the college the best that it can be for new and returning students. As the school moves into another academic year, employees, students, and the local community can look forward to the continued improvements that await.