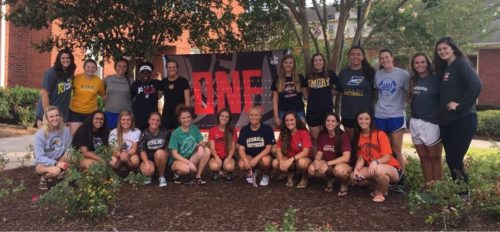 Four Brewton-Parker College student-athletes gave up time during summer vacation to help lead and develop the spiritual lives of a younger generation of student-athletes at Fellowship of Christian Athletes camps. For some of the Brewton-Parker College students, this was their first experience at a FCA camp, while others were veterans to the camp. Danny Conlin, a member of the Barons soccer team, explained, "It was my first FCA camp. I didn't really know what to expect, but I am very glad I went and enjoyed my time there."
At the camps, the student-athlete leaders were tasked with being Huddle Leaders, which involved leading small groups of campers spiritually, acting as a mentor to the student-campers, and helping with practices and games during the camp.
Aldreana Fikes, the student assistant for the Brewton-Parker College women's volleyball team, described her duties at the camp, "My responsibilities consisted of making sure my team was on time to all our our scheduled events, catering to the needs of the coaches, running the game clock or keeping track of fouls when my team was playing, and most importantly showing God's love towards the girls!"
While the camps were centered around sports, a big part of the experience was about leading each camper to grow in their spiritual lives. Huddle leaders would spend what FCA refers to as "Huddle Time" with their huddle team. During Huddle Time, the small groups went through devotionals, prayed, and talked about the message from earlier worship services.
Autumn Beasely, a  member of Brewton-Parker College's volleyball team, Autumn said that the most important part of her experience was when she was able to "pour Jesus into this group of awesome young ladies by praying for and with them and also by leading huddle time." Beasley said she could feel Jesus throughout the camp and even had two girls from her Huddle Team rededicate their lives to Christ.
Brewton-Parker softball player, Samantha Gidney saw her experience as part of God's greater plan. "God's taken me to BPC," she explained, "He's the one that led me to be a part of that camp, and now I'm excited to see what He's going to do with my last year at Brewton-Parker College."
All four of the Huddle Leaders from Brewton-Parker commented on how great of an experience it was to mentor and work with these younger student-athletes through FCA camps and how excited they were to participate again next year.