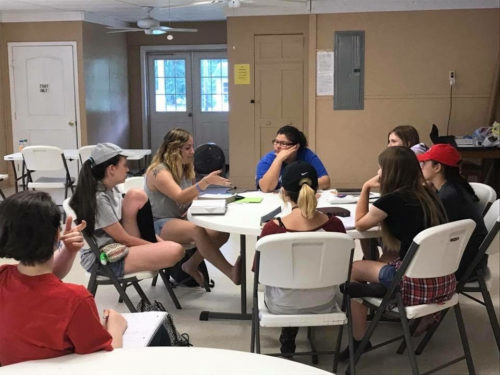 Paige Norton hoped to go on her first mission trip during her summer break, but God had a lot more in store for the senior Christian Studies major from Brewton-Parker College. After her original mission trip was canceled, Norton's professor recommended her to be the female summer missionary for Georgia's Houston Baptist Association.
As the female summer missionary, Norton assisted with two churches' vacation Bible school programs, assisted and lead four camps, and went on two separate mission trips. She also fulfilled core values of Brewton-Parker College like practical application, servant leadership, and characteristic excellence. Her time as a missionary would impact her own life just as much as the individuals that she ministered to during this time.
Prior to the summer, Norton wasn't sure which aspect of ministry God was calling her to work in after graduation. According to her, she had always assumed that she would just settle for working with teens and had never thought much about working with children. Through her time spent as a summer missionary, God revealed to Norton that her calling was in children's ministry.
Norton served as the main speaker for the local Girls' Camp. While there, Norton built relationships with the girls as she ministered to them. There were twelve salvation decisions made throughout the week. Several weeks later, Norton still has a strong mentoring relationship with these girls. Norton explained the impact that God had on these children through her was, "Such a confirmation that God has equipped me to work with kids."
In addition to realizing her calling in children's ministry, Norton had several takeaways from her experiences this summer. From working with children to serving homeless people, Norton was shown that everyone needs Jesus. As a Christian Studies student, her Bible knowledge is extensive, but when it comes to leading people to Christ she said, "You really just need to show them love and tell them how much Jesus loves them."
Norton's prayer life was also greatly impacted, as she learned to prioritize time for prayer every morning so that her day would go smoothly. She said about one of the weeks of camp, "The Devil was causing everything to fall apart despite the thorough amount of planning that had been put into the week." Norton pointed out that they were forgetting to pray over everything. "If we're preaching that talking to God and having a relationship is important, we have to be doing it," Norton explained to her fellow camp leaders.
Almost immediately after returning home from her last mission trip with the Houston Baptist Association, Norton received a phone call from her home church about interviewing for the position of Children's Director. Had she not spent the last couple of months serving in ministry and obeying God, Norton wonders if she would still have this future opportunity. "I truly believe that [God] rewards obedience," Norton commented.