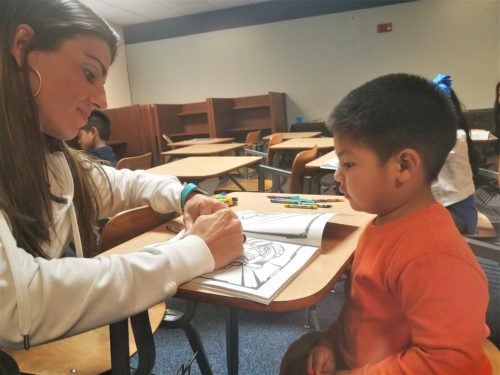 In Colossians 3:14, Paul encourages Christians to live a life that is marked by "heartfelt compassion, kindness, humility, gentleness, and patience" (HCSB). Christian volunteers from the Montgomery County and Toombs County area lived out this verse as they worked together to minister to Hurricane Irma refugees. Brewton-Parker College, which opened Gillis Gymnasium as a storm shelter, was a recipient of this multi-denominational outpouring of love and support.
The Montgomery-Toombs County area hosted refugees from Hurricane Matthew in 2016. Because of this experience, locals to the Montgomery-Toombs County area were quick to organize a Facebook group for Hurricane Irma where weather updates, current needs, and storm shelter information could be quickly accessed by volunteers and evacuees. Because of this group, volunteers were notified of the plans to open Gillis Gymnasium. They began donating supplies on Saturday.
For the Brewton-Parker College administration, offering the storm shelter went beyond meeting physical needs. Nikki Bell, Director of Human Resources and Risk Assessment Manager, shared in the online group, "We intend to make this a ministry opportunity and not just a shelter." The list of needs she provided included children's activity directors and leaders for small group Bible studies.
The storm shelter opened Sunday at noon. As families filed in to take shelter, volunteers hustled to make Bell's vision a reality. Volunteers dedicated a Gillis Gymnasium classroom for children activities. While engaging in games, stories, and coloring, volunteers shared the gospel with these children. Other refugees met in the gym to play basketball or to find some community during the storm.
By Sunday evening, Brewton-Parker College hosted fifty-three individuals from the community alongside some students and staff. As the storm grew closer, a few more refugees took shelter in the gym.
As can often be witnessed, God worked through the lives of many different individuals to make this ministry possible. In addition to the Montgomery-Toombs area individuals who donated emergency supplies and time, Brewton-Parker College's generators were supplemented with a 60kw generator provided by the Georgia Emergency Management Administration. This allowed the campus to serve its community and refugees as a Good Samaritan shelter.
President Steve Echols noted, "During some challenging times, the community has been very supportive of Brewton-Parker College. We want to be a blessing back to the community. We appreciate our dedicated staff who worked around the clock to allow us to have this ministry to share the love of Christ through providing shelter, food, and activities to those in need as a result of the storm."
Tropical Storm Irma arrived in the Mount Vernon area on Monday, September 11. Brewton-Parker College cancelled classes the week before, so most students weathered out the storm in their respective family homes. Most of the campus lost power, but generators allowed the staff to prepare and serve food for those students who remained and for the refugees in the gym. The storm did no not cause any major damage to the main Brewton-Parker College campus.