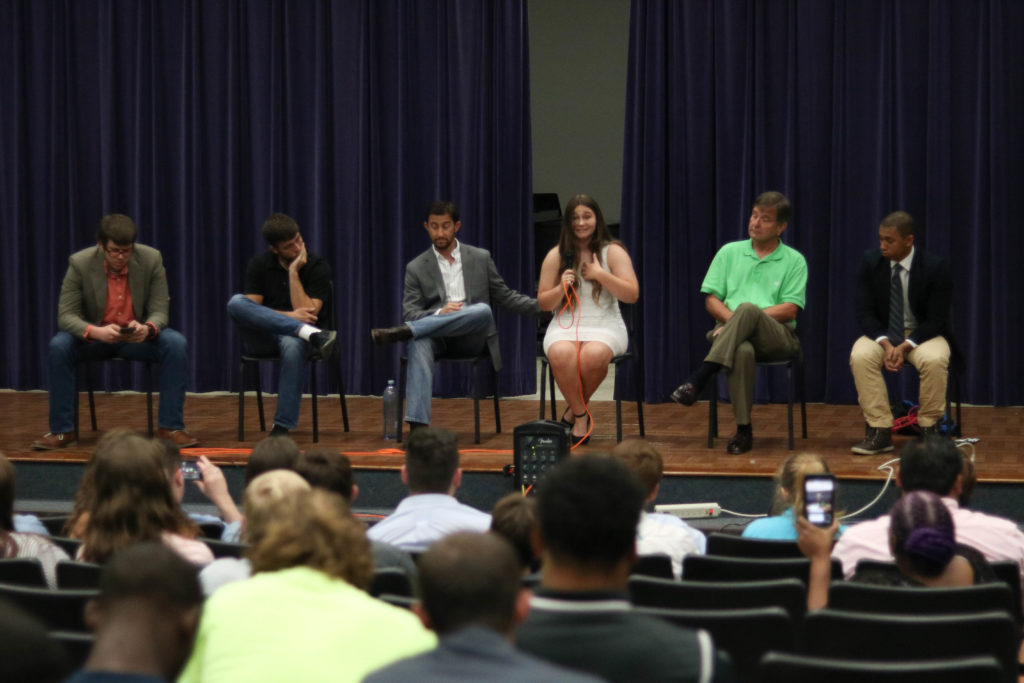 Pictured left to right: Jonathan Jenkins, Nate Pristavec, Dr. Billy Puckett, Lydia Clements, Dr. Jerry Ray, and Hunter Young
MOUNT VERNON— Over 50 Brewton-Parker College students attended the third annual Lion's Den on Tuesday, Oct. 2. BPC's Ministerial Association hosts this event each year where a panel of faculty and students from the Christian Studies department answer some of the toughest questions about faith and Christianity.
This year's panel consisted of two faculty members, Dr. Jerry Ray, Assistant Professor of Christian Studies, and Dr. Billy Puckett, Assistant Professor of Theology and Ethics. Joining them on stage were four current Christian Studies majors: Jonathan Jenkins as moderator (junior), Hunter Young (junior), Lydia Clements (junior), and Nate Pristavec (senior).
To serve on the panel, these students had to complete several upper level courses in the Christian Studies program and compete in a rigorous interview process against fellow classmates. Only by demonstrating a high level of ability in apologetics and evangelism as well as academic rigor could these upperclassmen obtain this high honor.
This year's selected students not only demonstrated the necessary skills, but also represented multiple areas of ministry. In addition to his studies, Pristavec serves as a youth pastor to a local church. Meanwhile, Clements focuses her attention on the mission field, organizing numerous trips, both on campus and off. She is currently organizing a trip to North Carolina where students will serve in disaster relief efforts in response to Hurricane Florence. While Pristavec embodies the pastor and Clements the missionary, Young resides on the panel as the itinerant preacher. As a professional wrestler, Young has made it his mission to share the Christian redemption message through his ministry as the Wrestling Saint.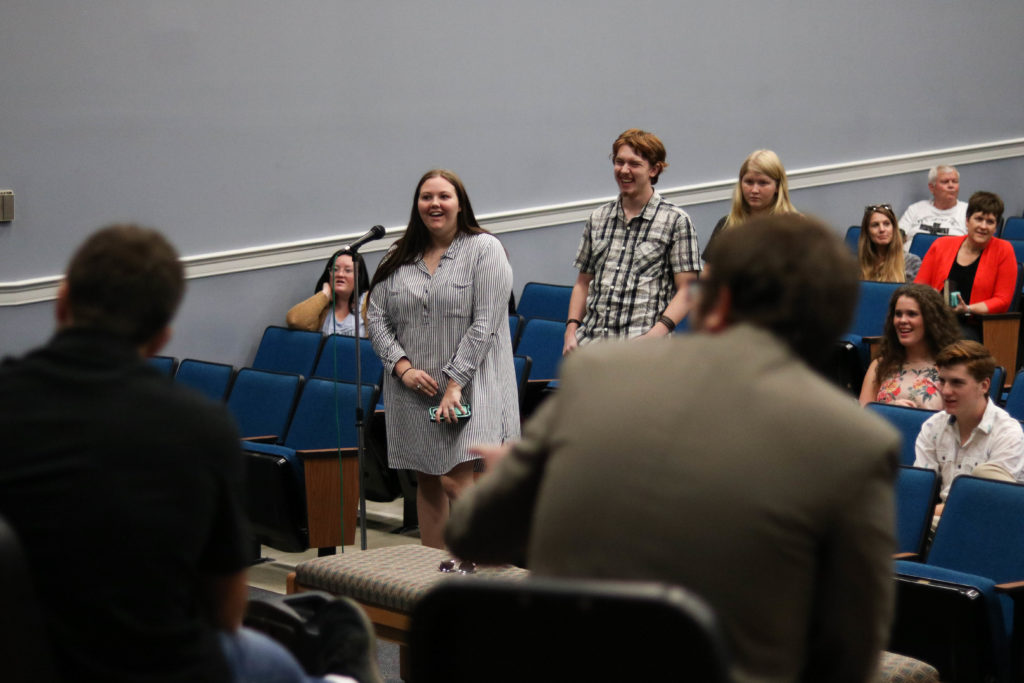 Students line up to pose their questions to the panel. 
Jenkins, also a junior in the Christian Studies department, moderated the event by directing questions to members of the panel. Those in attendance were encouraged to step up to the mics in Gilder Recital Hall and pose their questions. This year, the event was also broadcast live on social media, and those watching were welcome to text in their questions to the moderator. Questions ranged from the security of salvation to the church's responsibility in ongoing social issues.
Dr. Puckett shared his enthusiasm, "It is a joy to see our students grow into such capable and confident defenders of the Christian worldview. They offered thorough, compelling and gracious responses to some of the most difficult questions facing contemporary Christianity. I listen to these students and think, we must be doing something right at BPC."
In attendance that evening was current freshman and Christian Studies major, Thomas Rhodes, who stated, "The Lion's Den was an opportunity to have questions of the Bible answered, and it did exactly that. I was impressed with the thoroughness with which the students and professors answered the questions that were presented. Once I have taken the necessary classes, I too hope to be a voice on the panel."
Many freshmen like Rhodes express this same desire. The lowerclassmen are working hard to obtain the same level of knowledge and understanding as their upperclassmen peers.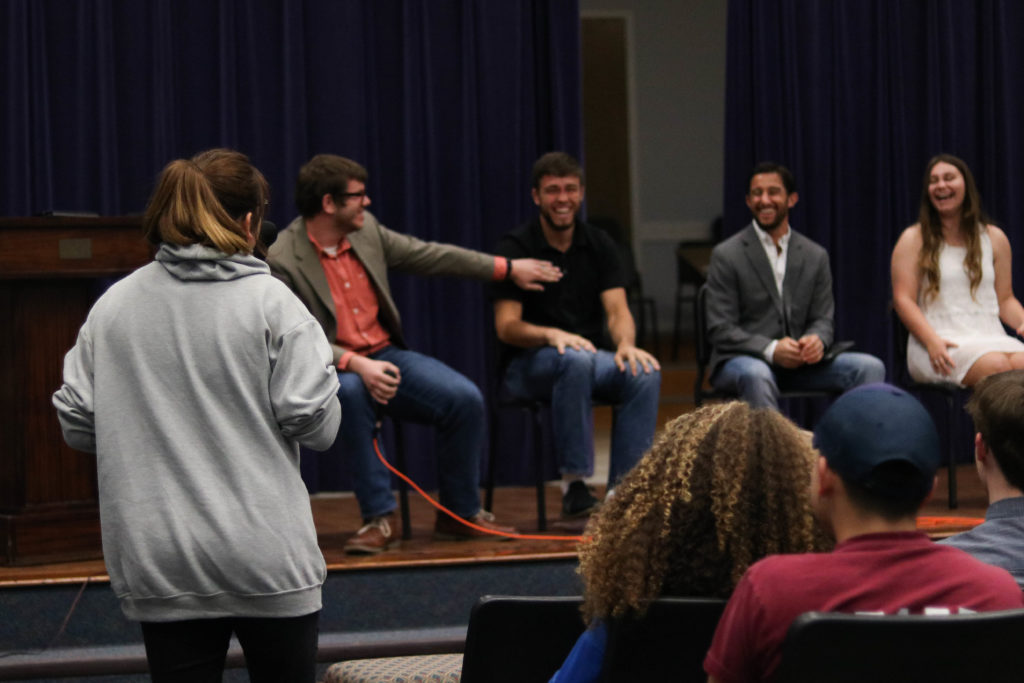 Spirits were high as the panel offered insightful, and sometimes humorous, responses.
Christian Studies majors were not the only ones to benefit from this event. Suzanne Hewitt, a sophomore in the education program, shared, "I enjoy going to the Lion's Den each year. It's something that many college campuses don't get to experience, and it's an amazing opportunity for both Christians and non-Christians to gain more insight about the Bible. This event provides answers about personal questions that you can't always Google."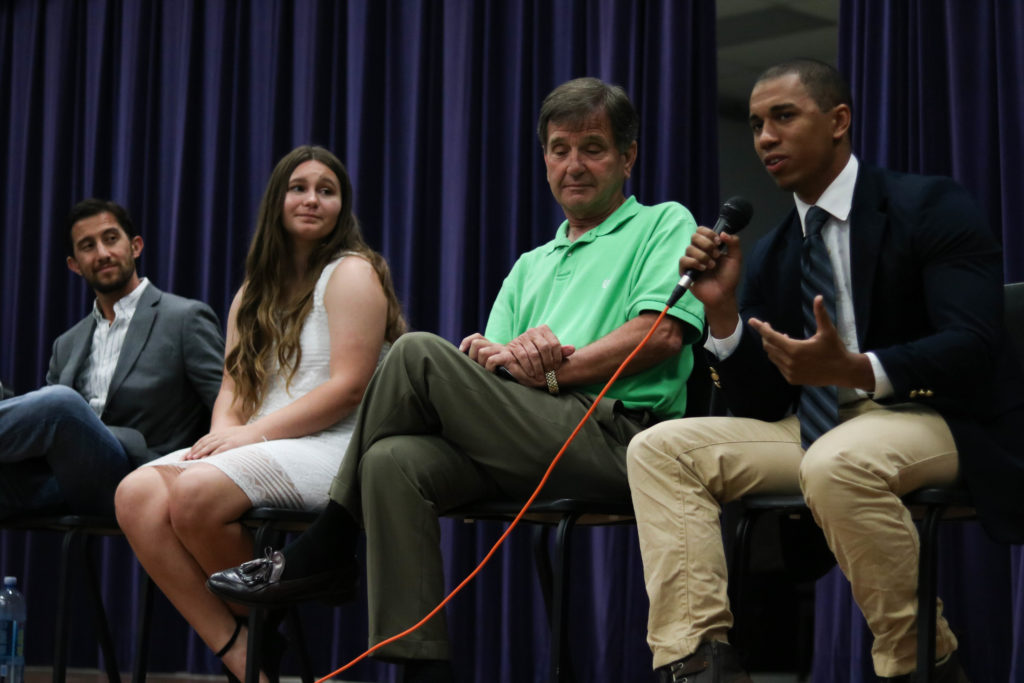 Hunter (far right) gives his answer on how he knows God exists.
In the spring, students will continue their questions and search for answers during the Defend the Faith Apologetic Conference on February 9, 2019. For this third annual conference, BPC is proud to welcome Richard Howe as the keynote speaker. Howe is a noted writer and public speaker on issues concerning Christian apologetics and philosophy, as well past president of the International Society of Christian Apologetics.
During this one day collegiate and youth apologetics conference, students will continue learn and practice the defense of their faith. In addition, select BPC Christian Studies majors will lead breakout sessions that coincide with Howe's lecture.
The Christian Studies department at BPC seeks to train students in a thorough understanding, defense, and application of God's Word and biblical faith. By hosting events like the Lion's Den and the Defend the Faith Conference, students find the opportunity to apply this training in practical ways. As they graduate from BPC, they will have the skills necessary to answer the most daunting questions about their faith.