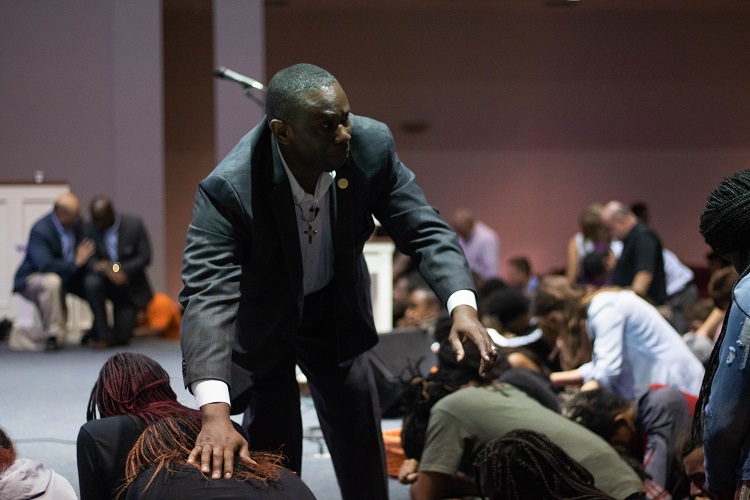 By Jerusha Yoder
Director of Marketing
The Prayer Behind Revival
Andrew Murray once stated that "revival must begin with a great revival of prayer. It is in the closet, with the door shut, that the sound of abundance of rain will first be heard." During the 2018 Fall Revival Week, Brewton-Parker recognized this same truth.
Each morning during revival week, as students made their way toward Saliba Chapel, BPC employees gathered in Fountain-New Library to pray in earnest for the spiritual condition of every student. The goal: to see revival spring from each heart.
These prayers did not just begin that week. The week before revival, the chapel was open each day for faculty and staff to pray individually. "I've always felt it to be a great privilege to be at work and pray with coworkers at the same time," stated Chad Ritchie, director of advancement. "This school honestly cares about its students, and this care is evidenced in this prayer time."
When asked the importance of such prayer, Dr. Robert Brian, provost, stated, "As faculty and staff, we are committed to the power of prayer for transformation in people's lives, and we believe it requires action, not just lip service."
No doubt, these moments of prayer were not offered in vain. At the end of the first service of revival, over a hundred students crowded the altar in search of God's direction in their lives. A similar number would gather each day, and by the last service, over twenty-five individuals would come to profess Christ as Savior.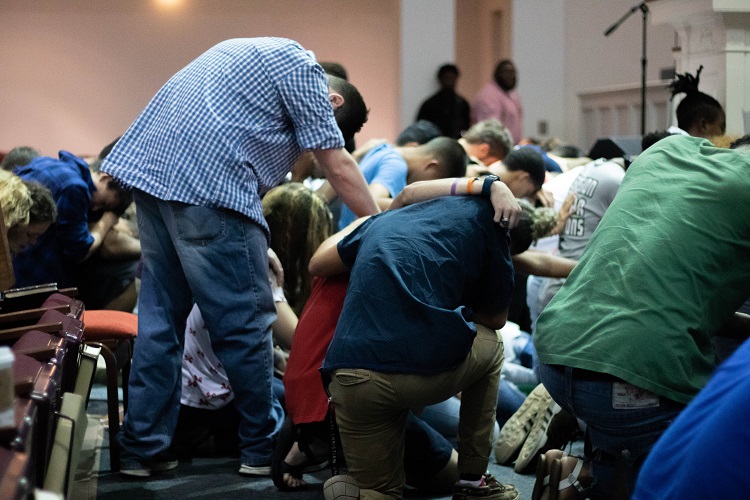 During that first service, Pastor Tony Lowden declared, "You wouldn't be here today if you didn't have a passion or dream. But your passion or dream is nothing without God. It's just an empty promise." As students and employees allowed this reality to sink into their hearts, the Holy Spirit moved in a powerful way. At the end of each service, students and employees embraced one another in tearful prayers. The result: revival spread across campus.
On the final day, Lowden stated, "You are purposefully driven because you have a powerful treasure living on the inside." With this purpose in mind, students left revival week empowered and ready to see God's purpose fulfilled in their lives.
President Echols expressed, "God has truly answered our prayers to send us one of greatest movements of the Holy Spirit that I have ever had the privilege of experiencing. We praise His Name! I believe this is only the beginning of what God wants to do at and through BPC in seeing multitudes of lives changed for His glory!"
The Student Experience
Current BPC Senior Morgan Page recently reflected on her experience during revival week:
"When I was first reminded that revival services were upcoming at Brewton-Parker, the first thought that crossed my mind was the opportunity to stack chapel credit for the week. I will admit, my mind was not where it needed to be; however, when I heard Pastor Lowden's messages with my own ears, his testimony affected me to an extent much greater than I expected.
I have never experienced neglect to the extent that Pastor Lowden discussed. But I have seen God pick me up in my brokenness and prevail for me. I have seen bad days turn good and broken relationships put back together because God prevails. We have all witnessed God do something amazing through our own lives or through the lives of another.
Pastor Lowden shared several personal stories throughout revival week, each of which demonstrated how God prevails—consistently. When we walk through our crazy lives that are ever changing, He is our constant. Revival week at Brewton-Parker allowed me to be rejuvenated in my own faith and bear witness to many people who were rejuvenated in their own faith as well. Most amazing, however, was that I witnessed several come to Christ for the very first time. That, I believe, is one of the most fulfilling things to witness in a walk with Christ: gaining brothers and sisters for eternity."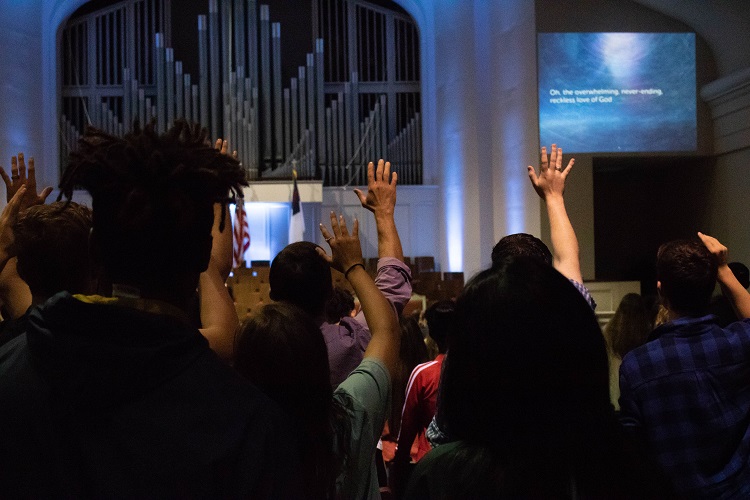 The Purpose Behind Revival and a Campus Moving Forward
While revival has always been an integral part of BPC, its recent shift to the start of each semester indicates the importance of such revival. By beginning each academic year with this week dedicated to God, the college provides students with the proper foundation for spiritual and academic success.
Steve Edwards, BPC's campus pastor recently expressed, "We always pray for a great move of God on our campus each year. Revival week allows us to unify as a campus in our pursuit of Christ. This year, we witnessed an amazing outpouring of the Holy Spirit on our campus and many decisions were made to follow Christ. Rev. Lowden blessed our campus by allowing God to use him. We are all in awe of what God is doing on our campus here at BPC!"
In the days ahead, faculty, staff, and coaches, will continue to pray for the students and their commitments made during revival week. Each Tuesday, employees will still gather in prayer, not only for the students but also for every individual that steps onto campus. In addition, faculty and staff are joining a prayer emphasis initiative wherein they are dedicating thirty minutes to pray for individual students. By the end of the semester, each member of the student body will be lifted up in prayer.
As a Christian college, BPC's number one focus will always be the spiritual transformation of students' lives. This transformation begins and ends with prayer. With this focus in mind, the college is poised to enter an era of sustained revival that will change not only the students' lives, but the lives of those around them.