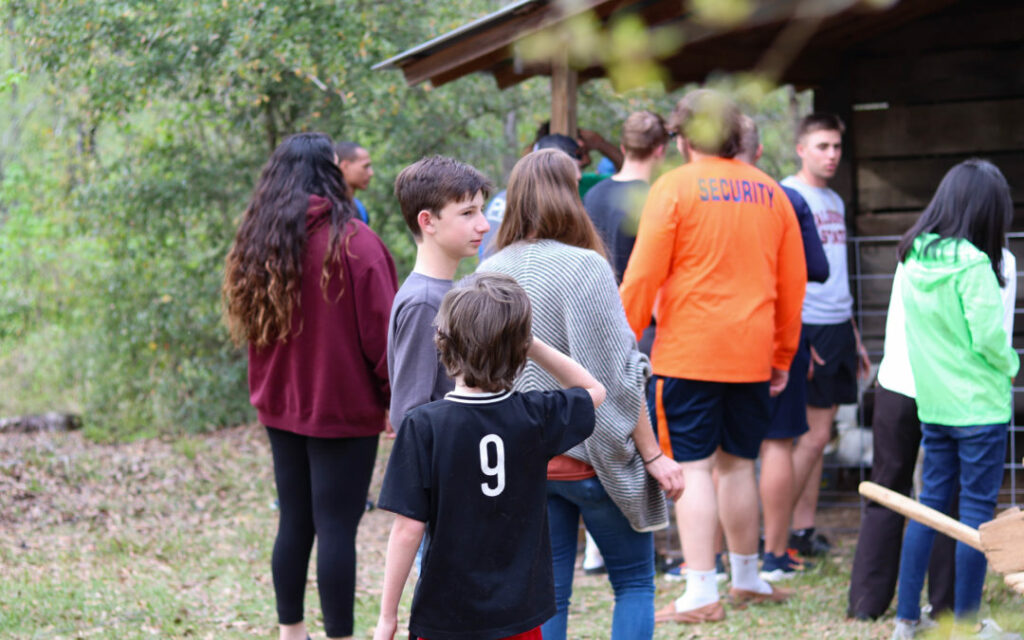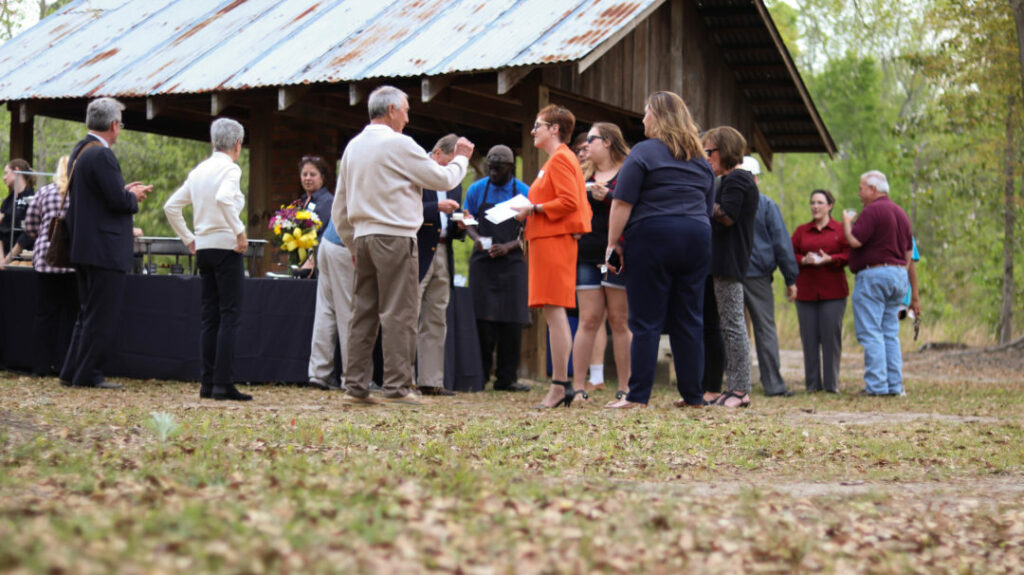 By Suzanne Hewett

BPC Student Writer
MOUNT VERNON—After months of hard work and planning, students celebrated the grand opening of BPC's Historic Village during the annual History Under the Stars event on Thursday, April 4. While the Historic Village has been a longstanding tradition at BPC, this year brought fresh changes.
As part of a class project for Public History in America, Dr. Amanda Allen, students, and locals invested time and money in restoring the Cooper-Connor House, the Connor Stable, the Berry C. Thompson House, and Tyre Chapel. Throughout this process, students discovered a variety of hidden artifacts, including butter churns and agricultural tools, which are now on display at the exhibit. Thanks to the support of Georgia Humanities and the efforts of the class, the community can once again step back in time to visit 19th-Century Southeast Georgia.
Students from the Public History in America course gather after the event for a group photo. LR: Dr. Amanda Allen, Jeremiah Coxton-Dease, Wyatt Morris, Alex Telfair, Hunter Kennedy, Emily Jones (top), Jincy Ray (bottom), Morgan Page, and Dani Josey
During History Under the Stars, BPC welcomed students and local community to explore all these changes and more. The event even included a special lecture with guest speaker Dr. Mark Huddle, Associate Professor of History at Georgia College and Director for the Center of Georgia Studies.
In his lecture titled "The Burning of Clinch House: Commemoration and Conflict in Civil Rights Era Georgia," Dr. Huddle guided the audience through the historical events that occurred in Hancock County. Those in attendance learned of the struggles and events that a man named John McCown witnessed as Hancock county went from being one of the wealthiest counties in America due to its production of cotton to being one of the poorest counties after the destruction from the Boll weevil.
Prior to the lecture, attendees enjoyed dinner on the grounds as they visited the exhibits. Students from the Public History in America course also led guided tours as they shared historical facts about the buildings and artifacts from the 19th-Century.
Throughout the remaining weeks in April, the class will continue to offer tours to the public for free during the following dates and times:
Friday, April 12 from 10 am – 2 pm
Friday, April 26 from 10 am – 2 pm
Saturday, April 27 from 10 am – 2 pm
Tours can also be booked for private by emailing historicvillage@bpc.edu or calling 912-583-2241.