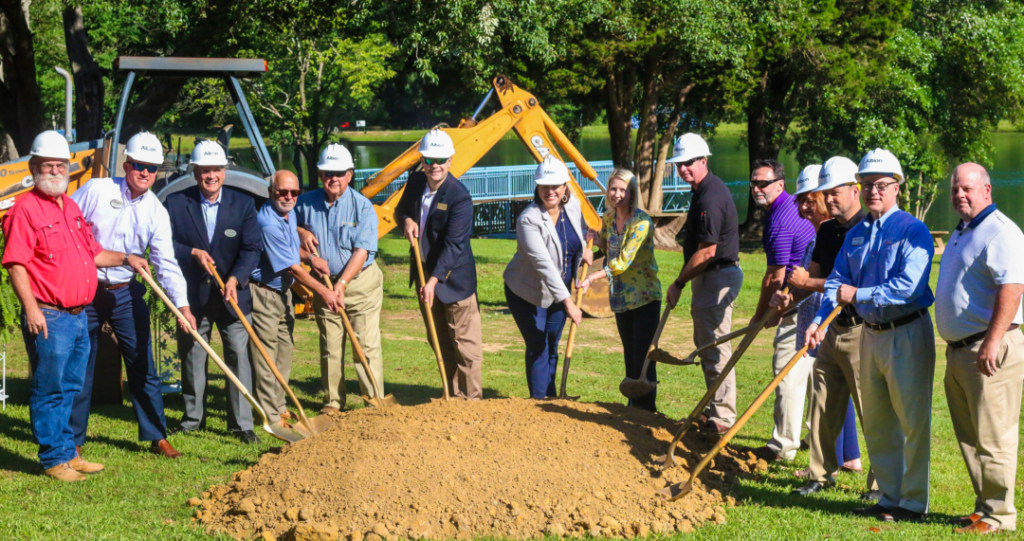 By Jerusha Yoder

Director of Marketing
MOUNT VERNON — On Wednesday, May 15, Brewton-Parker College officially broke ground on construction for the new addition to Phillips Student Center. Originally constructed in 1967, the building currently features the student activities center, campus post office, and Baron Fan Store, as well as two dining facilities. This new addition will expand on those dining facilities, nearly doubling the seating capacity from 115 to 215.
The new addition will also feature renovations to Lakeside Grill. These renovations will include redesigned interior, as well a new 1,800 square foot patio that will overlook the college's beautiful 5-acre lake as it extends the roof of the new addition.
"We've been listening to our students as they explain areas that could be improved, and they need more gathering space," explained President Steve Echols during the ground breaking ceremony. "As enrollment continues to grow, the need for space will become even greater. Through this new addition, we will meet this need by providing a new student lounge with food services."
The new patio will provide students with a new location for gathering and will be a great attraction for the local community. Furthermore, the overall addition will fulfill another growing need as BPC hosts more and more camps during the summer months. This summer alone, the college expects to welcome over 2,000 campers. These camps include a science day camp hosted by the Division of Math and Science, SURGE hosted by the Daniell Baptist Association, and CentriKid Camps hosted by LifeWay.
Lauren Shaw, the college's Director of Student Activities and Summer Camps stated, "I am so grateful that Chartwells has partnered with the college to make this Cafeteria addition happen. We will be able to fit more campers during meal times in the Cafeteria space. Last summer we had the campers divided up into 3 shifts of 20 minutes each. Even after dividing up the meal hours into 3 shifts, we still had to sit campers upstairs in the overflow area. It is exciting that next year the Cafeteria will be able to accommodate all the campers comfortably downstairs in less shifts."
During the groundbreaking ceremony, Dr. Echols thanked Emily Williams, district manager for Chartwells Higher Education Dining Services and welcomed her to share a few words regarding the project. With excitement, she explained that the vision for the new addition began with the recognition of BPC as a pinnacle of the community and it's need for additional entertainment space.
She went on to state, "I'm lucky enough to have this partnership with all of you, with BPC, and with Dr. Echols to bring this vision into reality. I'm thrilled we have such a great team working together."
The ceremony ended as Dr. Echols explained the importance of setting the right foundation for the college, a foundation stronger than steel and concrete. As South Georgia's Christian College, BPC strives to place its transformative mission at the heart of all it does. As Dr. Echols explained, "Unless the Lord builds the house, we labor in vain" (Psalm 127:1).
"Everything we do at BPC is built on seeing the lives of our students transformed academically and spiritually for the glory of God," Dr. Echols stated. "As we take this special time for the ground breaking, we also want to take a moment to dedicate the construction to this mission and ask God for his continued blessing. Without His guidance, BPC would not be where it is today."
As the college grows, it will continue to keep this mission at its heart. With additional construction on the new Baron Ridge dorm and renovations to academic and administrative buildings already underway, the administration looks forward to welcoming new and returning students this fall.