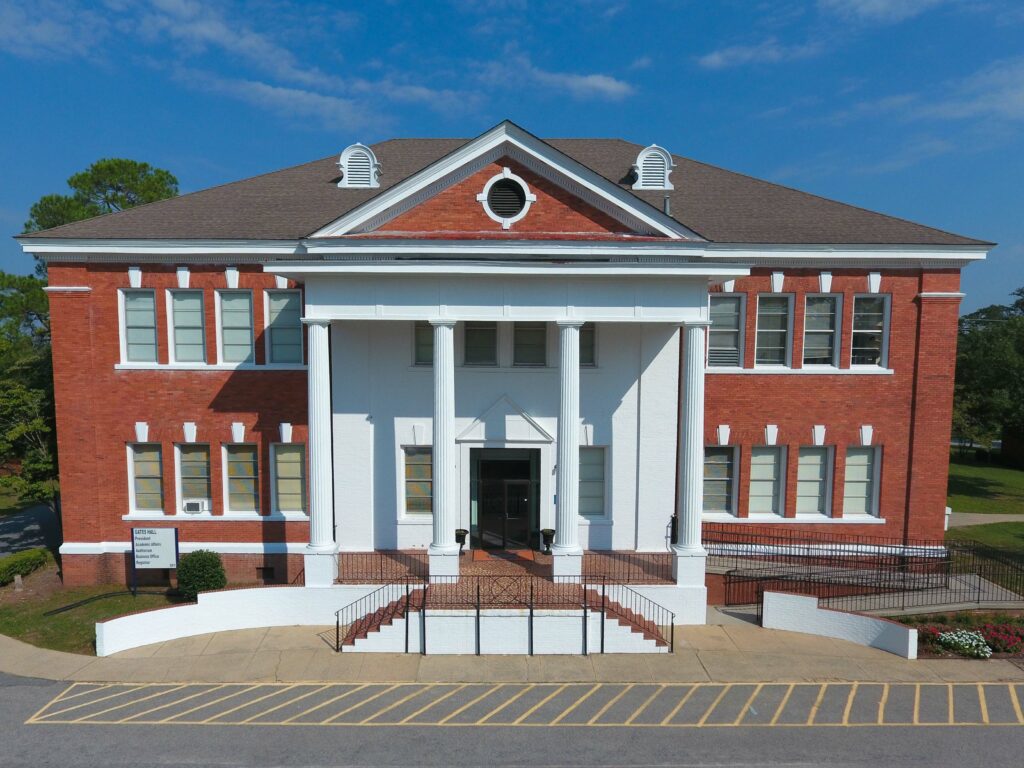 MOUNT VERNON – Brewton-Parker College is pursuing an aggressive course to establish a bachelor of science in nursing (BSN) program on its Mount Vernon campus with a target date for the starting class currently set for Fall 2022. Even now, the facilities already have been identified on campus to house the program, and last semester the college approved a Pre-Nursing curriculum within the Health Professions concentration of its Biology major.  Students interested in nursing as a career path currently are being recruited for the inaugural Pre-Nursing cohort for the upcoming 2020 fall semester to begin on August 17th.
Dr. Rennie Bailey, local nursing professional at the Vidalia Children's Center, has served for the past nine months as a nursing consultant to assist the college in the early stages of securing developmental approval from the Georgia Board of Nursing. This initial endorsement will allow the college to engage a nursing program director, develop the upper-division curriculum, and establish clinical partnerships with local healthcare providers. Already Dr. Bailey has completed a required feasibility study, which the college's Board of Trustees approved enthusiastically at its regular meeting last October.
In supporting the establishment of a nursing program, the Board advances Brewton-Parker's mission to provide "liberal arts and professional programs in a learning community of shared Christian values" to equip students for "lifelong learning and service in Christ."
As Dr. Bailey has noted, "Brewton-Parker's BSN degree would be the first faith-based four-year nursing program in Georgia south of Macon." She added that, "local hospital directors are excited by the prospect of the new program and the opportunity it will afford to welcome students for clinical placement in hopes that they will remain in the area when commencing their nursing careers."
According to the feasibility study, the need for nurses in the seventeen-county Heart of Georgia Altamaha Region in the south-central part of the state is critical.  As demand continues unabated, educators and healthcare providers are working together to supply the workforce.  Areas with higher proportions of low-income and minority residents suffer most from a smaller pool of qualified physicians and other healthcare professionals, and addressing this need undergirds the college's mission to "provide a transformational experience" not only to its students, but also to the region it calls home.
Strong support for the development of the program from foundations and individuals has produced one million dollars in donations and commitments for funding. The funding includes money for the start-up costs and the additional housing required for the increased number of students. Dr. Steven F. Echols, president of the college noted that "upon the inception of the BPC nursing program, this strong financial support will allow it to be of a high quality that will enable nurses to be well-equipped to serve in local hospitals and a variety of other medical settings including medical missions."
According to Chris Dooley, Brewton-Parker's Vice-President of Enrollment Services and Athletics, "We are beginning to recruit students into our Biology-Health Professions concentration to begin the pre-requisite courses required for admission into the upper-division nursing curriculum projected to be in place for fall 2022."
Of the college's present efforts to recruit Pre-Nursing students to start this August, Dr. Echols, noted that "this pre-requisite curriculum will meet the admission requirements not only for the BSN we are establishing at Brewton-Parker, but for nursing programs at sister institutions as well.  We believe that partnership, rather than competition, with other area nursing programs will best promote the interests of the region we all serve together. Brewton-Parker wants to lead the way in this collaborative effort."
Pre-Nursing students applying for admission to the pre-requisite course of study for this August will be on schedule to enter the upper-division nursing courses and clinical rounds starting in fall 2022. In addition to the traditional day class schedule, alternative delivery methods, including online classes that can accommodate work schedules, will be available. More information on the non-traditional format is available through contacting the admissions office.
According to Robert Brian, the college's Provost and chief academic officer, "While we are confident in meeting our projected 2022 start date for the BSN program, allowing our Pre-Nursing finishers to transition to the upper-division without pause, we also have obtained agreements with several sister schools to give equal consideration to Brewton-Parker students applying to their nursing programs." He added, "Much in the same way that innovative charter schools across the country have provided 'school choice' in public education, we believe that creative partnerships with fellow educators across the region will afford nursing students the same freedom, serving only to enrich the applicant pool and, eventually, to enhance the workforce in healthcare."
Brewton-Parker College, tracing its origin to 1904, is a four-year, coeducational Christian liberal arts college affiliated with the Georgia Baptist Mission Board and accredited by the Southern Association of Colleges and Schools Commission on Colleges, offering more than twenty areas of undergraduate study to a diverse population of about 750 students in the micropolitan setting of Mount Vernon/Vidalia in the South-Central region of Georgia. Prospective students interested in applying for Brewton-Parker College's Pre-Nursing program for the fall 2020 semester can complete the college's admission application by visiting the Brewton-Parker College website at https://www.bpc.edu/apply.
Brewton-Parker College is the only accredited four-year Christian college south of Macon and north of Jacksonville, FL. The mission of Brewton-Parker College, a comprehensive Georgia Baptist institution, is to provide liberal arts and professional programs in a learning community of shared Christian values. Through the application of biblical truth in scholarship and co-curricular focus on character, servant leadership, and cultural engagement, the college strives to provide a transformational experience that equips the whole student for lifelong learning and service in Christ.
Visit Brewton-Parker College online at www.bpc.edu.
-BPC-