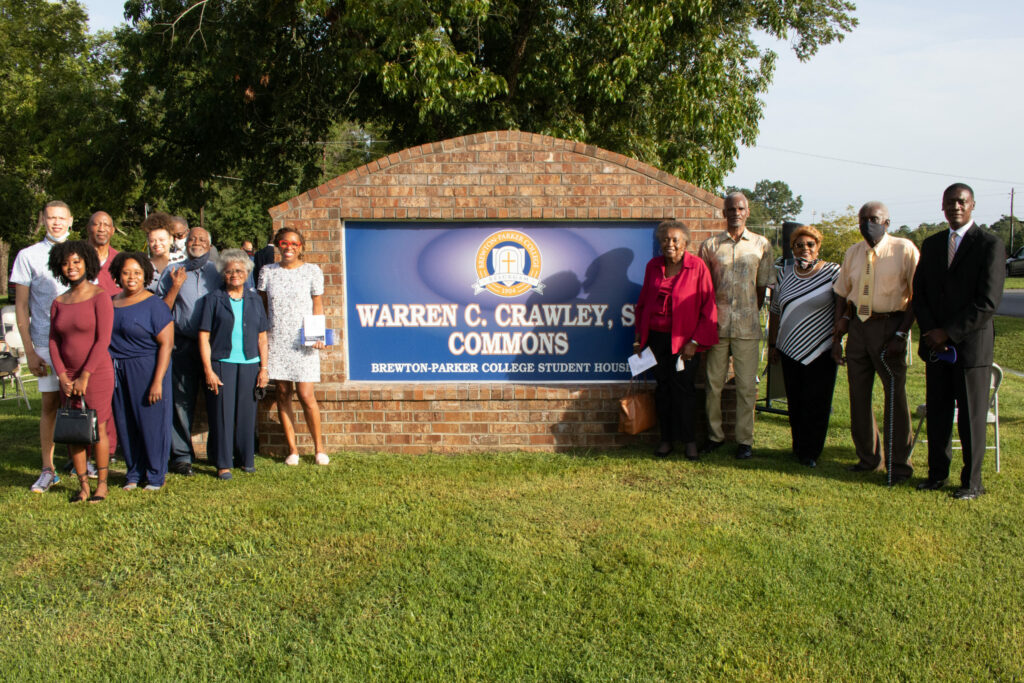 MOUNT VERNON – On Tuesday, August 25, Brewton-Parker College hosted a dedication ceremony for the Warren C. Crawley, Sr. Commons. This ceremony was the culmination of a multi-year building and renovation campaign that raised over $1.1 million. The project included two new dorms with common area and laundry space, renovation of two existing dorms, and paving of new and existing parking.  The new dorms have provided much needed space as the Mount Vernon campus enrollment has increased by 48 percent since the fall of 2015.
In 1904, Mr. Warren C. Crawley Sr. encountered several local churches that dreamed of establishing a Christian school in Montgomery County. At the time, these churches did not have sufficient acreage to establish the school. During this time of segregation, Mr. Crawley donated five acres of land even though he knew his grandchildren would not be able to attend the new school. His gift displayed a Christ-like act of love and the hope of unity and forgiveness.
To honor Mr. Crawley and his legacy of hope, Brewton-Parker College dedicated an area of campus which will now be known as Warren C. Crawley, Sr. Commons
Due to the pandemic, the guest list was limited. The dedication service was opened by the Pledge of Allegiance followed by the Wardlaw Brothers singing the National Anthem. Pastor Dannie Williams of First Baptist Church of Lyons then brought the invocation.
Brewton-Parker College senior, Willie Ford, represented the student body at the service. "We're not only here to live the life God has graced us with, but we are here to make a difference," stated Ford. He continued by speaking to the seed of love that Crawley planted and how we are able to reap the harvest from it. Ford also noted how BPC has a very diverse student body that is centered on love and unity.
The great-granddaughter of Mr. Crawley, Mrs. Mattie Watson, expressed her deepest appreciation to President Dr. Steven F. Echols and Brewton-Parker College for bringing the vision to fruition. While growing up, Mrs. Watson heard the story of her great-grandfather donating land to BPC, but she never understood the importance of his generous act. Mrs. Watson stated how proud she is to have seen the growth of the school because of her great-grandfather's donation many years ago.
Dr. Echols compared the story of Warren C. Crawley to that of Joseph in the Bible. Both were sold into slavery, but both showed the real meaning of love, unity, and forgiveness. In today's time there are so many things that can divide us, but unity is found in Christ. Dr. Echols spoke to this and referenced Ephesians 2:14. "God used this man and his forgiving spirit to bring people together," stated Echols. "As Christians, we are looking for that better day and Mr. Crawley lived that out. He knew that a better day was coming and that was the foundation of donating those 5 acres 116 years ago."
Hope was a central theme in Dr. Echols' message: "Hope is not a might be, hope is a certainty in Christ and hope is what we use when looking toward that better day." Dr. Echols closed by reiterating that love overcomes hate and in Christ we are unified.
The sign identifying the Warren C. Crawley Commons was unveiled by Dr. Steven F. Echols, Mr. Sammie Jackson and Mrs. Elizabeth Crawley NeSmith, both great-grandchildren of Mr. Crawley. Benediction was given by Pastor Carl Wardlaw Sr. of First African Missionary Baptist Church of Vidalia.
Brewton-Parker College is privileged to have the legacy of Mr. Warren C. Crawley, Sr. in the founding of the school. The goal of BPC is to train up and raise up a new generation to follow in his example in displaying the love of Christ to a world in need of reconciliation.
[/et_pb_text][/et_pb_column][/et_pb_row][/et_pb_section][et_pb_section fb_built="1″ _builder_version="4.5.3″ _module_preset="default" custom_padding="0px||0px|||"][et_pb_row _builder_version="4.5.3″ _module_preset="default" custom_padding="0px|||||"][et_pb_column type="4_4″ _builder_version="4.5.3″ _module_preset="default"][et_pb_gallery gallery_ids="23353,23339,23367,23366,23368,23343,23350,23344,23370,23325″ fullwidth="on" _builder_version="4.5.3″ _module_preset="default" caption_text_align="center" background_layout="dark" custom_margin="||-44px|||"][/et_pb_gallery][/et_pb_column][/et_pb_row][/et_pb_section]