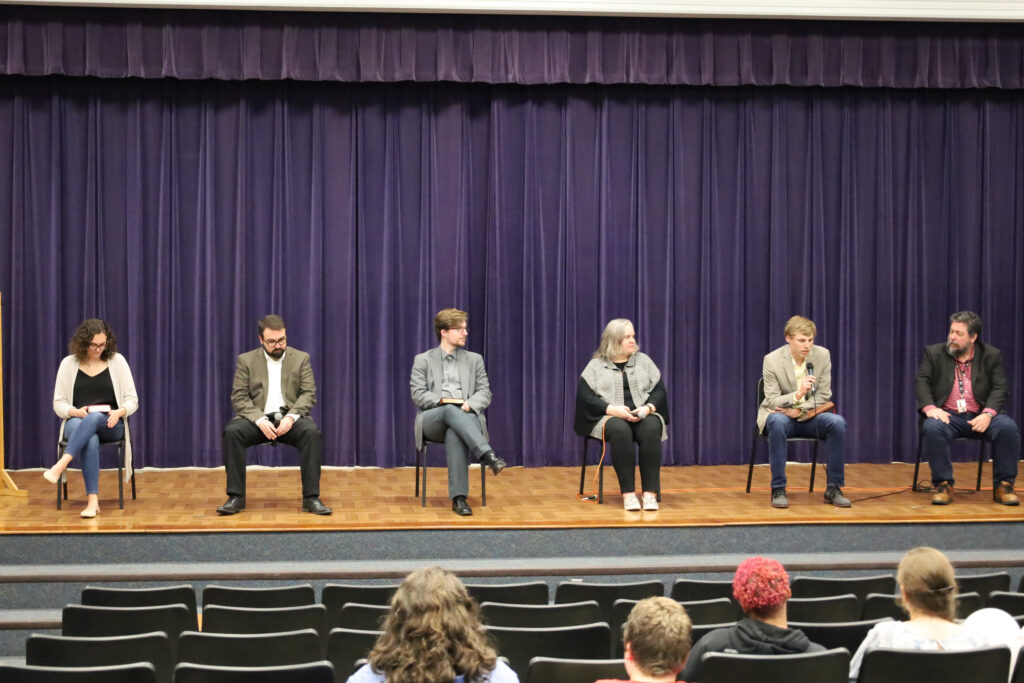 Mount Vernon – The Lion's Den is a crowd favorite for the students at Brewton-Parker College (BPC). This annual event is held by BPC's Ministerial Association (MA). On March 31, 2022, Cameron Mason (President of MA) and his team did a fantastic job putting together this event for the enjoyment of students, as well as people in the community. The goal of the Lion's Den is to provide clarity where there might be confusion in terms of the Bible, theology, Christian living, and who God is. Community members, as well as students and faculty, were able to have their questions about the Bible and Christian living answered while also enjoying fellowship with each other and the panelists.   
The Lion's Den panel consisted of a mix of BPC students, faculty, and staff that are asked difficult theological, apologetic, and scientific questions about God, the Universe, and sin. This year, the panel included BPC professors Dr. Helene Peters, Dr. Adam Coker, and Dr. Timothy Miller, as well as current students Thomas Rhodes and Sydney Fink, and Griffin Beall. BPC alumni, Christian Walton was moderator for another successful Lion's Den.    
Each year there is a process when choosing the panelists. The leadership of MA, as well as Dr. Billy Puckett, BPC Christian Studies professor, look for people who are not only knowledgeable in theological and apologetic topics but who are also spiritually mature. Dr. Peters, while not in the Chrisitan Studies department, is often asked to be on the panel, due to her knowledge of science, which she gives from a biblical worldview. 
Panelist and student, Sydney Fink stated, "Having the opportunity to answer questions about God, the Bible, prayer, and much more, was a tremendous blessing. It was amazing to see students hungry for knowledge. No matter where it stems from, we all have questions about Christianity and how it should impact our lives."