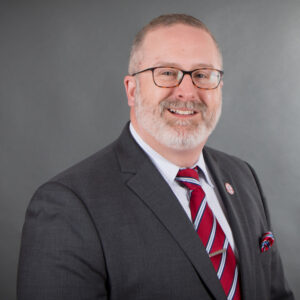 Nathan Finn, provost at North Greenville University, and alumnus of Brewton-Parker College (BPC), was recently elected as the recording secretary for the Southern Baptist Convention (SBC).
Finn holds his Ph.D. from Southeastern Baptist Theological Seminary, and received his Bachelor of Arts in History from BPC in 2002. In 2018, he was selected as the recipient of the Young Alumni of the Year Award at BPC. While serving as the provost/dean at North Greenville University, he is also a professor of Christian studies and history.
For 25 years, John Yeats, Executive Director of the Missouri Baptist Convention, has held the title of recording secretary for the SBC. Yeats has been elected to the position unopposed for 22 of the last 25 years. He opted not to seek reelection in 2022.
Of the 5,315 ballots cast, Finn received 2,727 votes (51.31 percent), Javier Chavez, pastor of Amistad Cristiana Church in Gainesville, Ga., received 1,836 votes (34.54 percent) and David Roach, senior pastor of Shiloh Baptist Church in Saraland, Ala., received 741 votes (13.94 percent). Eleven votes were disallowed.
"Nathan is a world-class scholar, a faithful preacher of God's Word …, a voice for the Gospel, and a dear friend," said David Sons, pastor of Lake Murray Baptist Church in Lexington, S.C., in his nomination. "I know of no one better qualified to tell our story, to help express and encapsulate our cooperative efforts, than one who has dedicated his life and ministry to doing that very work."
Nathan's wife, Leah Finn, served as the first female on this year's Committee of Nominations for the SBC. She is also an alumna of BPC, with a Bachelor of Arts in Music from the college. 
BPC President, Dr.Steve Echols, stated, "We are honored to have Dr. Nathan Finn as one of our outstanding alumni. As provost of North Greenville University and recognition as a top Christian theological scholar, he has now achieved the very notable and prestigious position of Recording Secretary of the Southern Baptist Convention. Dr. Finn is an inspirational example to our students of one who has achieved great things for the Kingdom of our Lord. We are certainly praying for him as he assumes this important role in the life of the Southern Baptist Convention."