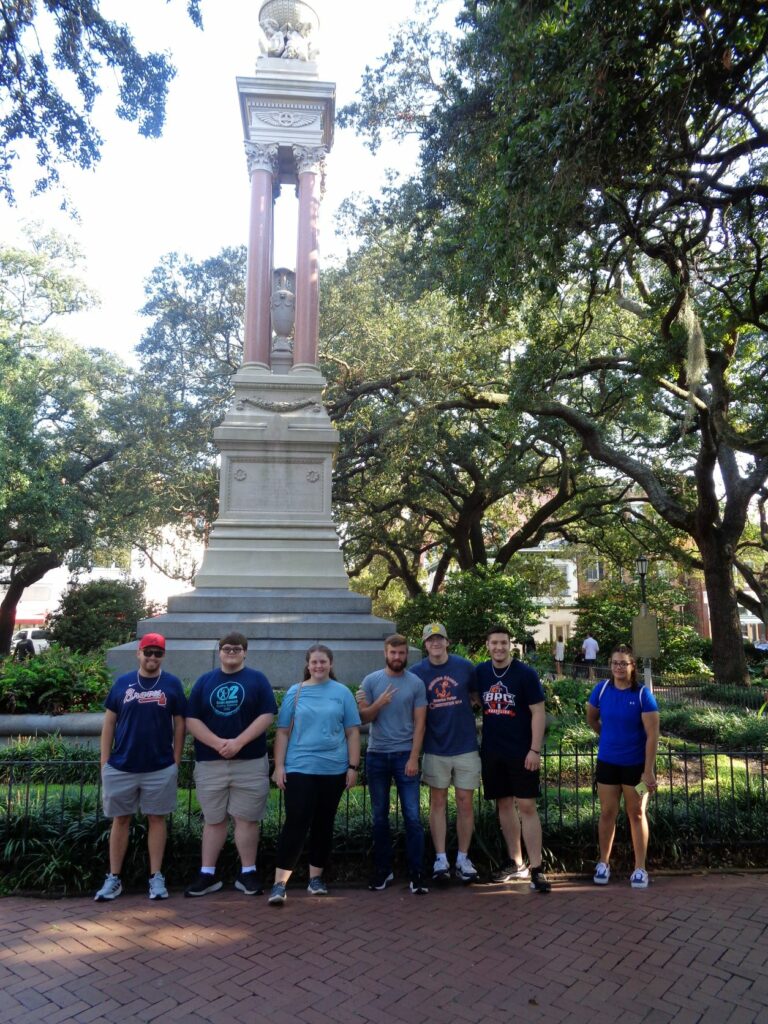 MOUNT VERNON – Dr. Timothy Miller, Assistant Professor of History at Brewton-Parker College, and his Georgia History class took a field trip to Savannah, Georgia. The seven students and Dr. Miller had great expectations for the trip, and they received help in planning the trip from the Savannah Area Chamber of Commerce.  
According to Dr. Miller, "The group visited twelve of Savannah's historic squares, three historic homes, the Colonial Park Cemetery, and several historic churches." Dr. Miller has his Ph.D. in  History from the University of Oxford. 
Originally, Savannah was modeled after the town squares in London. The class started at Ellis Square which was designed in 1733. The class also went to First African Baptist Church which dates back to 1773 and is known as one of the oldest Black congregations in the United States to date. The church is known to have been part of the Underground Railroad. Toward the end of their tour, the group explored the Green-Meldrim house which housed General Sherman during Sherman's March to Sea and was his headquarters during the Civil War. Camille Mendez, a senior History major, who grew up near Savannah, learned more than expected, "Overall, this trip gave a very interesting point of view from Savannah in the 19th century to now. Growing up around Savannah I never realized all these details that were a part of this historic district."
Sophomore History major, James Watkins, was impressed with the stained glass windows at the St. John's Episcopal Church. He was surprised when he learned the glass came from England and no other windows are like that anywhere else in the world. Parts of the tours included hands-on experiences. The members of the class were allowed to sit in various chairs in the Green-Meldrim house. After the field trip Watkins reflected on the field trip by stating, "This was very eye-opening and taught me about things that I never knew were in my state. I already was proud to be from Georgia but this trip has definitely grown my pride in my state." 
Each student on the field trip all had their own experiences. For some, the different houses they toured were the highlights of the trip. One of the students was amazed by the different styles of each house. In sum, Payton Spell, a Junior Middle Grades Education major, who grew up only two hours from Savannah said, "Field trips like these really put into perspective the facts we learn inside of the classroom. Field trips allow us to actually come face to face with history and touch some of the same things historical legends did."
After the success of the trip to Savannah, Dr. Miller is preparing his class for their trip to Milledgeville. The class will continue to explore and learn more about Georgia's history.