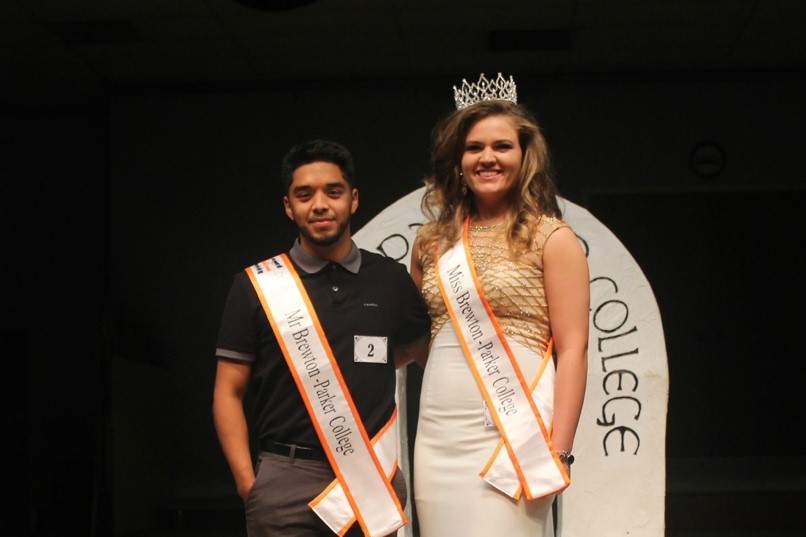 Mr. BPC 2017 Alejandro Huerta and Miss BPC 2017 Autumn Starling.
By Caitlyn Parrish
BPC Staff Writer 
MOUNT VERNON— Brewton-Parker College crowned Alejandro Huerta and Autumn Starling Mr. and Miss BPC 2017 Friday, April 7 at a ceremony inside Gilder Recital Hall on the college's Mount Vernon Campus.
Huerta is a freshman criminal justice major from Atlanta, Ga. Starling is a freshman psychology major from Jesup, Ga. Both were selected for this honor by a panel of three judges. Along with their crown, each received a $400 scholarship, a trophy, and a sash.
Runners up were: 1st place Joseph Duke and Samantha Gidney; 2nd place Autumn Beasley; 3rd place Hannah Wright. First runners up received a $300 scholarship and a trophy, second runner-up received a $200 scholarship and trophy, and third runner-up received a $100 scholarship and a trophy.
Winners of the Interview Award went to Alejandro Huerta and Hannah Wright, who received a $200 scholarship and a plaque.
Winners of the People's Choice Award went to Samantha Gidney and Alejandro Huerta, who received a plaque.
The Price Spirit of BPC Award, along with a $100 scholarship, was awarded to Morgan Brantley and Joseph Duke.
Sponsored by Brewton-Parker College's Office of Student Activities and Director of Student Activities, Lauren Shaw, the scholarship pageant included an interview competition, evening gown competition, dress for success competition, and on stage interview question competition. Contestants included Huerta, Starling, Duke, Gidney, Beasley, Wright, Brantley, Carolina Murray, Alexis Wilson, and Kali Worth.
More photos are posted on the college Facebook page at www.facebook.com/brewtonparker.