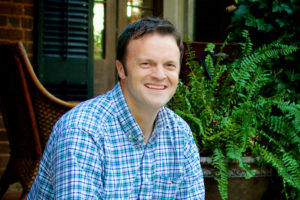 By Lauren Moye, Staff Writer
There are five items that Brewton-Parker College teaches to its students as core values. While Jeremy Morton, a 2004 alum and a current trustee of Brewton-Parker College, demonstrates all of these core values, he most clearly reflects servant leadership in his life. From acting as a church planter while still a student to his new ministry, servant leadership is an easy attribute for Morton.
Dr. Jerry Ray, a former professor and now friend of Morton, shared, "One of the first things I noticed about Jeremy during his student days was that he took seriously the teaching and example of Jesus, 'I came not to be served but to serve.' It's readily apparent that Jeremy still models this all important servant-leadership principle in his pastoral and preaching ministry."
Morton was active in ministry as a Brewton-Parker College student. In 2001, he worked alongside others on a church plant in Perry, GA. The church plant that became known as Cross Point Baptist Church began meeting every Sunday in Spring of 2002. From humble beginnings in the former Tharpe Memorial Baptist Church building, Cross Point Baptist Church grew under the servant-leadership of Morton. Morton shared about this time, "I was young, inexperienced, a full-time student at Brewton-Parker College, and commuting nearly 90 miles one way multiple times a week. Yet everything happened in God's timing because God was totally faithful."
Through classes and planning a wedding, Morton remained faithful to God's guidance in his life. During 2004, Morton graduated on May 8, married his wife on May 22, and, in September, guided Cross Point Baptist Church into a temporary industrial building while they waited for their 38,000 square foot building to complete construction. Morton commented, "It's stressful to think of all those things happening at once. So how did it all turn out so well? The only explanation is that God was faithful and gracious to us!"
Morton would continue in his role as founding pastor of Cross Point Baptist Church even while pursuing a Masters through the satellite program of New Orleans Baptist Theological Seminary.
While servant-leadership marked Morton's days as a student, he still had much to learn. Morton shared, "Brewton-Parker College taught me to think and study. It further affirmed many of the things my pastor and family taught me as a child."
He added, "I have the fondest memories of my professors and friends [at Brewton-Parker College]. I had a great experience at Brewton-Parker College. To this day, Dr. Jerry Ray is one of my dearest friends. I was his student 20 years ago, but now I consider him a friend and mentor."
In July of 2013, Morton resigned from his position at Cross Point Baptist College in order to follow God's leading in his life. Two weeks later, as further testament to their growth under Morton's leadership, Cross Point Baptist College dedicated a 16,000 square foot expansion for preschool and youth ministry.
Morton is now Senior Pastor of First Baptist Church in Cartersville, GA, where, in keeping with his servant-leadership attitude, he describes himself as the "primary disciple maker."
Jeremy Morton recently revisited Brewton-Parker College as the main speaker for the 2017 Revival. While on campus, he remarked, "I'm grateful to God for Brewton-Parker College and for the investment it has made in my life. This is a special place, and I'm reminded of how God touched me when I was here. My prayer going forward will be that other students will have the same experience, that they'll know that God will meet them here and bless them if they allow it."