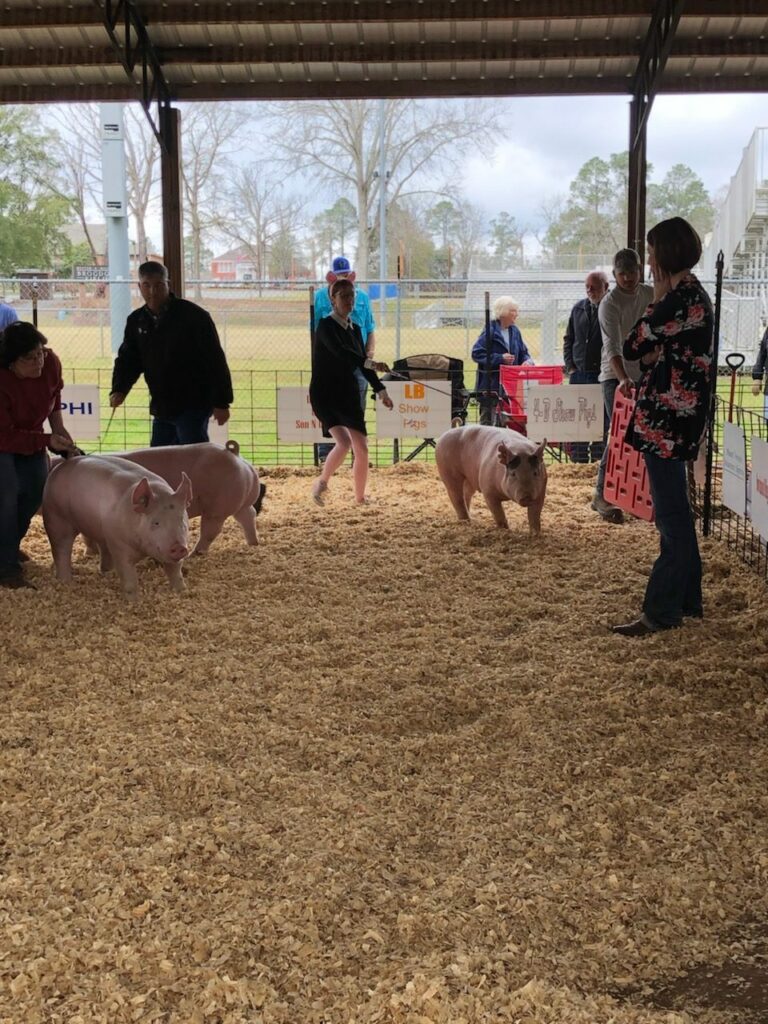 By Dr. Amanda Wrenn Allen
MOUNT VERNON— Saturday, February 16, 2019 several Brewton-Parker Faculty members supported students at the Montgomery County Livestock Show. The show featured several Montgomery High School students who are also duel enrollment students at Brewton-Parker: both Stella Fulford and Darby Connell showed pigs while Kierston Coleman volunteered at the concession stand. Dr. Amanda Allen, Professor Lynn Addison, and Adjunct Professor Karl Hay all enthusiastically watched as students showed cows and pigs throughout the afternoon.  But, perhaps, the highlight was the special charity adult pig show at the end of the day benefitting the Montgomery County High School FFA. Both Allen and Hay participated and showed their pigs exceedingly well; they truly brought pride home for BPC, despite not winning.
One of BPC's greatest values is that professors take an avid interest in students' interests and lives beyond the classroom, whether it is on the field, on the stage, or in the ring. Such attention does impact students.
Fulford, who is graduating with her BPC Associates and High School Diploma in May, explains, "My professors encourage me to be the best I can with my academics but then jump at the opportunity to come and support me in my various other activities. As a student today, there is so much pressure put on us to maintain good grades and participate in many other activities; having professors encourage and support me not only in the classroom, but also, at my FFA events helps."
BPC professors truly are excited to help students however they need. As Allen asserts, "My job as a professor is to connect with students both in and out of the classroom; a college professor's chance to teach does not end with the close of a lecture. We are shaping not only our students' minds, but also, their necessary skills for future jobs and lives. By supporting whatever they do, we show our students we care and are here to help them in many different ways. Even if it involves my making a fool of myself in a pig ring, I'm happy to do it!"