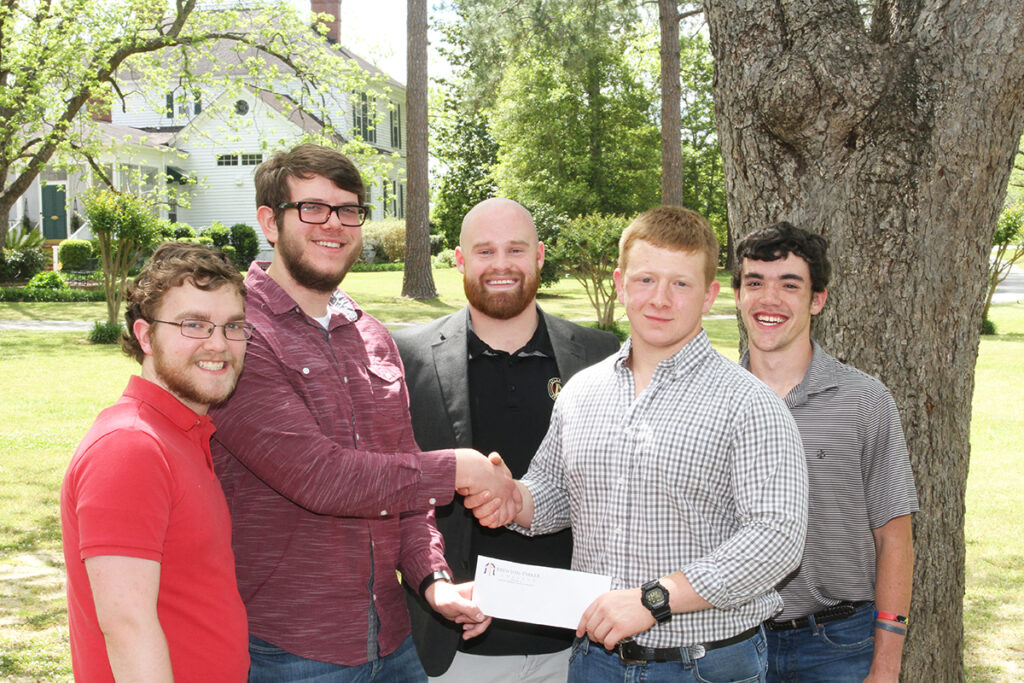 By Thomas Rhodes

Student Writer
On Thursday, April 18, the Kappa Tau Kappa (KTK) brotherhood visited the Paul Anderson Youth Home to present a $200 donation that they raised during the semester. The Paul Anderson Youth Home is a ministry located in Vidalia, GA, whose goal is to take young men, from the ages of 16-21, and give them another chance in life, all while helping them grow spiritually in a Christ-centered atmosphere.  
When the campus fraternity, KTK, delivered the donation, the brotherhood was given the opportunity to tour the facility, as well as meet some of the young men who live there.   
For what reason did our campus fraternity desire to raise money and donate it to this ministry? To answer that question, you have to understand the true nature of the KTK brotherhood and how it hopes to to make a difference in the next generation.   
---
As we are near the end of the school year, countless seniors in high school are about to take the very first steps towards making their dreams a reality. Right now, countless high school students are making decisions that will have a dramatic effect on the course of their lives.
What college should I go to?  What major should I study? What do I want to do with my life?  
All of these questions are so important these days, and as students pursue the answers, it's natural to feel isolated.  It can feel as if the very weight of the world is placed on their shoulders.
For this reason, we encourage our students, particularly our freshmen, to join the brotherhood of  KTK. KTK is a greek life fraternity, which functions in accordance with its motto of Live, Lead, Serve.
Live.  By joining the fraternity of KTK, students have the opportunity to be welcomed into a community, a brotherhood, and a family that is actively involved in the day to day life of BPC.  A freshmen who joins the fraternity, a freshmen who is still trying to fully grasp the implications of the decisions that he has made by declaring a major, will be met with the support of all of his KTK brothers. He will find that he is not alone in his decision making throughout his college career, all while enjoying the company of his fellow students.
Lead. The members of KTK are pushed by their fellow brothers to be leaders, whether it is the form of leadership in the classroom,  on the field, in the workplace, or in campus life. The development of leadership qualities is vital in the pursuit of the next step in life.  For this reason KTK strives to grow each of its members in this regard.
Serve.  At its core, service is the act of putting all others ahead of yourself.  We see this in the life of Christ as He healed, ministered, and served all whom He encountered.  In the same way, KTK has the mission of serving others rather than serving themselves. The value of service in KTK is best displayed in the fact that whenever there is work to be done, the campus is confident in the fact that it can call on this group of brothers to serve in whatever capacity necessary.
---
Former BPC student, Corbin Howard, who now serves as a counselor of admissions for the college, also serves as the Staff Advisor for the fraternity. When asked about the time that he spent in KTK while he was a student, he replied,  "I served in many different roles in KTK throughout my time at BPC, but being the Staff Advisor has been a completely different experience and given me an entirely new perspective. As a servant-leadership fraternity, we're always trying to find new ways to serve and enhance BPC as an institution and now, as a staff member, that means so much more to me that there is a group of young men that are willing to give up their time to do exactly that. BPC is a special place and KTK is blessed to be able to serve it and its students!"
That is the true nature of KTK and its role on campus: to bring the campus together and ultimately honor and glorify God.