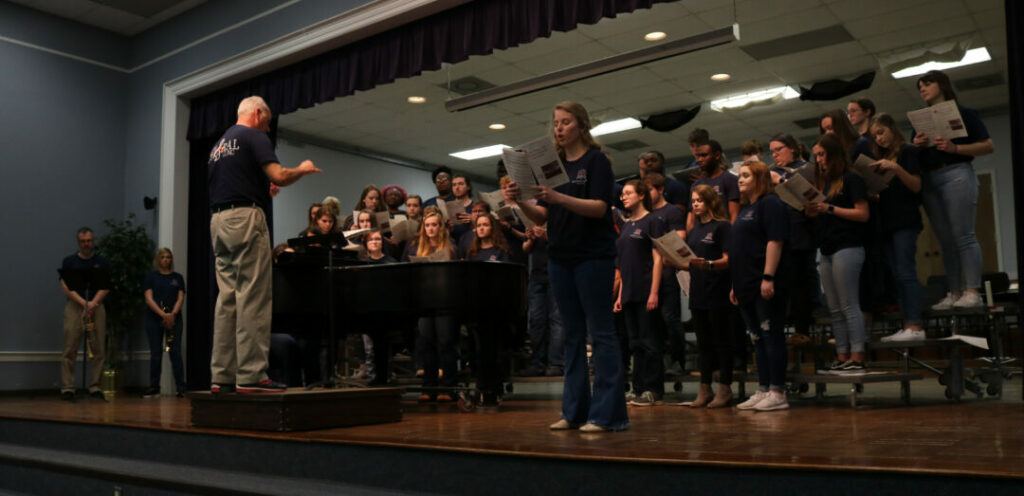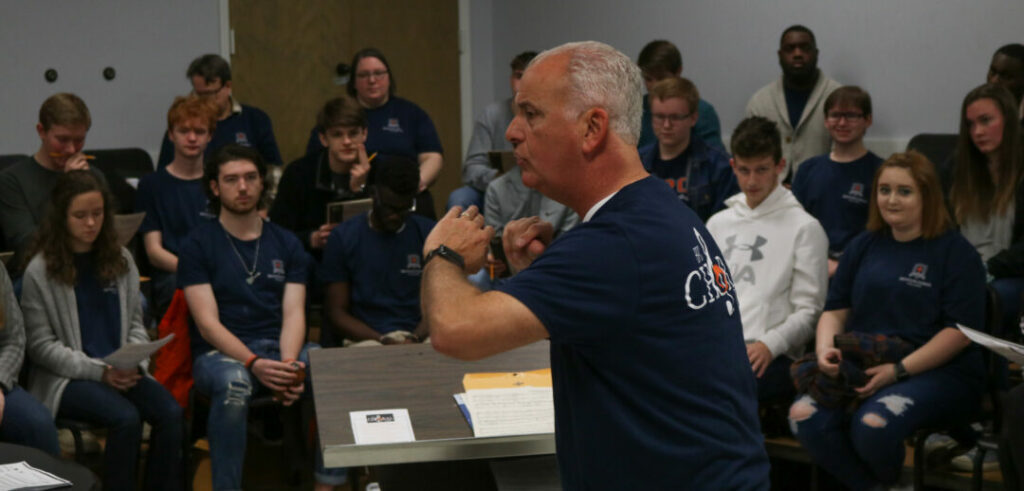 MOUNT VERNON – Around 9:30 AM on February 1, 2020, the Music Department at Brewton-Parker College (BPC) welcomed over 25 high school students to campus for the first annual Choral Clinic. Last year, Dr. David Wilson, Assistant Professor of Worship and Church Music, was inspired to host this event and partnered with Enrollment Services to invite local high schools to attend.
Through their efforts, BPC welcomed students from Pinewood Christian Academy, Heritage Academy Brunswick, Stillwell School of the Arts, Appling Christian Academy, as well as several homeschool students.
"The purpose of the clinic was to get high school students on our campus and to give them the college experience," Dr. Wilson explained. "Next year, I would like to reach more schools, more students, and build on the great success that we had this year."
The morning kicked-off with sectional rehearsals where current BPC students worked alongside the high school students in Miller Music Building. These rehearsals provided students the opportunity to practice their specific parts for a concert planned later that day. In addition, they developed their skills through the special guidance from experienced seniors in the Music Program. BPC student and current music major Carolina Murray led a class for Soprano and Alto parts, while Morgan (Brantley) Ward, another senior music major, led a section for Tenor and Bass parts.
After the sectionals concluded, each group gathered together in Gilder Recital Hall to practice their songs in unison. During this time, Dr. Wilson provided additional instruction for the performance to show students how each part relates to the others in one accord. The day concluded with a concert performance, which showcased the skills the students obtained that day. The concert featured several songs, including solo performances by BPC and high school students.
Parents, current students, and several local community members gathered in Gilder Recital Hall to enjoy the special concert and admire students for their hard work. Dr. Hildegard Stanley, Distinguished Professor of Music Emeritus, was also in attendance that day. Dr. Stanley has been an integral part of the Music Program for over 50 years. To this day, she still serves as Consultant to the President for External Relations. Having her at this event showcases her passion for the school and her dedication to see the music program flourish. 
As the college continues to grow, local high school students can continue to look forward to this annual event where they too can develop their musical skills while obtaining a glimpse into the college life at BPC. For more information, about the Choral Clinic or about Brewton-Parker Music Department, contact Dr. Wilson at dwilson@bpc.edu. 
Brewton-Parker College is the only accredited four-year Christian college south of Macon and north of Jacksonville, FL. The mission of Brewton-Parker College, a Georgia Baptist college, is to develop the whole student through the application of Biblically-centered truth to a liberal arts curriculum in a community of shared Christian values.