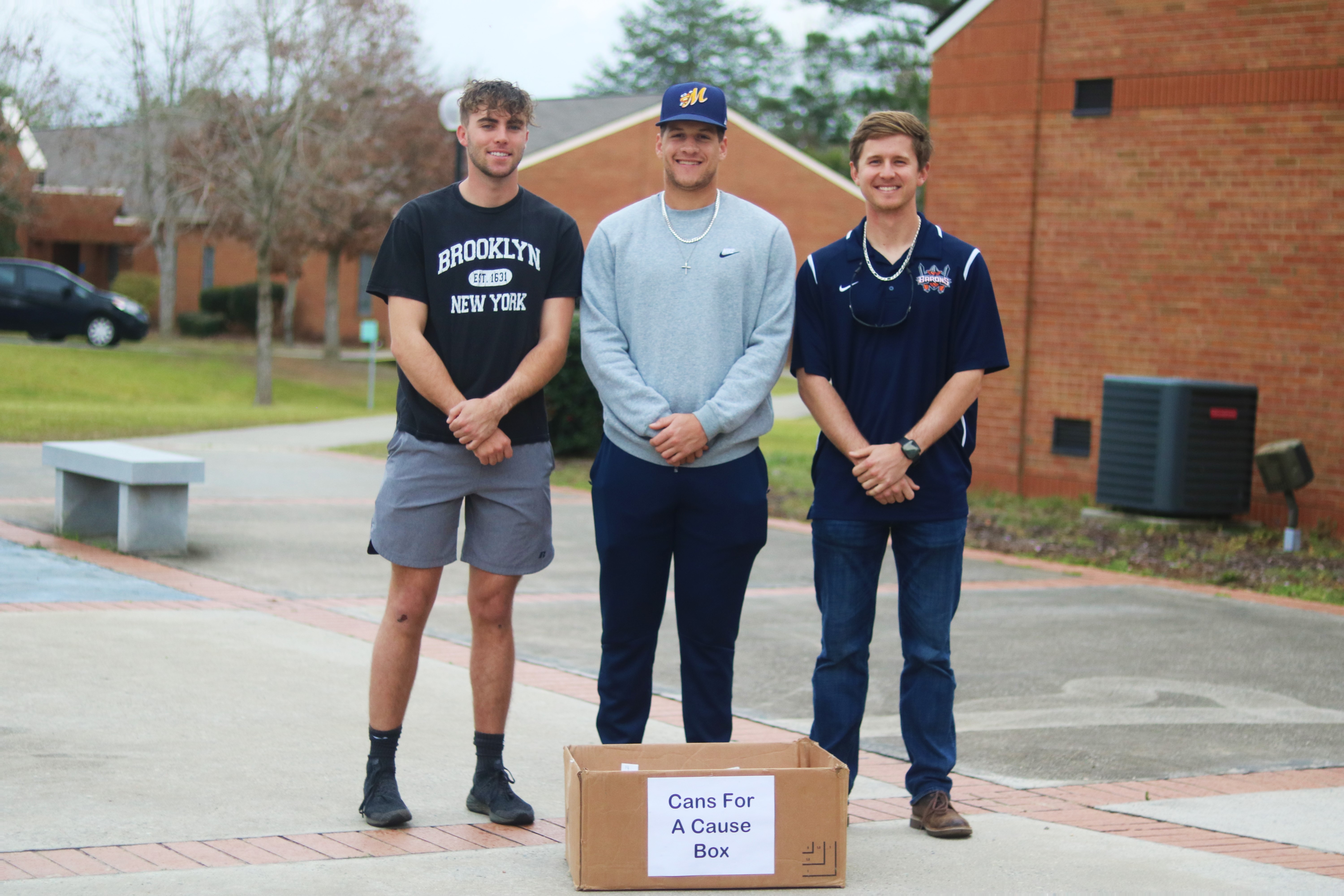 By Tiara Santos

BPC Student Writer
MOUNT VERNON – Today is #NationalGoodSamaritanDay, a day dedicated to celebrating those who exhibit the characteristics of a Good Samaritan. Brewton-Parker College (BPC) is proud to highlight four of its finest young men who have merged together to organize a "Cans for a Cause" food drive.
Several weeks ago, George Boyd, Nyles Huling, Peyton Nobles, and Sebastian Sandoval were inspired to start the food drive during their Business Leadership Class with Professor Lynn Addison, Associate Professor of Business at BPC.
Partnering with God's Storehouse, a food and clothing ministry based out of New Life Church in Vidalia, Georgia, the students placed several drop-off locations across the BPC campus and have encouraged faculty, staff, and students to participate.
Already, they have received numerous donations and support from the community. During the first week of the food drive, the students received over 65 cans, averaging roughly 20 cans a day.
Boyd, Huling, Nobles, and Sandoval will continue accepting donations until March 18, 2020. Those who are willing to donate can stop by one of the following drop-off locations on campus: Fountain-New Library, Phillips Student Center, Saliba Chapel, and Cook Building.
"We want to thank those who have already donated and those who plan to donate in the future" the students commented.
They are asking for can food, bread, other non-perishables, or even monetary gifts. According to its website, God's Storehouse provides food to over 250 families in the county every month. In addition to the resources, they also offer Bible studies with hot meals, free clothing, and furniture and household items as they are available.
By partnering with this organization, Boyd, Huling, Nobles, and Sandoval exhibit true servant leadership as modern day Good Samaritans.
Brewton-Parker College is the only accredited four-year Christian college south of Macon and north of Jacksonville, FL. The mission of Brewton-Parker College, a comprehensive Georgia Baptist institution, is to provide liberal arts and professional programs in a learning community of shared Christian values. Through the application of biblical truth in scholarship and co-curricular focus on character, servant leadership, and cultural engagement, the college strives to provide a transformational experience that equips the whole student for lifelong learning and service in Christ. 
Visit Brewton-Parker College online at www.bpc.edu.
-BPC-