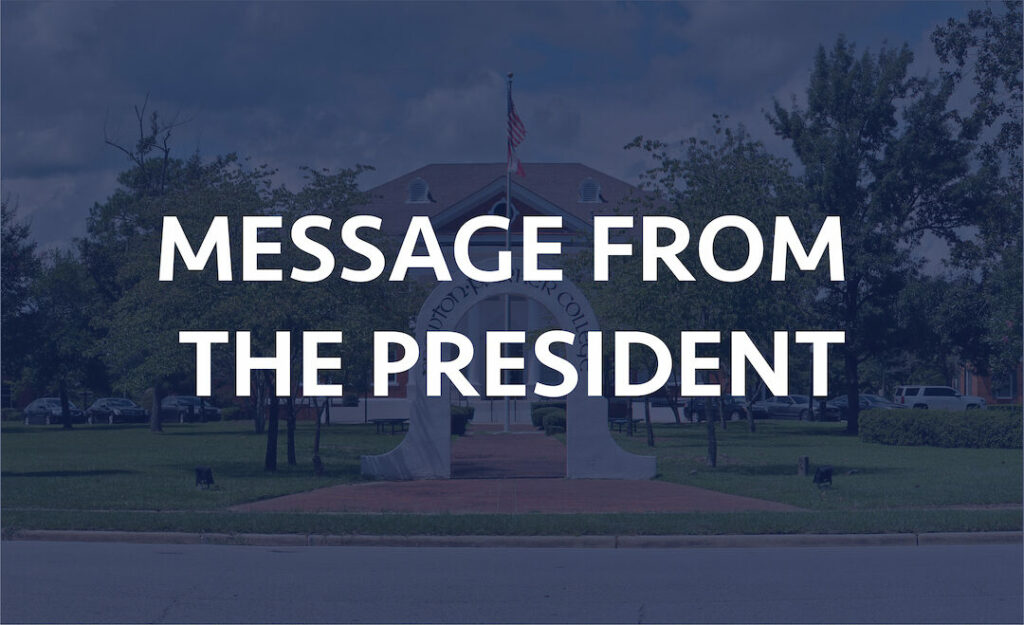 Update: April 1, 2020 at 12:00 pm
Dear BPC Family,
We deeply appreciate everyone's cooperation and efforts with what we have had to do to cope with this pandemic. We are especially grateful for the tremendous work our faculty has undertaken to convert the remainder of the semester to an online format. In the midst of it all, we are also very thankful that God has blessed BPC with the resources to get through these challenging circumstances.
As you are likely aware, the President of the United States has extended the coronavirus guidelines until the end of April. As a result, throughout the month of April we will continue our current schedule of only essential personnel being on the campus. If you have any questions about your work schedule, please check with your supervisor.
Library access will continue in the manner noted in the recent email. As part of the reality of the restrictions which may remain for some time, it is with deep regret that we must postpone the planned graduation scheduled for May 9. Students will have their diplomas mailed to them, and we look forward to a new date for a graduation service that will be announced once circumstances allow.
The disappointment of the disruption of the wonderful semester we were experiencing has been difficult. This is a time of trial, but it is nothing new for Christians through the ages. Our Lord foresaw this and declared, " These things I have spoken to you, so that in Me you may have peace. In the world you have tribulation, but take courage, I have overcome the world." John 16: 33. What a special comfort it is to know that Jesus has all authority and power! The One who loves us has overcome this world with all of its problems and tribulation, including pandemics.  In this time of tribulation, let us claim His promise, "in Me you may have peace."
 In His Service,

Steven F. Echols, Ph.D., D.Min. President

Brewton-Parker College

P.O. Box 197

Mount Vernon, GA 30445
---
Update: Thursday, March 26 at 6:00 PM
Dear BPC Family,
I wanted to give an update of the BPC response to the Coronavirus epidemic. As many of you know, classes were cancelled and students vacated the campus by March 19. All classes for the remainder of the semester will go online. Only two international students, whose countries are currently closed to flights from the U.S., remain on the campus. In observance of the governor's request made on March 23, all but essential employees are telecommuting until April 6. At that time, we will evaluate the feasibility of a complete return of our workforce to the campus.
We are grateful that as of today there are no reported cases of Coronavirus in Montgomery County. Only one adjacent county, Toombs, has any reported cases, and it has only one. We have no reported cases among students, faculty or staff. We pray that will continue as long as possible and that God would watch over our BPC family.
Many have asked about graduation, which is scheduled on May 9. Of course no one can know what will happen between now and then, but we are keeping that date on the calendar and praying that it will be possible. Regardless of what happens, graduates can be assured they will receive their diplomas and that at some point we will have a graduation service.
You may be wondering how this interruption has affected the college finances. While giving refunds and credits has cost the college a significant sum, BPC is blessed to have accumulated some reserve funds in our operational account to carry us through this time in good shape.
Our main focus is on serving our students well as we have the challenge of being fully online for the rest of the semester. Our wonderful faculty has done a heroic job during this originally scheduled spring break week in preparing for the restart of classes next Monday in an online format.
All of us are dealing with a new reality of challenges that we could never have imagined. It is an opportunity to be reminded that nothing is a surprise to God, and He will never fail us. Never has the mission of BPC been more important than in these circumstances. Thank you for standing with us in your support and above all your prayers. By faith, we are believing our Lord for the grace and provision to get through this time unto a new season of blessings He has in store for BPC.
In His Service,

Steve Echols, Ph.D., D.Min., President

Brewton-Parker College
---
Update: Thursday, March 19 at 10:00 AM
Dear Faculty, Students, and Staff,
We have been monitoring the Coronavirus very closely. With confirmed cases of  Coronavirus in a closer proximity and with an abundance of caution, all remaining classes for today and tomorrow are cancelled. For the remainder of the semester, all in-seat classes are now being transferred to an online format.
With the exception of those who cannot leave today, all other students must vacate student housing by 5:00 P.M. today.  Those who are international students or who do not have immediate access to leave need to report to the housing office by 4:00 P.M. today.
Unless otherwise designated, after 5:00 P.M. today, all staff and faculty will work remotely until Monday, March 30. For questions about your work schedule, please consult your supervisor.
---
Update: Tuesday, March 17 at 12:30 PM
As we continue to monitor the situation with the Coronavirus, the safety of our BPC family is paramount. In addition, we certainly want to cooperate fully with officials to slow the spread of the virus. As a result, we are announcing the following:
Previously, we had announced that spring break would be extended through Sunday April 5. Instead, classes will resume on March 30, but in an online format for the remainder of the semester.
In-seat classes will continue as scheduled through March 20. During this time, professors will be giving much needed information as to the format of the online classes. If possible, we encourage students to attend these final in-seat class periods. However, those who need to leave for various reasons will be able to make arrangements with their professors for the needed information about the transition to online.
The NAIA has cancelled all athletic events for the spring semester and all campus events have been cancelled as well.  As noted in the information that we have given to students, extra precautions of hygiene and social distancing remain very important. Please be diligent to follow these guidelines.
Students will have the option of remaining in campus housing during or after spring break. Food service will continue for those who remain on campus even during spring break. Please let the housing director know as soon as possible your intention concerning housing. The housing office has further information that is very important as to the specifics of housing availability.
Though classes will be online, professors will be available for in-person appointments at their campus offices, or by phone.
The campus will remain open and all offices and functions of the college will continue normal operations, and staff and administrators will keep current hours.
Students who elect not to return to the campus will be eligible for meal allowance credits of $500 for the 2020 fall semester. Seniors may have the amount posted to their current accounts.
Graduation remains scheduled for May 9.
We realize that the current circumstances are bringing difficulty and disappointment to many. Our hearts go out especially to our seniors. Our prayers are with them and all of our students to experience an extra measure of God's grace.
As the BPC family, let us all pray that this trying time will soon pass. We are looking forward to seeing our campus once again filled with students as we go about fulfilling our mission. In the meantime, we must remember, "God is our refuge and strength and ever-present help in times of trouble." Psalm 46: 1
Steven F. Echols, Ph.D., D.Min. President

Brewton-Parker College

P.O. Box 197

Mount Vernon, GA 30445
---
Update: Friday, March 13 at 5:00 PM
Brewton-Parker College is continuing to monitor the threat of the Coronavirus/Covid-19. Currently, there are no confirmed cases in our county or region. Our area is one of the safest environments for students to be during this time, particularly considering that many of them come from areas with much higher risk.
Brewton-Parker College will continue the normal class schedule next week. The following week is the scheduled spring break beginning with the ending of classes on March 20, 2020. However, BPC will extend the spring break an extra week until April 6, 2020. During this period, BPC will be evaluating the safety of remaining in its scheduled format of class delivery or moving all classes to an online format.
Students may remain on campus during this time and food service will be provided according to the previously published schedule: no meal service from March 22 through March 28. Normal meal service will resume on March 29.
BPC is taking the following steps to deal with the threat of the Coronavirus/Covid-19:
Like Montgomery County and several other county public school systems in our area, we are remaining open but are closely following the CDC recommendations for consideration for potential school closures. See link: https://www.cdc.gov/coronavirus/2019-ncov/downloads/considerations-for-school-closure.pdf. Currently BPC and other area public school systems do not meet the CDC guidelines for the recommendation of closure.
BPC is maintaining extra diligence in cleaning all surfaces, doorknobs, etc. The cafeteria is serving the food so that students and others do not touch the serving utensils, and paper products are being utilized.
We are requiring quarantine of anyone who has had international travel, until it is evident that they have not been affected by the virus.
The Southern States Athletic Conference has suspended all conference play through the end of March. Additionally, BPC has decided to cancel all non-conference, JV, and scrimmages games through April 1.
BPC is providing students with information on proper hygiene, social distancing, and other measures for limiting potential virus exposure.
BPC has suspended all large group activities on campus such as chapel services.
BPC is working closely with local health department and emergency management officials to monitor any threat of the virus in our region. In the case of such threat, BPC will respond immediately with whatever course of action is recommended, including suspension of on campus classes.
In regard to class attendance during this period of coronavirus threat, students that think they may have been exposed to the Coronavirus/Covid-19 should not return to campus. Students that have health or family concerns about being on the campus during this period of time should contact their professors and make any necessary alternative arrangements. We are committed to working with all students to address any concerns they or their parents may have.
We realize this is an anxious time for all. We want to do all due diligence while at the same time remembering the comforting words of the Psalmist: "when I am afraid, I will trust in thee" (Psalm 56: 3). Continue to remember in prayer our nation and all who have been affected by this virus.
Steven F. Echols, Ph.D., D.Min. President

Brewton-Parker College

P.O. Box 197

Mount Vernon, GA 30445