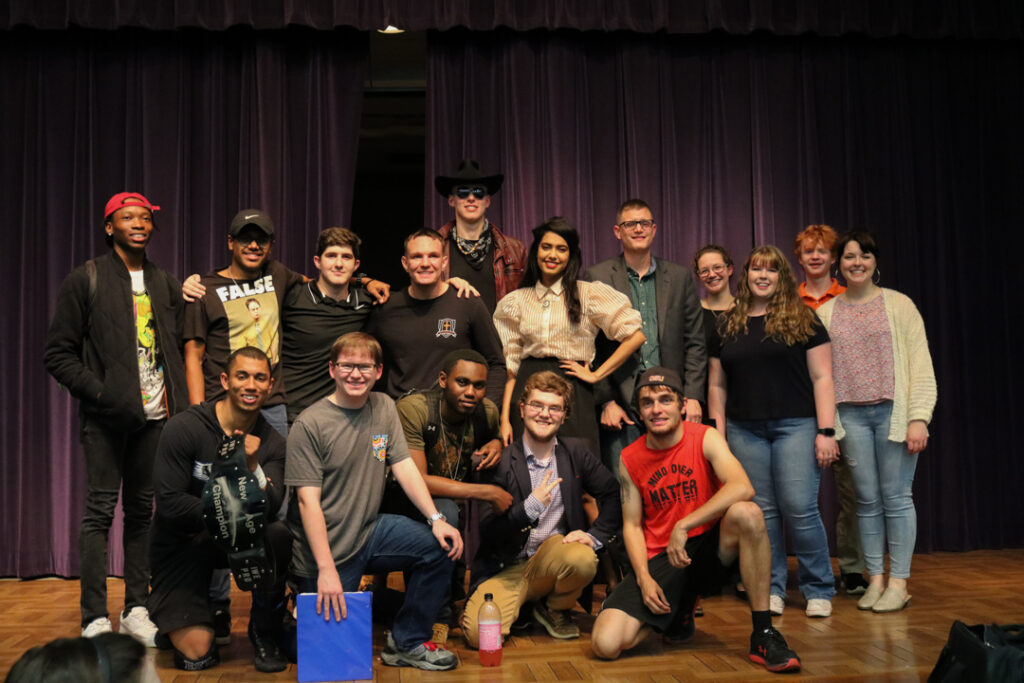 Participants in the 2020 KTK Talent Show
By Nia Jefferys

BPC Student Writer
MOUNT VERNON – On March 10th, KTK hosted the 4th annual KTK Talent Show in the Miller Auditorium. Braden Stewart, the President of KTK, was the MC for the night, which was full of exciting and comical performances. 
There were 11 awesome acts and 3 fabulous judges. The judges included Amanda Moore (Director of Student Activities), Tanvi Chauhan (Circulation Assistant for Fountain-New Library), and Stephen Collins (Program Assistant to the Associate Vice President for Student Development & Success).  
Everyone in attendance voted for the "People's Choice" award while the judges voted for the cash prize recipients. First place winner received $75, second place received $50, third place received $25 and the People's Choice award received a Dairy Queen gift card. Isaiah Gladden beatboxed his way to first place, the Murray sisters sang their way into second place, and Cameron Mason with his original rap won third place. Winning the People's Choice award was none other than the men's basketball player, Jared Denk.
To start the night off with a bang, Kim Ruff performed Whitney Houston's "I Will Always Love You," followed by Gregory Ragland who performed a musical melody of Roddy Rich's "Ballin" and Jhene Aiko's "Triggered" playing the piano and saxophone. The crowd was rolling in laughter during John Whiting's standup-comedy act. 
There were also several musical pieces showcased respectively: 
Bach's "Prelude & Fugue," a classical piano piece performed by Jack Stanley, 
Cameron Mason with an original Gospel rap piece, 

Zach Fletcher and Katherine Coker performing the Dr. Who theme song on the euphonium and cello (respectively), 

Justin Bieber's "Love Yourself" performed by Storm Mercado assisted by the crowd's flashlights setting the mood, 

Cassiday and Carolina Murray with "Into the Unknown" from Disney's very own movie

Frozen 2

.
In addition to these musical performances, Isaiah Gladden shocked the crowd with his beatboxing skills. Hunter Young and Rhett Harris had the audience in awe as they performed a wrestling skit fully equipped with props and cheering. The performances came to an end when Jared Denk sang Stevie Ray's "The Sky is Crying" in a matching outfit.
The KTK Talent Show is just one event that the KTK fraternity hosts. Each fall semester, students can expect a back-to-school pool party, which is always popular. In addition, the members of the brotherhood participate in a variety of community service projects, which rests at the heart of their mission.