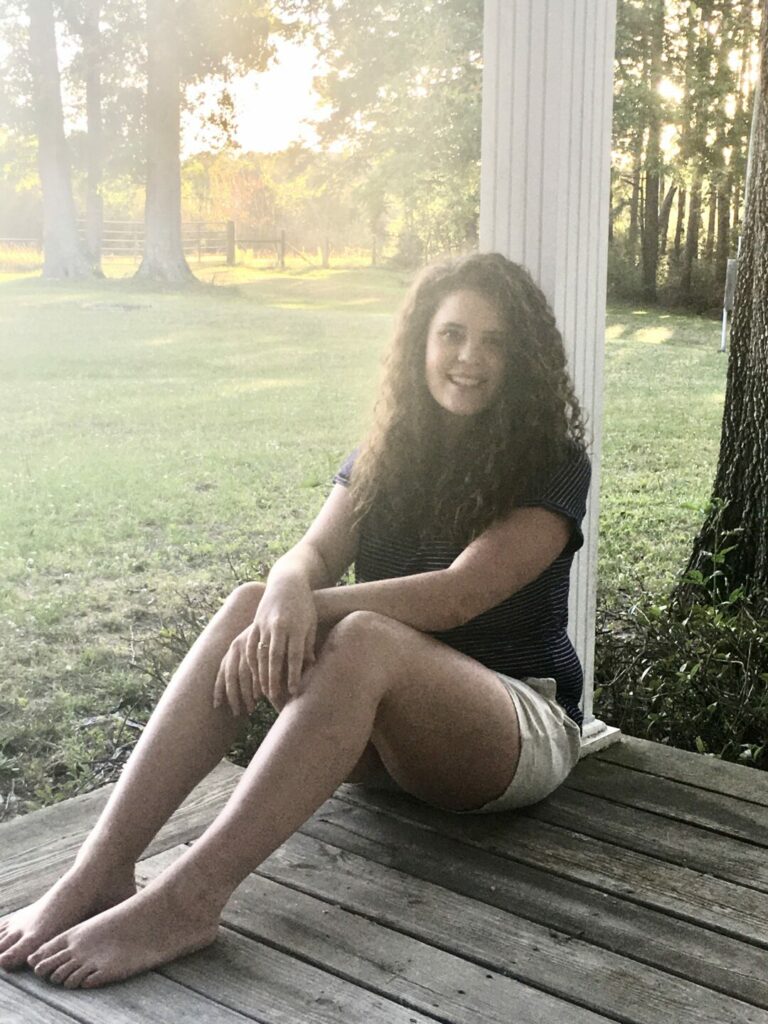 | Written By: Chloe Hammons
As I sit here on my porch in the sunshine on what should be one of my last days on campus, I cannot help but ponder what graduating during the Covid-19 crisis means. May 9, 2020, has been circled on my calendar since the beginning of the year – the day when my first-grade dream of graduating college would become a reality.
When I was in first grade, I wanted to do something big like change the world. I thought the best possible way to change the world would be to become a doctor. I knew that I would need to learn a lot of stuff to be a doctor. Naturally, as a mature first grader, I wanted to get a head start so I went to the library and borrowed a bunch of books on diseases and wellness.
I asked my mama what was required to become a doctor, and she replied, "For starters, you will need to go to college."
I decided then and there that I must work hard and get good grades so that I could go to college. Though years have passed and the profession choice has changed many times, I still have the same ambition to change the world. I finally discovered that God was calling me to be a teacher, so he must have a plan for me in the education field.
In January, I started my last semester at Brewton-Parker College. I circled and bubbled May 9, 2020, on my calendar. I threw all my energy and time into being a successful student-teacher. I planned to finish strong and have a fun senior year. Little did I know that the next four months would be anything but fun and normal.
One word, Covid-19.
I doubt I will ever hear those two words and not shudder. Covid-19 has been devastating. The Coronavirus has taken lives and robbed livelihoods. It has wreaked havoc on the emotional and mental health of many people. Every sense of normalcy and routine has been abolished. I am surrounded by unknowns. I doubt any one alive today has ever experienced a global pandemic of such epic proportions. 
On April 1, 2020, I received an email stating that "my graduation" was postponed. I was disheartened, to say the least. With all the other unknowns circling – like to quarantine or not to quarantine? Or do I eat all of the Little Debbie cakes in one sitting or ration them out? – I was counting on May 9th as the day I would walk across the stage of Saliba Chapel with all my friends and family cheering for me.
Postponed!
Logically, I understood that postponing graduation was in mine and the publics' best interest, but it really felt like a dream was being postponed. How can you even postpone a dream? It doesn't seem real, then again, does anything these days?
On Monday, I turned in my last assignments to BPC and walked into my parents' bedroom and proclaimed, "I'm done with college!" 
As hard as I've worked and as long as I've wanted it, I must admit that the event was a little anti-climatic. I'm done with college. That is weird to even think. I did it. It is finished. This journey is over. Chapter closed. Check.
Anyway, I say done, but it feels foreign. But then again, that's life. People come and go. Events are planned, thrown, or canceled. Life continues. Just like that, a huge chapter of my life is over, and the next one is just beginning. I guess, I've been wanting to graduate college for so long that I felt like it would be the end of a book, but instead, my time at BPC has just prepared me to add more pages to the book of my life.
In my preparation to be a teacher, I have learned that you must always be learning and adapting to new situations. The only normal thing about life is that life is not normal. At the end of the day, who could even define normal. My normal may be completely foreign to you and vice versa. I can't help but think that maybe this is what it's all about – the ebbs and flows of life each in a varying degree of normalcy.
I went to college to be prepared to go into a classroom and teach, but I learned so much more along the way. I learned that reaching and striving for perfection is good, but giving yourself grace to be human is better. I learned that investing in an education is important, but investing in people is greater. Long after I forget which books I've read in college or which papers I've written, I will remember the people who invested in me. During the Covid-19 crisis, I am relearning that I am not in control, and that's a good thing. God still has a plan whether I walk across the stage or not.
Psalm 138:8 says, "The LORD will fulfill his purpose for me; your steadfast love, O LORD, endures forever. Do not forsake the work of your hands."
God called me to be a teacher, and He is not going to abandon me. I choose to walk on the path that He set me on and trust that He is greater than me.
Proverbs 16:9 says, "The heart of man plans his way, but the LORD establishes his steps."
When all is said and done, I will graduate. I will have finished my degree and earned my diploma. And I still get the opportunity to change the world, which is all I ever wanted. The truth is your very existence changes the world. It is how you choose to change the world that matters.
I choose to celebrate my graduation and hard work at home. I choose to stay at home to protect the people I love. I chose to change the world by becoming a teacher. I will work hard to inspire a love of learning and life in each of my students. Now, I get to go back to the same school that I went to in first grade and teach sweet first graders.
I wonder which little girl or boy will be dreaming of being a doctor and maybe even a teacher like me.
---
Hometown: Cedar Grove, Georgia
Major: Early Childhood Education
Plans after Graduation: Become a first-grade teacher.