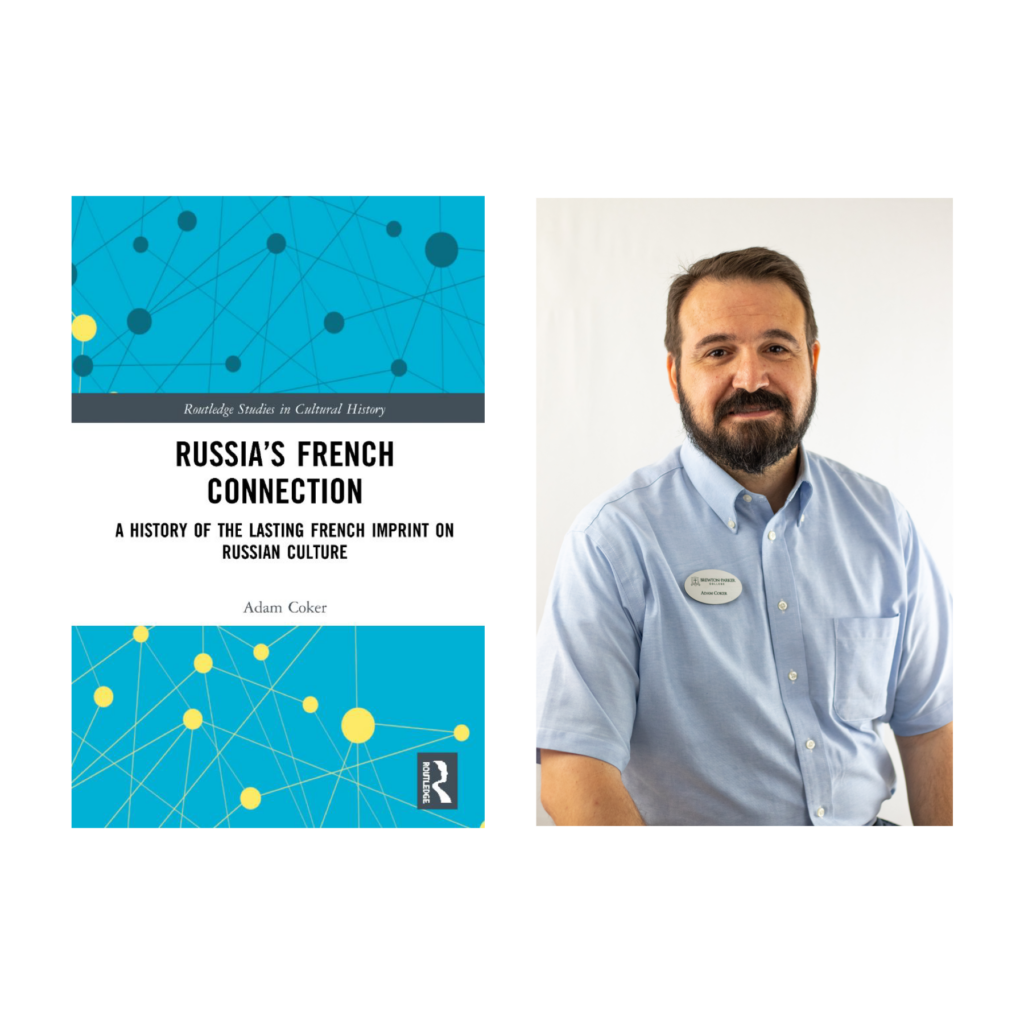 By Evan Riekhof
BPC Marketing Coordinator 
MOUNT VERNON – Brewton-Parker College's (BPC) Assistant Professor of History and Christian Studies, Dr. Adam Coker, received news that his academic book will be published by Routledge in July 2020. Dr. Coker's forthcoming book entitled Russia's French Connection: A History of the Lasting French Imprint on Russian Culture will be part of the "Routledge Studies in Cultural History" book series. Routledge is a publisher of Humanities, Social Science, and STEM books.
Dr. Coker spent several years working and living in Russia and considers himself a student of Russian culture. Dr. Coker's fascination with this culture influenced his decision to research and complete his Ph.D. dissertation on the subject. During his research, both the French and Russian cultures stood out to Dr. Coker, and he now believes that the impact of one culture on another deserves more research and teaching in academia. 
Dr. Coker stated, "The more I learned about Russians, the more I was struck with how their own culture had been influenced by other cultures. This is just one facet of a much broader topic which should certainly be taught—intercultural interaction and cultural transfer. Cultures are influencing one another, whether or not we choose to try and understand it."
BPC recently offered an upper-level course in Russian History in the Spring of 2020. During this class. Dr. Coker presented some of these issues from his forthcoming book. However, Dr. Coker does not limit his insights to just his upper-level courses. Many other students have the honor of sitting under his instruction for several history survey courses. Even Dr. Grant Lilford, Chair for the Division of Christian Studies and Humanities at BPC, acknowledges that all of Dr. Coker's students benefit from his vast knowledge of Russian culture. 
"Students in Dr. Coker's freshman Survey of World Civilization and his upper-level European history classes benefit from the expertise of an accomplished scholar," Lilford stated. "This expertise results not only from diligent research, but also from his complete immersion in Russian culture. Once again, Brewton-Parker brings the world to Mount Vernon, so that students gain perspectives here that are not available elsewhere."
Dr. Coker's forthcoming book is now available for pre-order on Amazon and Routledge's websites. According to Routledge, "This is primarily a book for those interested in European history, particularly imperial Russia, the French Revolution, and Napoleonic Wars."