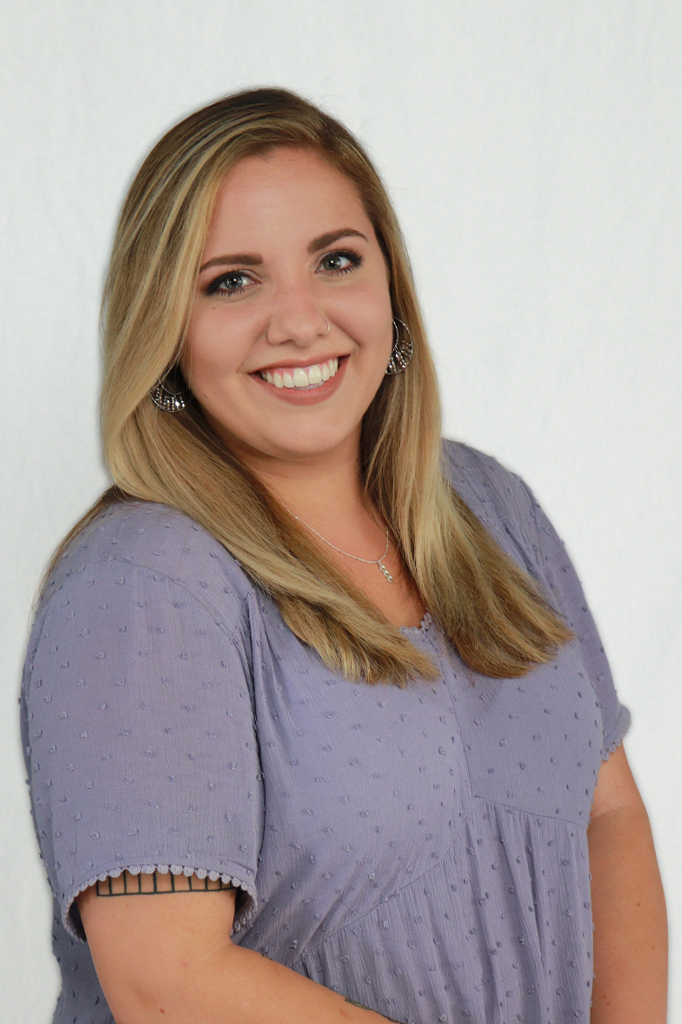 By Evan Riekhof
BPC Marketing Coordinator
Brewton-Parker has recently hired Paige Norton as the Director of Student Activities. She graduated from Brewton-Parker College in December 2017 with a Bachelor of Arts in Christian Studies. Paige was a member of Voices of Truth and Choir all four years. Upon graduation, she moved to Pittsburgh where she worked with a church plant called The Well Church, which then merged into Vintage Church Pittsburgh. She moved back to Georgia in November of 2019 after being offered the Admissions Counselor position for the Division of Christian Studies and Humanities. She currently resides in Vidalia, GA. 
In honor of her recent hire, the BPC Marketing Department sat down with her to ask some questions and future aspirations for the Department of Student Activities:  
Q: How do you believe your prior experience will help with this new opportunity?
My first job on campus was as a work-study with the Student Activities department, so it's ironic to see it come full circle. I am excited to use my experiences as a former student, as well as the knowledge I received from working underneath two previous Directors of Student Activities, in order to be successful in this position.
Q: We know there will be unique obstacles with Covid-19, how do you plan to overcome this?
As much as COVID-19 is a limiting factor to the events we can conduct as a college, it also provides us with a unique opportunity to be innovative and expand the horizons on activities that we can carry out. Our department is encouraged that we will still be able to "bring the fun" to our students living on and off campus through various outlets. A quote I'm choosing to live by this year was from my Papa– "Do the best you can with what you've got." All we can do is our best, by providing activities that students can enjoy safely and responsibly. 
Q: Can you tell me about any upcoming student activities you have been working on?
 You won't be able to ESCAPE the fun we're going to have, even with the extra ROOM we will provide due to COVID-19. 
Q: Do you have a Bible verse you can relate to your new future in this position or just a verse you live by every day you can share?
 "My friends, be joined together in perfect unity–with one heart, one passion, and united in love. Walk together with one harmonious purpose and you will fill my heart with unbounded joy." Philippians 2:2 
If I could quote the entire chapter here, I would. This passage is the heart we are seeking to have behind all that we do as a Student Activities team. If our purpose is to connect students together through activities, then we will strive to do so in a Christ-like manner. Personally, I hope to be an example of the love of Christ to my work studies, and other Barons that I come into contact with through my new position as Director of Student Activities.  
Q: Can you comment on being a BPC Alumna and working at your Alma Mater?
As a Brewton-Parker alumna, it is truly exciting to be able to give back to the college that gave so much to me. It was here where I met some of my truest friends, deepened my relationship with Christ, and grew as an individual overall. This college honestly changed my life. 
As a student I appreciated the faculty and staff with whom I formed relationships, and now I have the privilege to call those people my colleagues. Not only that, but I also have the opportunity to impact students in a similar way. I pray that God uses me in this new position to show students that following Christ is the best decision they will ever make, and that being a Christian, as well as a Baron, is not only life-changing, but fun!  
Q: Tell some things about yourself such as your background, your interests, what you like to do for fun, and the hopes and dreams you have for both yourself and BPC.
I was born and raised in Valdosta, GA. I have always loved being around people so naturally it makes sense for me to have a job where I get to interact with people all the time! You can usually find me walking around with a cup of coffee in my hand and buds in my ears (most likely singing out loud to whatever song is playing). I'm on the worship team at Connection Church Vidalia where I play piano and sing. My idea of fun is hanging out with friends–whether that be going out and bowling, traveling, or staying in and having a movie night. I'm always quick to answer "yes" to an outing of any kind, especially if it involves dogs, sweets, or food.
It is my desire to see Brewton-Parker College become the home away from home for every student that walks through its doors. We have such a unique group of students here with various ethnic backgrounds and I believe it is important to take the time to learn from them. At BPC, we strive to encourage students to embrace their differences, while hoping that we show them the unity and community they can find in Christ. It starts with each of us doing our part, and I aspire to be a friendly face to the notion that ALL are welcome here.
Madison Herrin, Associate Vice President of Student Development and Head Softball Coach, commented on Paige's new position stating

"We are excited to have Paige working with us in Student Services! She has a wonderful work ethic and great ideas on how to create an exciting campus life! We are truly blessed to have such a Godly young woman influencing our students."
We welcome Paige as the new Director of Student Activities and can't wait to see what she will bring to the table.