By BPC Marketing Department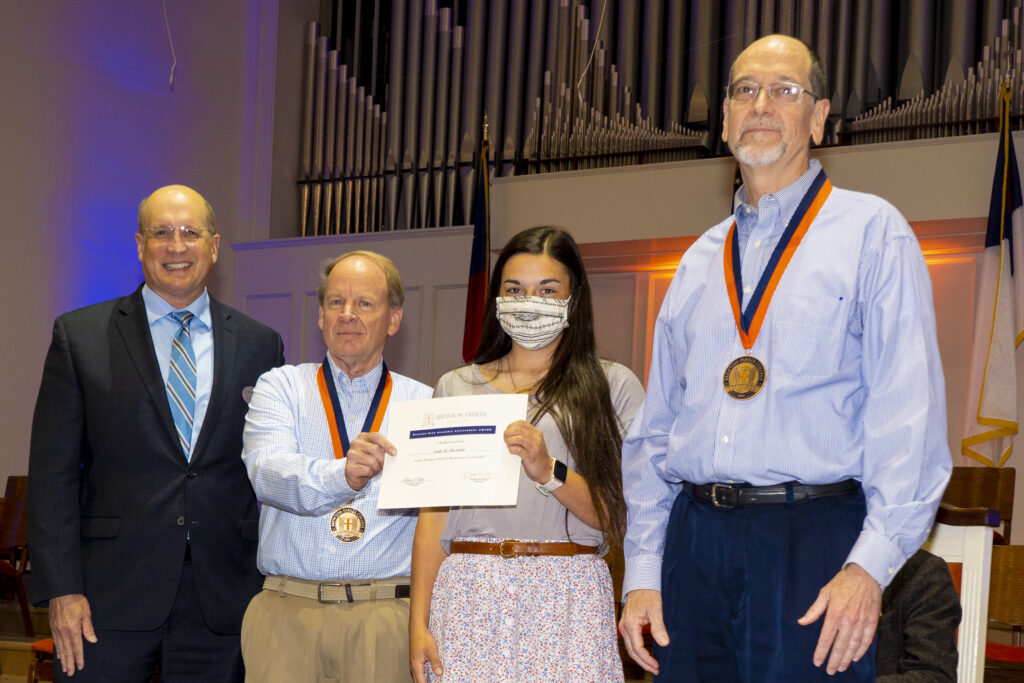 MOUNT VERNON — On April 6th, Brewton-Parker College (BPC) held their annual Honors Chapel. Each year professors and students meet in Saliba Chapel to be commemorated and recognized for their outstanding achievements during the academic school year. This year was special due to the retirement of Professor Vance Rhoades and Professor Forrest Rich.
At the end of this semester, BPC will be saying farewell to these two amazing professors. Professor Rhoades, who came to BPC in 1979, has taught Psychology for forty-two years. In addition to being a professor, he is also a Licensed Professional Counselor (LPC) and the faculty advisor for Pi Gamma Mu for the college. Professor Rich taught Mathematics for thirty-three years and began his time at BPC in 1988. Professor Rich has taught every math course in the academic catalog, as well as some business courses.
During the ceremony Dr. Bob Brian, Provost of Brewton-Parker, commemorated Professor Rhoades and Professor Rich by stating, "To these two colleagues this morning the college is proud to confer the title of 'Emeritus Professor' approved by the Cabinet and the Board – the term from the Latin meaning 'earned distinction' – in recognition of meritorious service and ongoing support for the institution and its mission." He then announced The Conrad-Shelby Award will now be known as the Rhoades-Rich Academic Achievement Award. This award is presented to the graduating senior with the highest cumulative grade point average over the course of his or her entire degree program. The award designates the "valedictorian" of each graduating class, and the recipient each year delivers a valedictory address as part of commencement.
Both Professor Rhoades and Professor Rich were pleasantly surprised since they had no idea an award was going to be renamed after them.
"I was both humbled and honored to have an academic award named after me. I was even more delighted to be mentioned along with my friend, colleague, and brother in Christ, Forrest Rich. He and I have a combined total of seventy-five years of teaching at Brewton-Parker College. To live up to one's academic potential is not always an easy thing to do; especially in our current culture where mediocrity seems to be the norm in so many ways. Students who excel academically are worthy examples of good stewards of what God has given them and deserve to be honored and praised for their efforts," stated Professor Rhoades.
Professor Rich said, "It has been a privilege to teach at Brewton-Parker College for the past thirty-three years. I am surprised and honored to find out that my name will be associated with the Rhoades-Rich Academic Achievement Award. My hope is that students who receive this award in the future will persist in—as the college's mission statement says— 'lifelong learning and service in Christ.'"
The newly renamed Rhoades-Rich Academic Achievement Award was presented to Sadie Rusteika of Lloydminster, Alberta Canada. Rusteika has played on the softball team and is the 2021 BPC Valedictorian with an unweighted GPA of 4.0, maintaining an A-average throughout her college career.
President of Brewton-Parker Steven Echols said, "BPC has been incredibly blessed by the combined service of seventy-five years from Professors Rhoads and Rich. Countless students have been taught with excellence by these two special men of God. Their exemplary Christian witness and servant hearts have given students an example to follow. The naming of this award is so very appropriate as it will celebrate in the years to come their legacies that are written in the hearts of their students and colleagues."