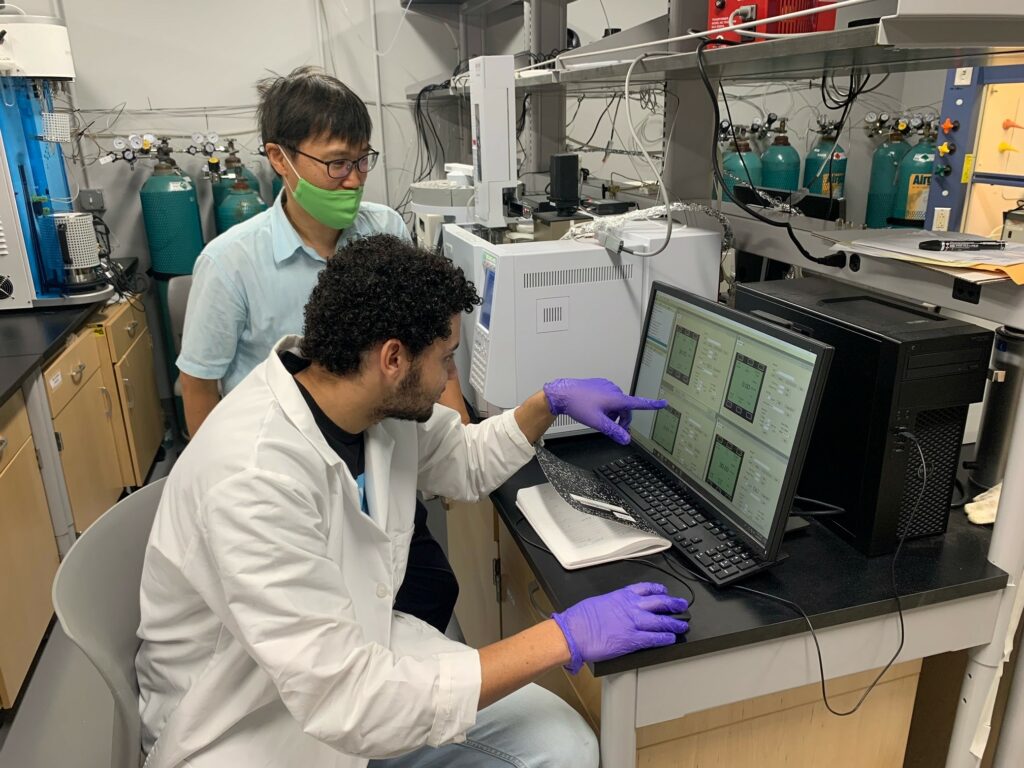 MOUNT VERNON — Brewton-Parker College (BPC) Senior Biology major Chance Hatcher had the opportunity to perform a summer undergraduate research project at the University of Central Florida (UCF) in Orlando. Hatcher was presented with the opportunity in 2020 by BPC professors Dr. Helene Peters, Division Chair of Math & Natural Sciences and Professor of Biology, and Dr. Sampyo Hong, Associate Professor of Physical Sciences. Dr. Hong was awarded a grant from the National Science Foundation in 2020 and was able to select BPC students to participate in summer undergraduate research funded by the grant.
Recently, Hatcher took Dr. Hong's Introduction to Nanoscience course and learned about current nanoscience research and equipment. The course prepared him for his undergraduate research and will prove beneficial for Hatcher if he decides to pursue a graduate degree.
The undergraduate research performed by students like Hatcher is an excellent opportunity to gain science education, inspiration, personal, and professional development. Through this program, students experience hands-on learning, practical research skills, increased interest, and expand on professional references. Both the students and the college benefit from this research through sound science education and improved graduation and retention rates among science majors.
During Hatcher's time at UCF, he worked in a laboratory with state-of-the-art testing equipment such as a high-precision mass spectrometer, Fourier-transform infrared spectroscopy (FTIR), and many other analytical instruments. Hatcher performed hands-on testing preparation before his supervisor, Dr. Shaohua Xie, performed the tests.
The research that Hatcher conducted investigated the effect of acidic and basic promoters for platinum single-atom catalysts on alumina in carbon monoxide (CO) and hydrocarbon (HC) oxidation reactions. Adding a small amount of metallic particles commonly used as promoters to catalysts can make reactions faster. Hatcher recalled the first step in the experiment was to create the promoter samples that they needed for testing. Hatcher had to make sure to use a certain amount of the precursors with the platinum catalyst and mix them. Then he "calcined" (heated) all of the samples for about two hours. Next, he pressed the samples into a certain size to prepare them for testing. Hatcher also ran three tests that were CO Oxidation, Methanol Decomposition, and CO Oxidation with water. The tests showed which acidic and basic promoters would work best under a certain temperature.
"Overall, I would say that my experience during this internship was very interesting, fun, and informative. I struggled a lot in the beginning, but once I got in the swing of things they became a lot easier. I loved every second of working in the lab with Dr. Xie," Hatcher said. "I would like to thank Dr. Xie for helping me throughout the entire process. I would like to thank Dr. Liu for giving me this opportunity and letting me work in his lab. I would also like to thank Dr. Rahman (UCF Physics department) and Dr. Hong for organizing this research project and providing stipend from their grant and other support," continued Hatcher.
Dr. Hong shared his pride for Hatcher saying, "His project has been successful beyond anyone's expectations. He worked very hard to obtain nice results, which are being analyzed now. These results will be presented in major conferences and will be published in a peer-reviewed journal. My colleagues at UCF, who supervised him, were fully satisfied with his performance and expressed a couple of times that he did a great job. I am very proud of him."