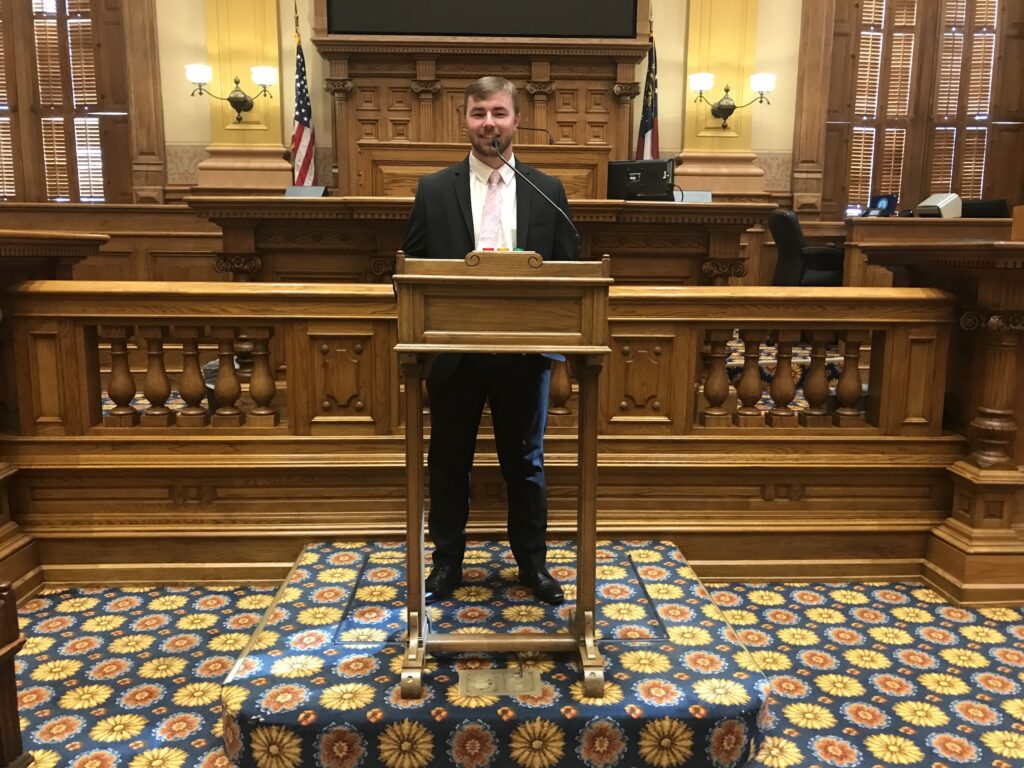 BPC Senior Jacob Shield will begin his internship with the Georgia State Capitol in January of 2023. 
MOUNT VERNON — Jacob Shield, Brewton-Parker College Senior Criminal Justice major, accepted an internship with the Georgia State Capitol. Shield is from Liverpool, England. He was selected to participate in the Georgia Legislative Internship Program. The website for the Carl Vinson Institute of Government – University of Georgia – Georgia Legislative Internship Program has information on what the program entails. Every spring semester, over 50 junior and senior students from Georgia's public and private universities and colleges intern with the Georgia General Assembly. These students gain first-hand experience in the lawmaking process through the program. The program was created in the 1970s under the leadership of then Lt. Governor Zell Miller and is a paid internship opportunity coordinated by the Georgia General Assembly. 
Dr. Roger Byrd, BPC Associate Professor of Social Sciences, Director of Prison Programs, and Campus Coordinator for the Legislative Intern Program shared praise for Shield being selected into the program. Dr. Byrd, enthused for Shield stated, "Jacob has been one of the outstanding Criminal Justice students since coming to Brewton-Parker. Being from England, it is interesting that he has such a deep appreciation for the American criminal justice system. Jacob has taken a special interest in corrections and has become a genuine advocate for corrections education and helping incarcerated individuals find a path to rehabilitation."
Jacob Shield shared how he came to be interested in the field of criminal justice, "My mother is a criminal defense lawyer back home in England, so growing up I would always ask her questions about her job. I had a family member spend time in prison, and living through his experiences allowed me to see how many people who end up in prison just need guidance. Education, love, and a solid support network is often the catalyst for them to turn their lives around. I have always been passionate about helping those in need, and I believe in advocating for those who have no advocate. I see the problems that exist within the criminal justice system and I believe that I can impact this system for the better."
Shield also shared what he hopes to gain from the internship and said, "The number one thing that I hope to acquire from this internship is experience. This is a once-in-a-lifetime opportunity, and I look forward to savoring each and every day I spend at the Capitol."
During the internship, Shield may have opportunities to work directly with these Georgia General Assembly committees and offices: Speaker's Office, Speaker Pro Tempore, President Pro Tempore, Minority Office, Ways and Means, Rules, Majority Whip, Legislative Counsel, House Media Services, and Majority Leader.
Students selected get to participate in the legislative process with a full-time internship in a standing committee of the Georgia General Assembly during the Georgia legislative session, research bills or issues before the General Assembly, work with a legislative committee, monitor the progress of legislation and perform other duties as assigned by their committee, learn about the inner workings of state government, and make contacts for a future career in public service. The students will also receive four to twelve hours of pre-approved internship credit from their college and earn a weekly stipend.
The process to participate in the program has various eligibility requirements and they must apply for the program and are selected through a process that includes an evaluation of their application and an interview session at the Capitol.
Shield will be spending three months starting in January of 2023, working at the Georgia State Capitol. Jacob Shield, excited about the internship and opportunity commented, "I am extremely grateful for this opportunity, and it is one that I am not taking for granted. I hope that by being accepted onto this internship I can open similar doors for my fellow classmates at Brewton-Parker, and inspire them to keep working hard towards their own dreams and aspirations. Whilst at the Capitol I hope to be a positive reflection of everything that Brewton-Parker stands for, whilst also ensuring that I give all the glory to God. I will be eternally grateful for Dr. Byrd, Brewton-Parker College, my professors, coaches, and all those at the institution that I have failed to mention because they have helped shape me into the man I am today. I am a reflection of them, and I intend to do my best to ensure that I reflect upon them well." 
Brewton-Parker College is the only accredited four-year Christian college south of Macon and north of Jacksonville, FL. As a comprehensive Georgia Baptist institution, Brewton-Parker College provides liberal arts and professional programs in a learning community of shared Christian values. Through the application of biblical truth in scholarship and a co-curricular focus on character, servant leadership, and cultural engagement, the college strives to provide a transformational experience that equips the whole student for lifelong learning and service in Christ.
Visit Brewton-Parker College online at www.bpc.edu.
 -BPC-