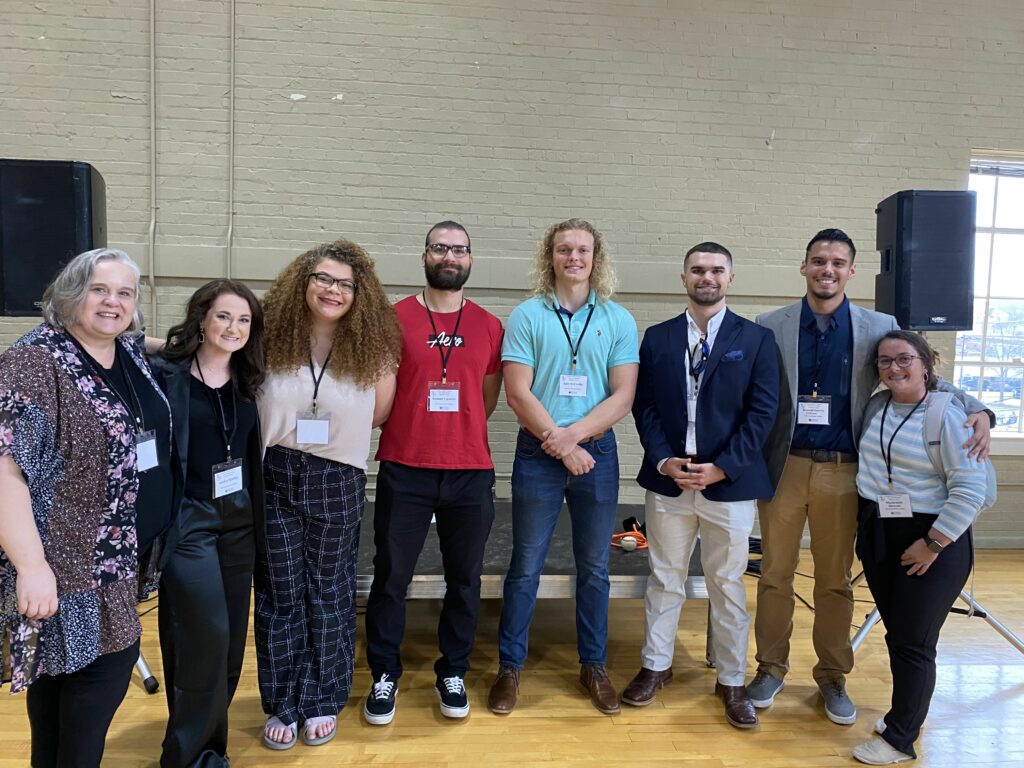 MOUNT VERNON — Dr. Helene Peters, Chair of the Division of Math and Natural Sciences, accompanied by students and recent graduates from the Biology program, represented Brewton-Parker College (BPC) at the Annual meeting of the Georgia Academy of Science on Friday, March 3rd at Georgia College and State University in Milledgeville, Georgia. Of the 69 posters presented at the conference, BPC students participated with nine posters in the Biological Sciences, Chemistry, and Science Education sections. This was the most significant contribution from BPC to the conference since the establishment of the Academy of Science a hundred years ago. The Academy is dedicated to the promotion of science education and the fostering of scientific research in the state of Georgia.
Chelsea Frederick's research titled "Can cinnamon supplements lower blood glucose levels?" was presented by Dr. Peters. Frederick is an international Biology graduate from Trinidad & Tobago and could not attend the conference in person. Another international student, Samuel Figueiro, from Brazil, delivered research results of his study "The effects of sleep duration on cognition and motor function." Ansley Hartley, who currently teaches math and science in the gifted program at Eagle Academy in Mount Vernon, Georgia investigated whether the pathogenic microbe Staphylococcus aureus was present in milk samples and the effect of alcohol on this microbe's growth. Grace Jones's research focused on the female microbiome – studying probiotics, Lactobacillus incidence, and antibiotic resistance. Jones teaches a math course at BPC while studying for the Medical College Admission Test. In addition, two other graduates are in the process of medical school applications – namely Cuyler Morris and Ronald Garcia. Morris works in the emergency room department at a local hospital in Dublin, Georgia and Garcia is a pharmacist assistant in Fitzgerald, Georgia. Morris played baseball while at BPC. His research focused on the relationship between shoulder internal and external range of motion and isometric grip strength, comparing athletes with past injuries to those without injuries. Garcia's long-term goal is to work in the Neuroscience field. He conducted a comparative study of ovine, bovine, and swine brain anatomy. In particular, he investigated whether the sheep brain is the best model to use for comparison to human brain anatomy and found that the bovine brain is a more suitable model.
Alexia Mays's research focused on "The lung capacity of asthmatic and non-asthmatic athletes" at BPC. She found significant differences between the study groups among wrestlers for Forced Vital Capacity, among track and field athletes for Tidal Volume, and between softball and baseball players for Forced Expiratory Volume. She plans to become a respiratory therapist. Mackenzie Stewart is currently busy with a Master's in Healthcare Administration and recently started working as a physical therapy aid. Her study focused on "Concussions in soccer players and the usefulness of concussion severity reports." Based on her findings, a recommendation was made to incorporate this reporting into the athletic training concussion protocol at BPC.
Current student Jake McCarthy had the privilege of joining BPC physics professor Dr. Sampyo Hong's National Science Foundation funded research collaboration during the summer of 2022 at University of Central Florida in Orlando. McCarthy presented some of their team's findings in his poster, "Preparing and Characterizing Pt and Pd single atom catalysts on ZrO2." This research drew a lot of interest at the conference, and McCarthy even started answering questions about their findings before the official start of the poster session.
Dr. Peters shared her enthusiasm for the group by stating, "This group of students are excellent ambassadors for BPC, and in addition, they presented their research findings alongside others from much larger institutions in superb fashion!" According to Dr. Peters, at the conclusion of the poster sessions, the group reminisced about their experience and agreed that they are well-equipped for their career pathways.
The abstracts have been published in the Georgia Journal of Science and can be accessed at: https://digitalcommons.gaacademy.org/gjs/vol81/iss1/
The scientific posters will be displayed in the Morgan Moses Math and Science building on campus for anyone interested in learning more about their research results.
The Division of Math & Natural Sciences offers degrees in Biology (Health Professions or Ecology), Chemistry (Biochemistry), and Sport and Exercise Science (Pre-physical Therapy, Athletic Training, or Health & Human Performance). In addition, the Division is working on adding Master's degrees soon within these fields since BPC has received approval from SACSCOC to offer graduate degrees. Please get in touch with Dr. Helene Peters at hpeters@bpc.edu or (912) 583-3157 for more information about undergraduate research opportunities and majoring in these fields.