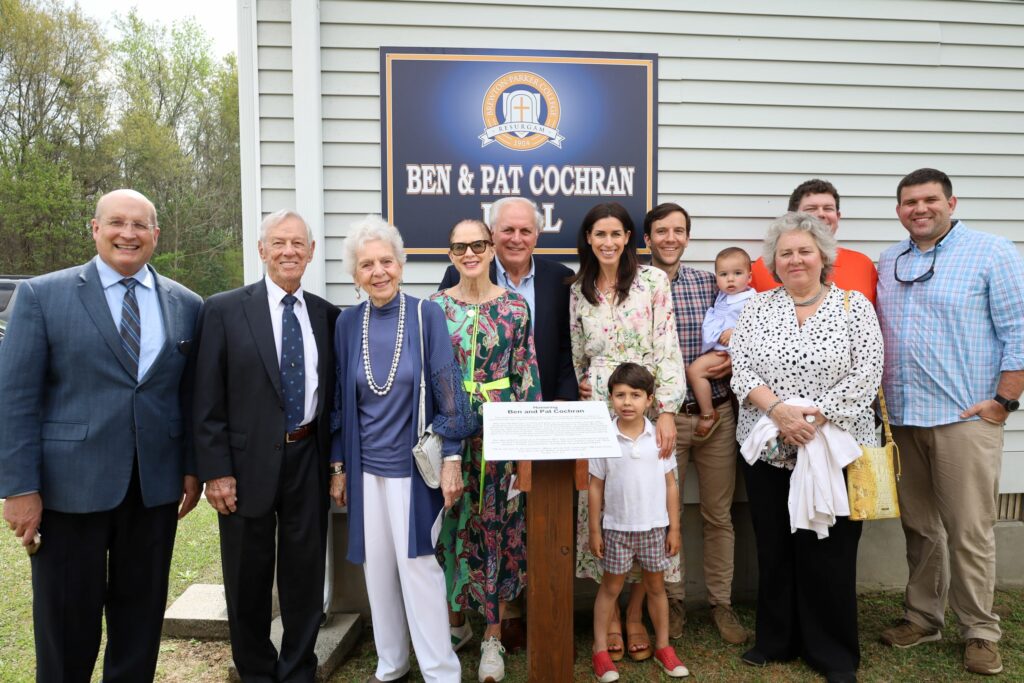 MOUNT VERNON — Recently Brewton-Parker College (BPC) honored Benjamin and Patricia Cochran by dedicating the dormitory to commemorate their support of BPC's commitment to Christian Education. Members of the Cochran family, the local community, and various BPC employees attended the dedication ceremony. The dorm has officially been named Ben & Pat Cochran Hall.
 Mr. and Mrs. Cochran grew up in Laurens County, Georgia. After graduating from Dublin High School, Mrs. Cochran graduated from Georgia College, where she served as Student Body President her senior year. Mr. Cochran attended and graduated from DePauw University. He served in the military as an Air Force fighter pilot. After his service, the two returned to Dublin, where Mr. Cochran joined the family business, Cochran Brothers Company Inc. From there, he became the company's president and started a retail division with his son-in-law, Gus Ladson called Friendly Gus. In addition, Mr. Cochran has served as a Trustee at BPC for several years. The Cochrans have four children, thirteen grandchildren, and twenty-six great-grandchildren.
Brewton-Parker College President, Dr. Steven Echols, opened the dedication ceremony by sharing how valuable the Cochran family is to the school and the local community. Next was the invocation given by Dr. Cliff Morris, who recently retired as the Senior Pastor of First Baptist Church of Dublin. Morris shared, "These are some great people, and I love them. It is exciting to be here on this day."
 Mount Vernon Mayor, Joey Fountain, expressed his appreciation for the Cochrans by stating, "You have been a great supporter of Mount Vernon and Brewton-Parker College for many, many years. It's an honor to have you as part of our community." Mayor Fountain continued by saying that without supporters like the Cochrans, BPC and the local community wouldn't be where it is today.
Guy Cochran, Son of Ben and Pat Cochran, thanked everyone for being there and introduced the family, including his son-in-law, Matt Jones, who represents the fifth generation of the Cochran Brothers Company Inc. family business. He said, "My mom and dad have always been gracious and generous." He also described how the term philanthropic means you have something to give. Being the oldest and directly associated with the family business, it almost seemed like they had nothing to give with all their struggles in the early days of the family business. However, as the company began to grow, so did the Cochrans' ability to support the community. When they started the convenience store chain, the plan was to sell fried chicken inside the store, an endeavor that hadn't been done before. That idea grew to what is now known as the 'Friendly Gus' gas stations. Guy Cochran finished by stating, "Thank you Brewton-Parker, for honoring my mom and dad in this way. I know they feel honored to be able to make this contribution to help promote Christian education."
Dr. Echols followed by sharing, "It is a special privilege that this dorm will be remembered as Ben and Pat Cochran Hall. The heritage of this family has been so deep and gracious through the years in many ways. We are very excited about the renovations that have been done." He closed by stating, "This will be a crucial part of helping us fulfill our mission, 'to see the lives of students transformed academically and spiritually for God's glory."'
Dr. Darrell Paulk, Pastor of the First Baptist Church of Dublin, gave the benediction and prayed over the meal after the dorm dedication. Dr. Paulk thanked the Cochran family for their generosity and the fact that their giving will help current and future generations of BPC students.