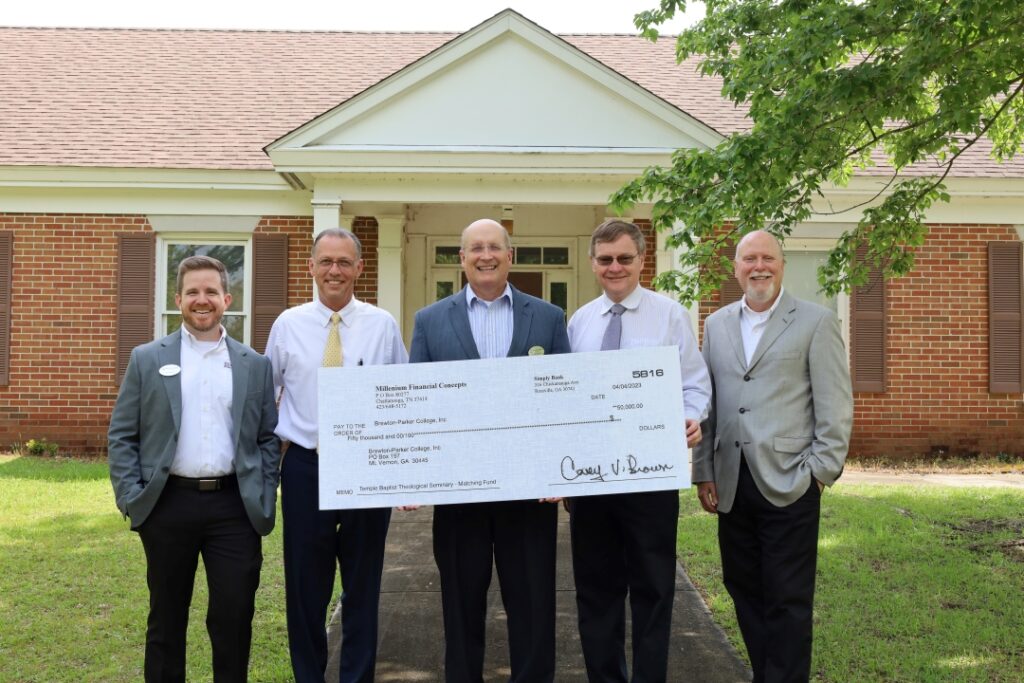 MOUNT VERNON — Brewton-Parker College (BPC) is now a level three institution which means it can offer master's degrees. The college has chosen to let its first graduate programs be for ministry with a Master of Arts in Ministry and the Master of Arts in Biblical and Theological Studies under the leadership of Dr. Mark Gregory, Dean of Temple Baptist Theological Seminary (TBTS).
BPC is grateful for the generous support of a matching gift from Dr. Carey Brown of $50,000. Dr. Brown is a successful businessman who generously supports many ministry endeavors. Dr. Brown served as a trustee at Tennessee Temple University (TTU), the previous home of Temple Baptist Theological Seminary, before its merger with what is now known as Carolina University. TBTS was known for its fidelity to the Bible as the inerrant word of God, evangelism, and practical application. Dr. Brown, along with other TTU alumni and now BPC alumni, have been enthusiastic in their support of establishing a new seminary that recognizes the great heritage of TBTS.
The seminary will be flexible to provide a curriculum that will relate to churches of all sizes and pastors who are full-time, bi-vocational, and those who desire to prepare for doctoral studies. In addition, the seminary will have an international Spanish program with over 40 students projected by the summer. 
Dr. Gregory shared his thoughts and appreciation of the matching gift, "We are deeply thankful for Dr. Brown's gift to Temple Baptist Theological Seminary. His support is an investment in the lives of pastors and ministers in Georgia, across our convention, and worldwide. In addition, Dr. Brown has enabled TBTS with financial start-up resources that are vital to our launch. His connection with TBTS in past years has become a blessing for our future!"
Dr. Steven Echols, BPC President, expressed enthusiasm for the support of the seminary program by stating, "We are very grateful for the very gracious support of Dr. Brown and other generous contributors that have helped us raise the initial $100,000. These funds will provide for the initial marketing campaign, the establishment of the Spanish program, and other start-up needs, including scholarship support. We have received much encouragement concerning the establishment of TBTS and believe it will prove to be one of the most important programs that BPC has ever offered in making an impact through its mission of seeing the lives of students transformed for the glory of God and in supporting the ministries of local churches."