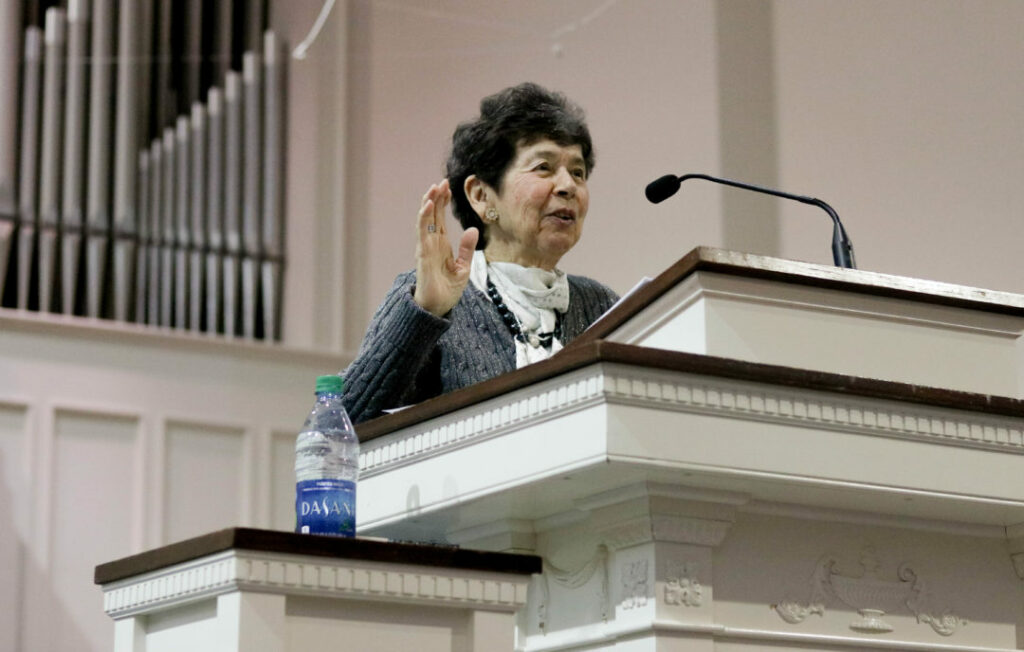 By Suzanne Hewett

BPC Student Writer
MOUNT VERNON— On Tuesday, March 5, Brewton-Parker College along with the community witnessed the remarkable story of Holocaust survivor, Manuela Mendels Bornstein. The event was held in Saliba Chapel and was hosted by Fountain-New Library, who partnered with the Georgia Commission on the Holocaust to host the event.
During the evening, Bornstein was welcomed on stage to share her story about the traumatic events that her family endured during the Holocaust. Born in France to a Dutch father and a German mother, her childhood centered around the struggles of Jewish persecution during World War II. In July of 1942, the Germans moved into France and began a search for the Jewish people to take to concentration camps. As Bornstein explained to the audience, her family was forced to leave their home many times in fear for their lives. Bornstein shared a series of numerous miracles and stories of heroic individuals who risked their lives to help her family survive.
Morgan Parris, a BPC sophomore, stated, "We always hear about people who were taken to the camps, but rarely do we get to hear someone's account about how they were able to escape and what fear they lived in."
Deanna Ballard, another student who attended the event, explained, "It gave me a better look of some of the things that were happening other than the camps".
BPC strives to provide students and community members with such events which bring history to life. Many students have learned about the Holocaust in history class, but rarely do they have the chance to hear a living account of the past. Bernstein's story provides a whole new perspective, as the audience received new outlook of the Holocaust through the life and fear of a little girl and her family who survived in miraculous ways.
Following the event, those in attendance made their way to the Fountain-New Library for a reception. As part of a larger series from the Fountain-New Library, the event launched the arrival of the library's latest exhibit. Titled "Fashioning a Nation: German Identity and Industry, 1914-1945," the new exhibit explores the powerful history of the German fashion industry and honors the legacy of the Jewish Germans who contributed to its rise. BPC is proud to collaborate with the Georgia Commission on the Holocaust to provide its students and local community with the opportunity to discover.